Alumni
Left Turn: Tracey Lawko, MBA '83
Tracey Lawko, MBA '83, traded a career as a consultant for life as a full-time textile artist. Her densely-stitched landscapes and richly-textured still-life art are prized by collectors.
MADE AN INTERESTING CAREER "LEFT TURN?" TELL US ABOUT IT! E-MAIL 
INTOUCH@IVEY.CA
I started embroidering when I was nine, and I have been involved in textiles and art ever since. In high school my teachers encouraged me to pursue art but I decided the more traditional route was the sensible thing to do.
I went to Ivey because I was very interested in international business. After graduating, I worked with Export Development Corporation and CIBC. Eventually I moved into creativity and change management, started my own consultancy, and designed and taught a class at Ivey called Creativity in Business. Over time I realized that all this focus on other peoples' creativity wasn't allowing me time to focus on my own.
I love textile art because it's very tactile. I can create a richness and depth with fabric and thread that I couldn't achieve otherwise. My approach is very detailed and painterly. I do an initial sketch, and cut out pieces of fabric for the major shapes and apply them to the fabric background. Then I start stitching, layering 30 to 50 colours of thread one on top of the other. It's the equivalent of painting with a single hair brush. One piece can take several weeks or months to complete.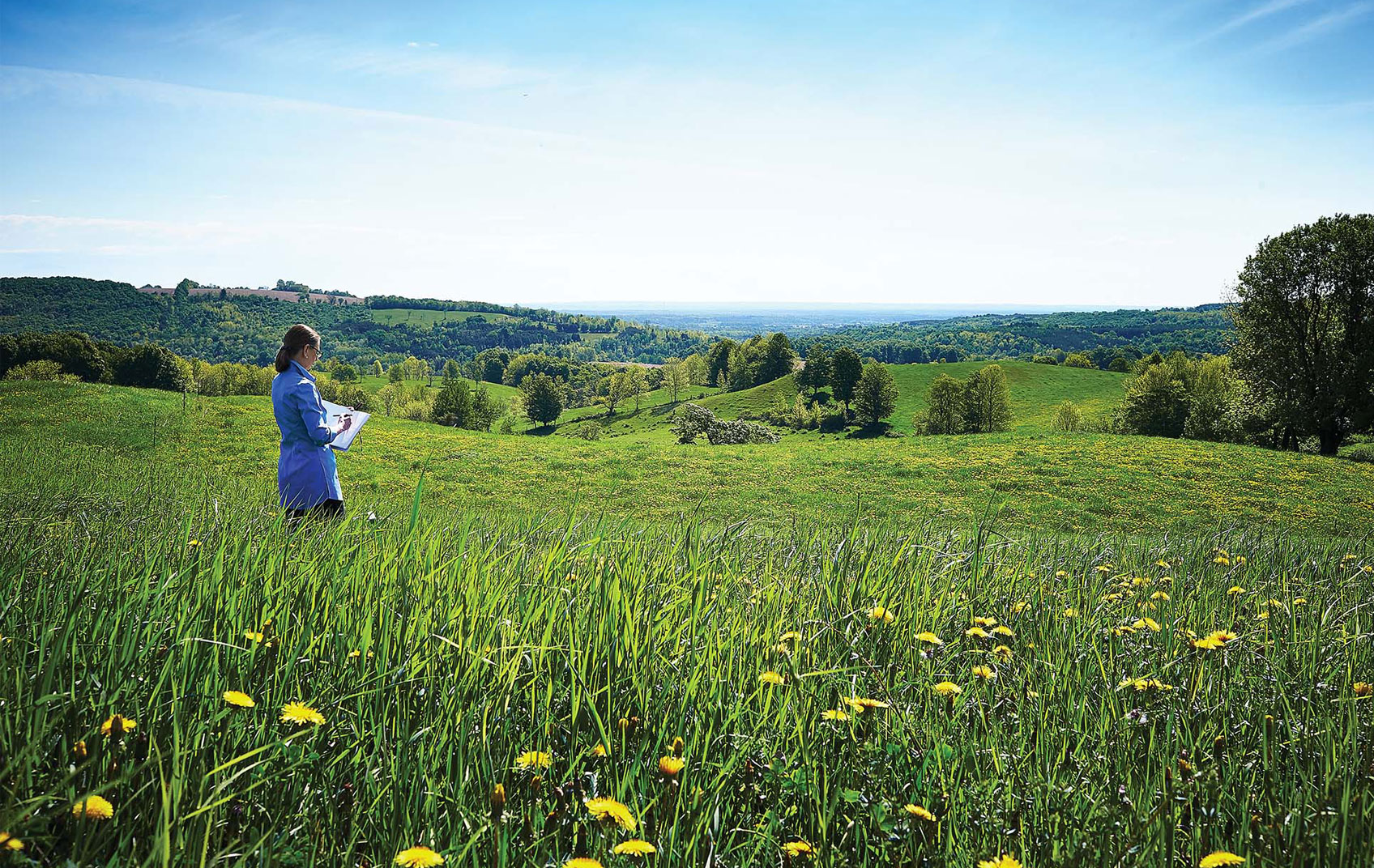 I divide my time between my home office in Toronto, where I look after the business, and my studio on the Niagara escarpment. The studio has a huge design wall and big windows that look out over wonderful views.
My landscape art is what I see. In Canada we take for granted the beauty we have around us, and forget to take the time to appreciate it. Creating these pieces is a way of slowing down and really looking at what is there. Underlying much of my work is the sense of change—seasonal changes, or the changes wrought by human influence.
For my still-life art I focus on individual plans around my studio. I use the same basic techniques of stitching but the objects are structured and dimensional. A strawberry, for example, is stitched and stuffed and then applied.
While my Ivey training has obviously been helpful in practical terms, I believe the most important thing I gained was confidence. Whether in the corporate world then or the art world now, I know I can go into an unknown situation and figure my way through it. That's what the creative process is.
Photo: Nation Wong
Art Direction: Greg Salmela, Aegis