Alumni
They come. They see. They learn. They buy (maybe). Museums and art galleries are special places—the keepers of our culture and heritage, and sometimes highly successful enterprises. Seven alumni talk about why museums and art galleries matter.
Art galleries and museums are an integral part of urban life. For some they are a pleasant way to spend a Sunday afternoon: for others, a passion. Intouch spoke to several Ivey grads who make their living or contribute their time to keeping galleries and museums alive and lively.
John Swettenham, MBA '88
Director, Marketing & Media Relations, Canadian Museum of Nature
John Swettenham worked as a management consultant, managed several small companies, and then worked for several years with Purolator and Canada Post. He joined the Museum in 2013.
What's your favourite place in the Museum?
I like the mammal gallery. The animals are presented in a series of three-dimensional dioramas first created in the 1930s and 1950s. I always tell visitors that these dioramas were the deluxe 3D televisions of their time! And although the animals are not alive, it's pretty cool to be able to get inches away from a moose or a grizzly.
What are the challenges you face in marketing the Museum?
Our budget is small, but our brand is huge. The challenge is to leverage the brand wherever possible, while building brand value. Partnerships are an important way to do that. There is just so much value for both partners, it's amazing.
Bill Morris, HBA '74
Chair, The Canadian Canoe Museum
Bill Morris is CEO and owner of the Stewart Group, a fourth-generation family firm. As Chair of the Museum, he is leading a $40-million rebuilding project, which involves an international design contest and the development of a national network.
Why did you get involved with the Canadian Canoe Museum?
Canoeing is a big part of the early history of Canada and North America. I'm a very outdoorsy person, and spend a lot of time on the water, and I've lived in Peterborough for the past 18 years. It's a great community, and we've got a great team involved with the Museum. It's a cultural gem, one of Canada's best kept secrets.
Why a new building?
It's a very impressive museum, but in a very unimpressive neighbourhood and building. The new building will be located at the Lift Lock, a place of great historical significance, and close to the Peterborough Museum. There will be big spinoffs for all of them in terms of attendance. The new location will also provide the opportunity to combine on-water programming and the museum at the same spot. The international design competition will give us preliminary designs from six top architects, something that will engage private donors. We have a history of support from across Canada, but this will take us to the next level.
Ian Muncaster, MBA '62
President, Zwicker's Gallery
Ian Muncaster started his career with Procter & Gamble, went on to work in advertising and eventually to teach business at Dalhousie University in Halifax.
How did you become a gallery owner?
I bought a painting at Zwicker's shortly after arriving in Halifax and a few days later I got a call saying my cheque had bounced. It turned out that the owner had known me at university. He had a manager working for him, but she was gradually putting him out of business. He asked me for some advice (and a replacement cheque!) and we became partners. Eventually I bought it by taking on the debt.
How hard is it to own an art gallery in Canada?
Many people say they'd love to have an art gallery, and some even say they want to buy me out. But when they have a look at the books, they lose interest. One study showed that Canadians spend an average of 25 cents a year on fine arts, compared to Americans at $1.80, and Germans at $3.80. A lot of people are downsizing these days, and modern condominiums tend to be all glass and have very little wall space.
So why do you do it?
I have a lot of fun, and I like to support the national culture scene. We treat culture very shabbily in Canada—theatres, orchestras, and galleries struggle to survive. When governments look to cut budgets, the people who do it are often Visigoths in Brooks Brothers' suits.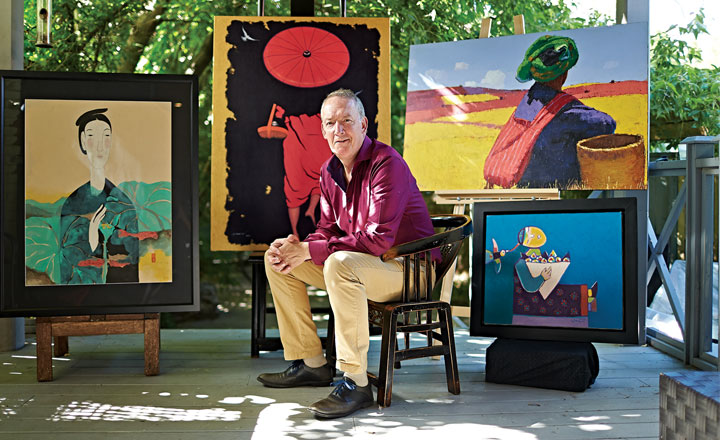 Andrew FitzGerald, MBA '88
Owner, The East Gallery
Andrew FitzGerald discovered the art scene of Vietnam while working there for Citibank. Later when he moved back to Toronto, he opened his gallery to introduce Canadians to the contemporary art of Vietnam, Cambodia and Burma.
How did you get interested in Vietnamese art?
There was a big art scene just kicking off when I was living there. It was a fun social thing to go out to the gallery openings and we became quite good friends with many of the artists. My wife and I both began buying art, and our place started filling up!
What art interests you right now?
What moves me most is figurative work—something where I feel there is a narrative behind the image, ideas and themes about society, relationships, people in the throes of time.
How do you know if an artist is good, if the work is worth buying?
I used to go into galleries and see something that I loved and then worry that I had made a mistake. Now I have a different view: if you love a piece and it moves you, then it's good art. It doesn't matter what other people think or whether it costs a lot of money.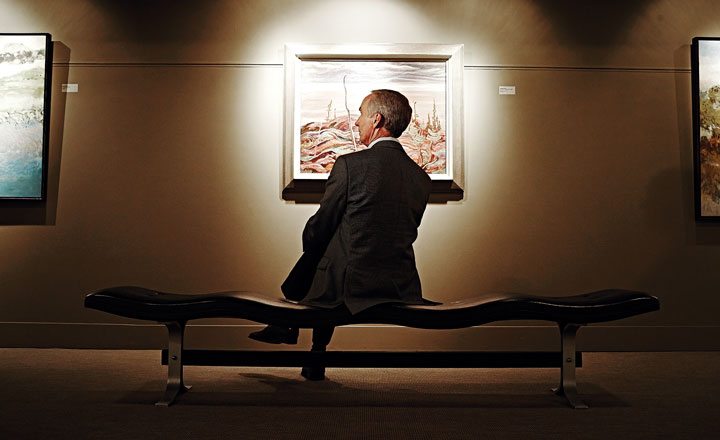 Paul Wildridge, HBA '77
Director, Roberts Gallery Limited
Paul Wildridge grew up in the gallery, purchased by his grandfather and father in 1947, and started working there shortly after graduating from Ivey. He now operates it with his wife, son and daughter. 
What makes Roberts successful?
My father set the groundwork for our business. He had an impeccable reputation for honesty in handling clients and artists, and we've kept to those traditions. We've continued to look for new artists as well as carrying on with historical work.
In the digital age, is there still a place for bricks-and-mortar galleries?
The business has certainly changed in recent years. There's been a real growth in art fairs, the use of social and digital media, and auctions. I think there's a place for all of it. I still plan to be here every morning, sweeping the front walk and opening the door!
How do you select the art you handle?
Looking at art is like wine tasting—it takes experience and it develops over years. But at the end of the day, the only criterion we have is whether we connect personally to the art. We have found over the years that we won't be successful by trying to offer what the market is looking for.
Lisa Pankratz, HBA '85
Chair, Audit Committee, Board of Trustees, Canadian Museum of Human Rights
Lisa Pankratz has nearly 30 years of experience in the investment industry and capital markets, and is currently a Corporate Director and Advisor.
How did you get involved with the Museum?
Ever since I was a kid, human rights have been very important to me. In the early 2000s I was serving on the board of Canwest and heard about Izzy Asper's vision for the Museum. I helped with the fundraising and was later asked to join the board. It is amazing to me that one person came up with this incredible idea and that with the financial support from three levels of government and individuals and organizations across the country, the dream became a reality.
Why is the Museum important?
It is the only museum in the world dedicated to the study of human rights. It's a place where we can learn about human rights with the hope that the experience will stimulate thought, dialogue and action. It's a museum of ideas. It's a beacon.
What makes it unique?
It's a visually stunning building located at a historic meeting place. As you move through the Museum, you move from darkness to light along alabaster lined ramps learning about past and present human rights events. But it is not just about learning—it is also about a call to action. It's truly a journey.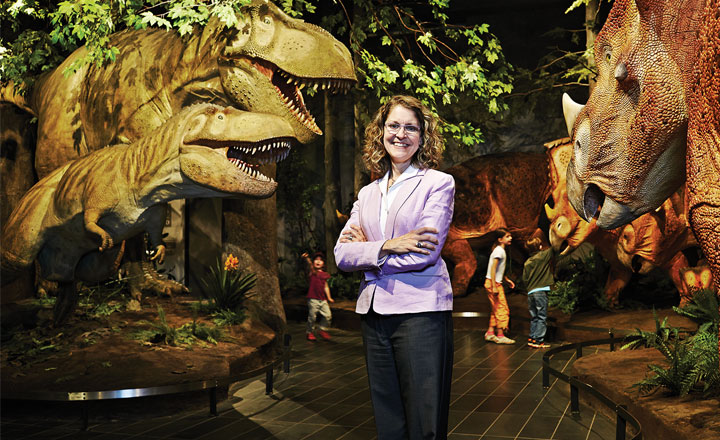 Meg Beckel, MBA '86
President & CEO, Canadian Museum of Nature
Meg Beckel worked with the National Ballet of Canada, the Playhouse Theatre, the Vancouver Symphony, the University of Calgary, the University of Victoria, the Royal Ontario Museum and the University of Waterloo, before she joined the Canadian Museum of Nature in 2011.
Why do museums and galleries matter?
They are the keepers of our cultural and natural heritage. They help us study our past, contextualize our present and make better decisions about our future. They are the new town centre, the new agora, where people gather and discuss important questions. The National Museums system in Canada reflects the things Canadians deem to be of value to them—art, history, science and innovation, human rights and immigration.
What are the challenges facing your museum?
Being important isn't enough: museums, including ours, need to be relevant. We are always challenged to stay relevant and meaningful to our visitors. That may be through a special exhibit, a permanent gallery, a program with educators and science interpreters. Or it could (and sometimes does) mean converting the museum into a night club! We exist to inspire understanding and respect for nature, for a better Canada and a better future. That's compelling, and it means we need to share really amazing stories about the explorations of our scientists in ways that are meaningful and relevant to the lives of our public now and in the future.
All Photos: Nation Wong
Art Direction: Greg Salmela, Aegis