Alumni
The Rise of the Side Hustle
Nicole Laidler
|
Mar 4, 2019
From passion to profit, there's lots motivating these alumni to work hard – outside of regular business hours.
If you hear the phrase "side hustle" and immediately think "hipster millennial," you may want to think again. In fact, the side hustle – defined by the Oxford Dictionary as "a part-time job or occupation undertaken in addition to one's regular employment" – is a growing trend that spans multiple generations.
A 2017 U.S. survey by GoDaddy found that while half of all millennials had some kind of side hustle, so did a quarter of baby boomers. Most people cited the need to earn additional income as the primary motivation for their side hustle, but a majority also hoped it would turn into their full-time gig.
The desire to pursue a passion is what sets the side hustle apart from a regular second job. And passion is certainly what drives these side-hustling Ivey grads.
Kayla Kozan, HBA '13
Like many Ivey grads, Kayla Kozan (pictured below) began her career in Toronto's financial district. Feeling overwhelmed by the long hours, workload, and pace of life, Kozan turned to mindfulness and meditation to cope.
Almost five years later, Kozan's personal journey led to the official launch of her side hustle, Peak Consulting Co. this past November.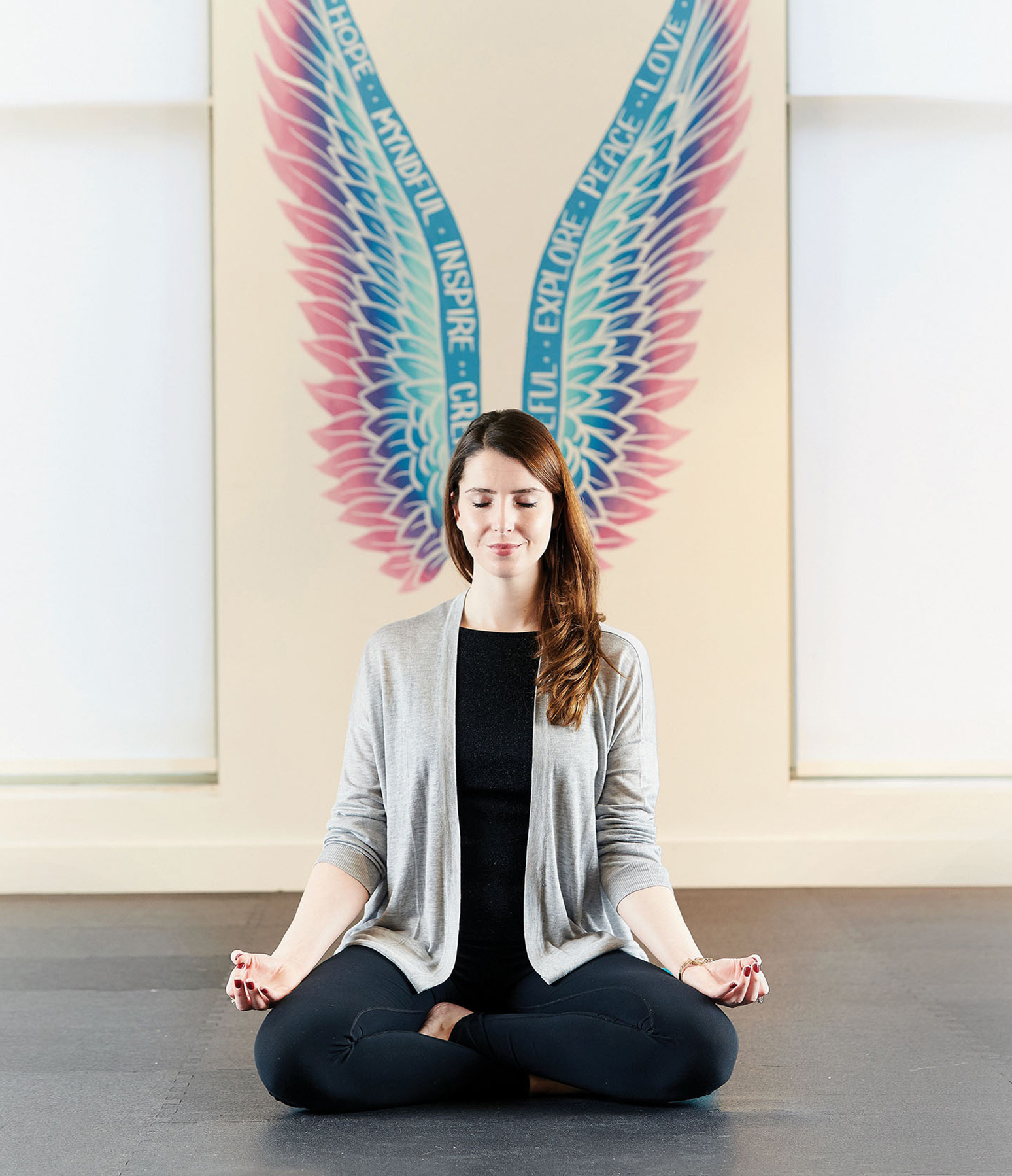 "I found mindfulness and meditation practice extremely effective. I felt like these were cognitive tools everyone should be equipped with," says Kozan.
Kozan spent four years deepening her personal practice and completed formal training in mindfulness and meditation at the University of Toronto's School of Continuing Studies and through Google's Search Inside Yourself Leadership Institute.
Today she teaches two classes every week at the MYndful Me Studio in downtown Toronto. That's in addition to her full-time job as Director of Marketing with Ideal, a tech startup that uses artificial intelligence to improve hiring efficiency.
"Ideal is very focused on work-life balance. That's a core value of the company, which makes this possible for me," says Kozan.
Eventually, she would like to extend the reach of Peak Consulting Co. into the corporate world. Her goal is to bring accessible mindfulness and meditation training into the workplace.
"The costs associated with workers who are either missing work or coming in distracted by stress are skyrocketing for businesses," she notes. "I'm currently assessing the marketplace and identifying where the gaps are. I've seen organizations starting to bring on personal trainers and nutritionists. Employee wellness is a growing trend."
Kozan credits Ivey with giving her the tools and confidence to spread her entrepreneurial wings. "The business education you receive is so well-rounded that you do feel like you can start your own thing."
Mark Whitmore, MBA '91
Mark Whitmore (pictured at top) has enjoyed a 30-year career at Deloitte Canada. As Global Leader, Deloitte Private, he leads the practice globally that serves family businesses, high-net- worth individuals, and private equity backed companies.
Whitmore serves on several boards, including the Ivey Advisory Board, and previously the Ivey Alumni Network Board. He's also a father of three.
And then there's his side hustle as a hops farmer.
Whitmore developed his love of the land on his grandfather's farm. About 12 years ago, he and his wife bought a 183-acre farm near Turkey Point, Ont.
"We started looking for the next crop," he says. Four years ago, the couple settled on hops. The crop is appropriate for a small farm, Whitmore explains, and the relatively mild climate of Southwestern Ontario offers ideal growing conditions. "Combine that with the market in craft beer and the need for local hops, and we felt there would be an opportunity to develop a farm-based business."
Whitmore is no gentleman farmer. He's the one tending the crops and developing the property into an agri-business. This May, he will step down from Deloitte to run The Great Canadian Hops Company full time.
"We now have four acres in hops. The plan is to add four acres a year and eventually grow up to 30 acres," Whitmore says. "We're taking a systematic approach and learning as we go."
After a fulfilling career at Deloitte, Whitmore is looking forward to life on the farm. "I knew my time at Deloitte would come to an end and I wanted to keep working," he says. "I've always wanted to do a startup. It's one of the reasons I went to Ivey."
Matt Boswick, HBA '12, MBA '18
When he's not on the job as a Strategic Insights Consultant at ZS, Matt Boswick spends his time working on his startup sports apparel company, North Strong Collective.
The fitness clothing line, founded in 2017 by Boswick, Tanya Moryoussef, HBA '12, MBA '18, and Ben Horgan, HBA '12, also supports high-performance Canadian athletes by donating 25 per cent of proceeds to a growing roster of sports men and women.
"We started to research the sponsorship of athletes, and learned about the funding challenges faced by Canadians," explains Boswick. The partners discovered that 70 per cent of elite Canadian athletes live below the poverty line. "We wanted to use our brand to do something about that," he says.
Boswick and Moryoussef decided to pursue their Ivey MBA with the goal of focusing on the business. Fellow alum Karly Campbell, HBA '12, MBA '18, came on board when Horgan left the business to concentrate on his career in sports apparel management.
During their time at Ivey, Boswick, Moryoussef, and Campbell participated in the Western Accelerator program, and North Strong Collective was the subject of numerous case study competitions.
Now back in the corporate world, Boswick says finding time to keep the momentum going can be a challenge. "Each of us has a specific day of the week when we are responsible for working on the business."
The long-term plan is to grow North Strong into a full-time business. "We're still talking to Ivey faculty about setting goals and working towards them," Boswick says. "The reward you feel working on something that is your own is fantastic, and getting to partner with incredible athletes is rewarding as well."
Serena Ho, HBA '07 &
Peter Kalen, HBA '95, MBA '01
It would be an understatement to say that the husband-and-wife team of Serena Ho and Peter Kalen lead busy lives. She's Director, Marketing Strategy & Planning at Visa. He's the founder and CEO of Flexiti, Canada's leading FinTech private label credit card issuer.
On the side, they own and manage Isola Serena – a luxury rental located in the heart of Tuscany, Italy.
The six-bedroom private villa looks like the dream side hustle. But when the couple purchased the property in 2012, it was little more than an abandoned farmhouse with roots dating back to the 11th century.
Kalen and Ho discovered the run-down villa on a family vacation. After a year-long renovation project, Isola Serena welcomed its first guests in June 2013. Today, it is booked solid from April through November.
Running a side business from across the ocean can be difficult, says Ho. Although her husband speaks Italian, cultural differences can make communication a challenge. "We have a local property manager," she says. "You need someone on site who can run things when you're not there."
Separating their personal life from their professional life also took some work. "We struggled a bit at the beginning when there were no clear roles and responsibilities," says Kalen. They have learned to approach Isola Serena as business partners, with Ho in charge of marketing, bookings, and the customer experience, and Kalen working with local trades to keep the property in tip-top shape.
While neither is ready to give up their day jobs, both see Isola Serena as a first step on the property ladder. "We both love Europe and we have the eye to find hidden gems," Kalen says. "There is huge potential for this to grow across the globe."
Photos: Nation Wong
Art Direction: Greg Salmela, Aegis