Ivey graduates explain why they bought existing companies (instead of starting their own), and how they've revitalized these businesses into thriving successes.
Bill Coleman, HBA '89, Owner of Oakville, Ont.-based Cameron's Brewing Company, loves everything about the beer business, especially the branding. Before he even started drinking, he collected beer bottles, building a wall of beer as a kid so he could admire their various shapes and sizes. It still keeps his old hockey trophies company in his parents' house. "It looks like a museum piece," he says. "I almost think there should be velvet rope."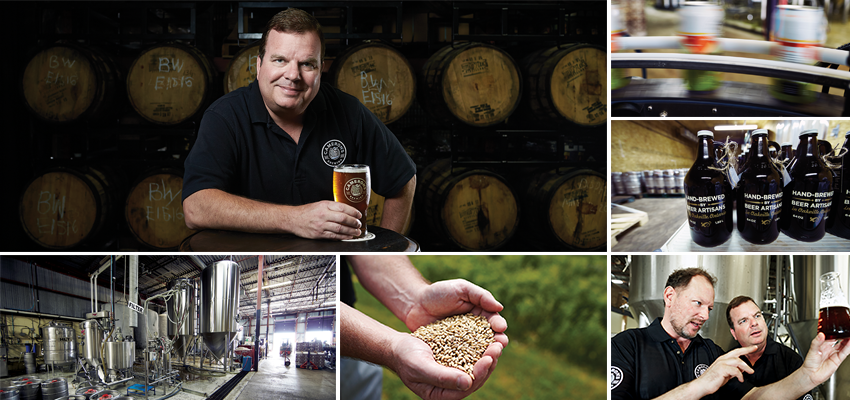 Running a beer company was Coleman's dream long before attending Ivey. But after graduating, fate turned him into a sales and marketing professional, not a beer king. He spent years at Nestlé and Molson (where he worked on the iconic "I Am Canadian" campaign), then he entered high tech—and that's when fate returned. While travelling the world selling 3D software, Coleman noticed craft beer was becoming a global phenomenon. With fond memories of his beer wall still frothy in his head, the idea of entering the emerging market was too much to resist. But Coleman didn't waste time launching a company. He jump-started his dream by acquiring Cameron's instead.
Building a company from the ground up can be exciting. But the marketplace is littered with good ideas that fail to reach full potential because, when it comes to strategy, a lot of new business founders think too big, or too small—or not at all. And that spells opportunity for another class of entrepreneurs—business professionals who buy someone else's corporate baby, and deploy their skills and experience to take it to the next level.
After a career in investment banking, Mike Russell, MBA '06, attended Ivey and then tried launching an oil-and-gas startup with a partner. The experience wasn't what he hoped, and not just because of tough market conditions or the challenges associated with minority interest ownership. "When you start a business," he says, "you've got to set up accounting and HR systems from scratch. You've got to find office space and, of course, you have to find customers. There is so much that needs to be done simultaneously before you are even up and running as a going concern. I quickly learned that I'm not really suited to grassroots entrepreneurship. I figured I was more suited to being a private-equity sort of entrepreneur, buying an existing business and using my skills to enhance the operation."
Today, after looking at more than 34 different businesses, ranging from a condo management firm to a roofing manufacturer, Russell owns what he calls a "freedom machine." When shopping for a business, he didn't limit himself to any industry. To cover debt obligations, he simply wanted a company with lots of customers to supply stability through revenue diversification. He also wanted to see potential for improving operations. "My only other real criteria was that I did not want to buy a treadmill," says Russell, who was interested in a mid-tier plumbing company until learning the existing owner hadn't had a real vacation for years. "I wanted something that was not dependent on my day-to-day presence —something I could manage from a beach on the other side of the planet."
So what kind of business did Russell buy? Well, with all due respect to the folks who insist the print industry is dead, the freedom machine in question is Calgary-based Great News Publishing Limited, which publishes community newsletter magazines. When purchased, the firm produced about 30 monthly publications delivered to 110,000 households. "My very first move," Russell says, "was to increase publication frequency from 11 to 12 months. That instantly juiced our revenues." Toss in new printing equipment and a new branding strategy that standardized the look and feel of the company's publications, and the business has almost tripled in size over the past six years.
Tony Caldarone, MBA '04, Owner of Nova Scotia's Cove Motel, also appreciates the benefits of taking over an existing operation. "When buying," he says, "you have existing customers, and some forms of marketing that will continue to pay off for years. You have existing supplier relationships that may come with favourable payment terms. You have existing staff, and inheriting a great team is an enormous plus, as it's very hard to find and attract great people. Finally, it's a lot more cost effective to get started without having to buy all brand new equipment." 
Acquiring a business with a relatively stable foundation doesn't guarantee long term success. But it does give you flexibility—which Stan Tang, EMBA '14, says new owners need. "Get ready to have much more challenge than you expected," he warns. Based in Hong Kong, Tang recently purchased Chinese restaurant chain East Ocean Gourmet and a call centre business. And as he notes, business owners can have multiple reasons for selling and buyers may not "see all of them." In other words, caveat emptor applies even if you are a professional business hunter.
Keys to Success as a Business Buyer From Ivey Grads
Explore All Financing Options
Russell borrowed $460,000 from the Business Development Bank of Canada on an unsecured basis, something private sector banks are unlikely to do. The interest rate was 11 per cent, which he says sounds expensive only if you plan to fail. "In the business world," Russell says, "you've got two sources of capital—equity and debt. Had I gone the equity route, other people would own 10 to 50 per cent of my freedom machine. I am delighted that I took on the risk in order to own 100 per cent."
Buy Competitive Advantage
Caldarone saw opportunity knocking with the Cove Motel because the business fit well with his wife's experience in tourism and marketing, and it could clearly benefit from his IT consulting background. But the deciding factor was its competitive advantage—the view. Having an ideal location on a peninsula overlooking the gateway to Cape Breton Island already differentiated the business, which allowed the couple to focus on improving operations and the customer experience via investments in equipment and technology. Instead of an actual book, for example, the booking system is now a computer program that enables data mining and reservations from third-party sites. To date, annual revenue has increased over 30 per cent, while capital costs have dropped.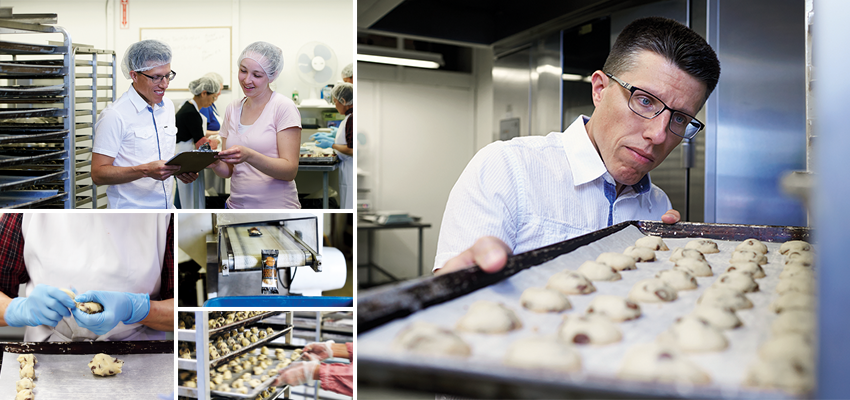 Plan Changes Carefully
Shane Smith, HBA '94, first became aware of Aurora, Ont.-based Cookie It Up in the 1980s, when he was in high school running a student cookie business. Three decades later, when Smith was looking to get out of the technology sector, he approached the all-natural cookie company's founder to see if there was any interest in selling. As luck would have it, the previous owner was just days away from signing a business broker. "Buy a business that has some stability and some areas that are rock solid. That just gives you the freedom to learn and experiment," says Smith. Thanks to a more proactive approach to distribution partnership development, along with facility expansion and investments in new equipment and systems, annual sales have increased about 60 per cent over the past three years.
But not all changes went as planned. When Smith bought the company, for example, it used gusseted bags, which looked unprofessional and lent themselves to breakage, not to mention repetitive motion issues for staff. Moving to a box solution seemed to be the logical answer since it would save money while being more staff friendly. Boxes were also expected to be more appealing. But when consumers saw the new packaging, they had a hard time believing the cookies inside were handmade, one of the company's key selling points.
Take Firm Control
Under Coleman, Cameron's Brewing has seen sales growth of over 100 per cent thanks to a revitalized corporate image and increased product experimentation. But he bought into the company as a co-owner, which initially frustrated his desire to rebrand and capitalize on growing consumer demand for tall-boy cans because his partner didn't share his vision. In order to give the Barley Man logo a much-needed makeover and get other strategic things done, Coleman had to part ways with his partner, which could have been difficult if it wasn't a planned contingency. "Be bold and trust your instincts," he says. "But be careful partnering with existing owners because they can be happy to take an infusion of new capital and remain stuck in the past at the same time."
Target Real Opportunities
The most important thing before heading out to buy a business is setting your criteria. Donna McDougall and Dominique Van Voorhis, both MBA '97, knew exactly what they wanted when they jointly started shopping two years ago. The married couple, who met at Ivey, wanted a relatively stable business close to home that they could grow leveraging McDougall's public sector consulting experience and Van Voorhis' decadeplus years running a windows and doors manufacturer. Earlier this year, they bought Multishred Inc., which currently offers information and data destruction services for IT media and paper, mainly to government customers in the Ottawa region. The plan is to expand both geographically and into other markets, such as aerospace and defense.
"We believe Multishred is an excellent fit with our criteria," says McDougall. But finding the right opportunity took longer and was more frustrating than expected. "Thinking about selling and actually wanting to sell are not the same thing," Van Voorhis notes, adding would-be business buyers should focus on potential sellers motivated enough to have engaged a good business broker to help them package the information buyers need to analyze opportunities. 
Setting search criteria, of course, isn't difficult for Ivey grads. "The skills you get at Ivey position you well to buy a company," McDougall says. But even if you have a business education, Russell advises anyone looking to take a small business to the next level to read (or reread) The Goal, Eliyahu Goldratt's classic novel about a plant manager with just three months to turn operations around. "With a solid skill set in operations, you can identify ways to increase efficiencies and release hidden value," says the former investment banker. "I didn't fully appreciate that fact while doing my MBA. I always thought I'd be a finance guy and so I didn't read The Goal seriously enough. Ironically, the skills that this book helps develop are extremely important to managing my business."
All Photos: Nation Wong
Art Direction: Greg Salmela, Aegis