Publication Date: March 1, 2016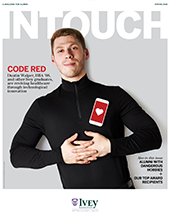 Download Complete Issue (PDF 4.73 MB)
---
Features
Getting Better: Healthcare Innovation
When it comes to technological innovation, many aspects of the healthcare system are known for being behind the times. Ivey alumni are changing that perception, and leading the charge by revolutionizing the way technology is used for care delivery.
Limitless: Dangerous Hobbies
Jumping off a building and plummeting 764 feet; enduring a 12-hour trek across icy glaciers; scaling a vertical rock face… in a thunderstorm; white water canoeing in the remote Canadian Arctic. These Ivey grads are risk takers and thrill seekers who push the limits in their spare time.
Inspired
Each year, the Ivey Alumni Network presents awards to deserving individuals at Homecoming. Intouch sat down with all four 2015 recipients to learn more about each of them.
Departments
Dean's Message
Duet
Yasser Rahrovani recently joined Ivey's faculty, bringing with him fresh ideas and new approaches. Professor Derrick Neufeld, PhD '97, is showing Rahrovani the ropes, and appreciates new colleagues who stir the blood of the institution.
Ivey Buzz
What's happening around the School and around the world.
Left Turn
When the Canadian telecom industry started to slump, Doug Woywitka, MBA '93, left the career he knew behind to run a horse farm, creating a market where none previously existed.
Passions
Tim Godfrey, MBA '79, is going on tour, a tour far more rewarding than he could have ever imagined—playing for Ontario seniors who share his love of music.
Your Ivey Network
The first Canadian company to close a round of financing through equity crowdfunding; a non-profit with technology solutions for developing countries; Homecoming, Global Ivey Day, Emerging Leaders, and more! Not to be missed— class notes submitted by your Ivey friends!