Ben Graham Centre's 2017 International Stock Picking Competition
The Ben Graham Centre for Value Investing held its 2017 Stock Picking Competition at the MBA level in Toronto on April 18, 2017.
Teams from MBA schools from around the world competed for $17,500 in cash prizes. Four finalist teams made presentations to a panel of distinguished value investors at the Ivey Tangerine Leadership Centre in Toronto. On April 19, the finalist teams attended the Ben Graham Centre's Value Investing Conference where the winners were announced. On April 20, they were invited to attend the Fairfax Financial Holdings Ltd. Annual General Meeting in Toronto.
REGISTRATION CLOSED
$0 for attendees; 50 spots available
Canadian dollars before taxes
Media Coverage
"Here's how this year's value investing conference for MBA students played out"
Globe and Mail, May 01, 2017.
"Ivey stock picking competition a valuable experience"
Ivey Business School, April 26, 2017.
"Stock-picking tips I learned from students"
MoneySense Magazine, April 24, 2017.
Competition Winners
Four teams were selected to participate in the competition finals held on April 18th, 2017 in Toronto, Canada. The panel of judges was thoroughly impressed by all four presentations. The finalist teams were ranked as follows:
1st Place: Sobey School of Business at St. Mary's University
Team members: Bill MacGregor, Morris MacLeod, Dev Jyoty Nath
2nd Place: Ivey Business School at Western University
Team members: Shilpa Agarwal, Sairam Srinivas, Weiqiang Qian
3rd Place: Columbia Business School at Columbia University
Team members: Jacob Doyle, Gilberto Giuzio, Sean O'Rourke
4th Place: Kellogg Business School at Northwestern University
Team members: Krishna Chaitanya, Jamie Kerr, Athena Zhao
2017 Stock Picking Competition Photos
---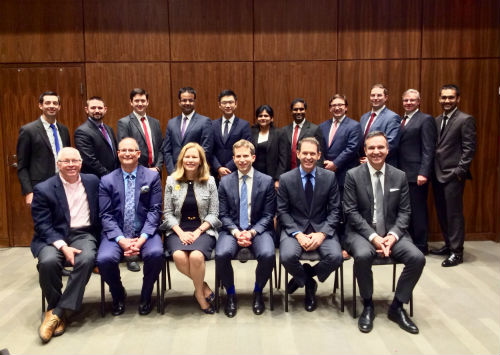 MBA teams and judges pose for a photo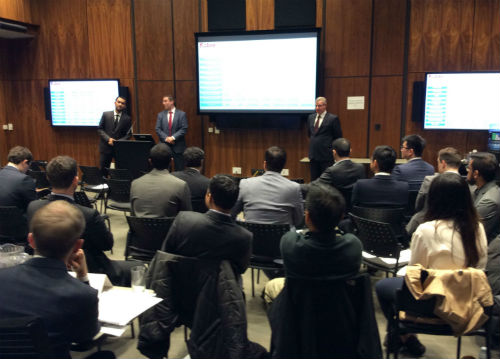 St. Mary's University team presenting their valuation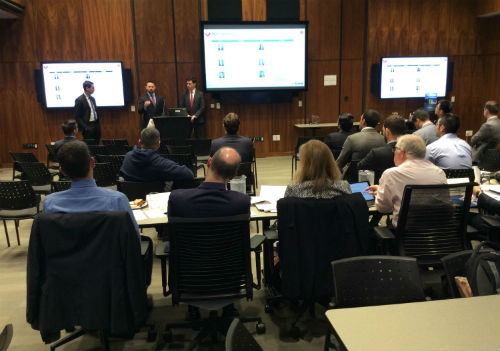 Columbia University team presenting their valuation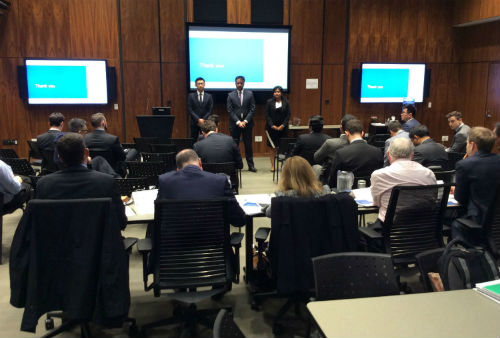 Ivey Business School team presenting their valuation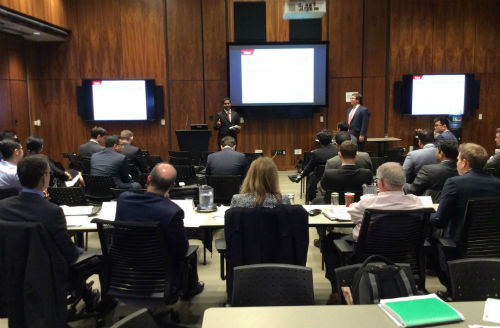 Northwestern University team presenting their valuation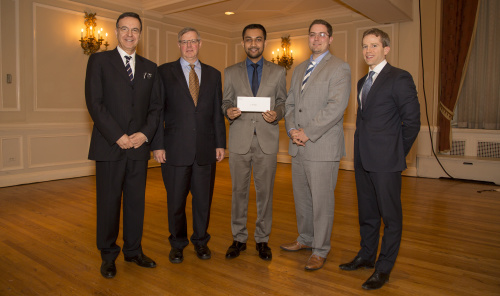 Saint Mary's University team posing with Dr. Athanassakos and Doug Winslow for a photo after being announced as the winners of the Competition at the Value Investing Conference (left to right: George Athanassakos, Bill MacGregor, Dev Nath, Morris MacLeod, Doug Winslow)
Participating Schools
The following schools participated in the 2017 Ben Graham Centre's stock picking competition and contributed to the competition's success. Each of these schools put forward excellent research reports in the first round of the competition making the judges choices for the final round challenging.
Carnegie Mellon University - Tepper School of Business
China Europe International Business School
Columbia University - Columbia Business School
Cornell University
Fordham University - Gabelli School of Business
IESE Business School
Indiana University - Kelley School of Business
INSEAD
London Business School
McGill University - Desautels Faculty of Management
Nanyang Business School
Northwestern University - Kellogg School of Management
New York University - Stern School of Business
Queen's University - Smith School of Business
Saint Mary's University - Sobey School of Business
SDA Bocconi School of Management
The University of Manchester - Alliance Manchester Business School
University of California Los Angeles - Anderson School of Management
University of California Berkeley - Haas School of Business
University of Cambridge Judge Business School
University of Chicago - Booth School of Business
University of Notre Dame - Mendoza College of Business
University of Stirling
University of Toronto - Rotman School of Management
University of Waterloo
University of Southern California - Marshall School of Business
Western University - Ivey Business School
Sponsorship
We would like to thank our key sponsor Burgundy Asset Management Ltd. as well as Bristol Gate Capital Partners Inc., Foyston, Gordon & Payne Inc. and Peters MacGregor Capital Management for their generous support in sponsoring the competition.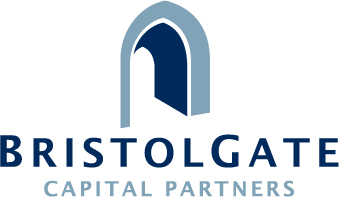 Format
In-Person
Type
Competition