Ben Graham Centre
Announcing our Blog Writing Contest Winner
Ben Graham Centre for Value Investing
|
Feb 13, 2020
In December 2019, the Ben Graham Centre announced its first Blog Writing Contest in an effort to celebrate its newly launched Blog. Value Investing students were invited to attend the Value Investing Classes Presentation by Mr. Arnold Van Den Berg, Chief Executive Officer & Co-Chief Investment Officer at Century Management, on February 29 and had one week to write a blog about their key takeaways. Students had the opportunity to win $200 dollars or Free attendance to the Ben Graham Centre's Value Investing Conference.
See Blog Writing Contest Details
Contest Results
Congratulations to Luke Hodge!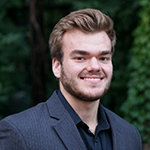 Luke had this to say:  "I'm ecstatic to hear that I won the contest and want to thank you so much for the opportunity. I would absolutely love the opportunity to attend the Value Investing Conference in the spring. Thank you again so much, this has been an amazing experience!"
View other media coverage of Mr. Van Den Berg's Presentation