Ben Graham Centre
Announcing our Blog Writing Contest Winner
Ben Graham Centre for Value Investing
|
Feb 12, 2021
On January 21, 2021, Ivey's value investing students were invited to attend the Value Investing Classes Presentation by Mr. Ross Glotzbach, Chief Executive Officer, Head of Research and a Portfolio Manager, Southeastern Asset Management, Inc. and had one week to write a blog about their key takeaways. Students had the opportunity to win $200 dollars or Free attendance to the Ben Graham Centre's Value Investing Conference.
See Blog Writing Contest Details
Contest Results
Congratulations to Keenan Conlon!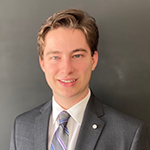 Keenan had this to say:  "It's a great feeling to have joined Luke Hodge as a blog contest winner! I learned a lot from his summary of Mr. Van Den Berg's talk from last year, so I'm pleased to be able to share the valuable lessons I learned from Mr. Glotzbach with this community. As a keen follower of Grant's Interest Rate Observer, Howard Marks' famous Oaktree memos, and the ongoing story of GE, I couldn't be more excited to attend this years Value Investing Conference!"