Ivey Edited/Authored International Business Publications*
(as of June 21, 2018)
*Commercially published, including Forthcoming, since 1990. Includes Translations.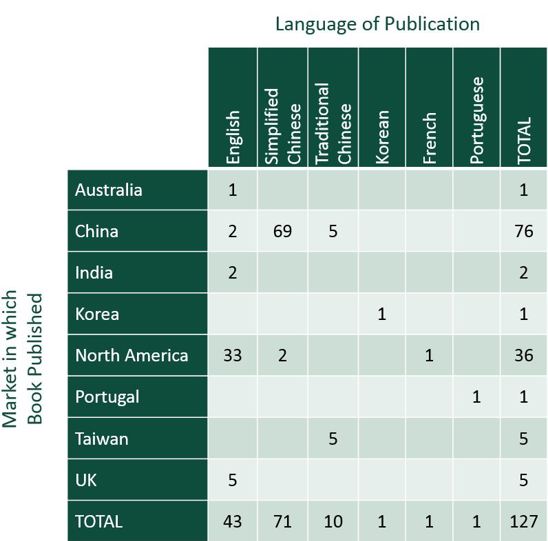 Please note: Table represents a portion of the International Business publications written/edited by authors affiliated with the Ivey Business School.
Bartlett, Christopher A. and Paul W. Beamish, 2018, Transnational Management: Text and Cases, 8/e, New York, Cambridge University Press. ISBN 978-1-108-42243-7 Hard book. 978-1-108-43669-4 Paper book.

Transnational Management provides an integrated conceptual framework to guide students and instructors through the challenges facing today's multinational enterprises. Through text narrative and cases, the authors skillfully examine the development of strategy, organizational capabilities, and management roles and responsibilities for operating in the global economy. The key concepts are developed in eight chapters that are supplemented by carefully selected practical case studies from world-leading case writers. All chapters have been revised and updated for this eighth edition to reflect the latest thinking in transnational management while retaining the book's strong integrated conceptual framework.

Liu, Su and Paul W. Beamish (eds), 2018, Governance Puzzles: Cases from Ivey Business School, Beijing, Peking University Press. ISBN: 978-7-301-29375-1. In Chinese.

Collection of 16 carefully selected Ivey Cases on Governance.

Mendenhall, Mark E., Joyce Osland, Allan Bird, Gary R. Oddou, Michael J. Stevens, Martha Maznevski, and Günter K. Stahl, 2017, Global Leadership: Research, Practice, and Development, 3/e, United States, CRC Press, Taylor & Francis Group.

This text focuses on leading across cultural, economic, social, national, and political boundaries simultaneously. Global Leadership presents the field's latest studies and practices in a succinct and engaging style that helps scholars, managers, and students grasp the complexities of being a global leader.

Peng, Mike W. and Klaus E. Meyer, 2016, International Business, 2/e, UK, Cengage Learning.

The second edition of International Business offers a comprehensive and accessible introduction to international business that starts from Europe but ultimately encompasses the globe. This edition has been fully updated to reflect the rapidly changing world of business, including more coverage of emerging economies and trading blocks. The text's comprehensive coverage is arranged around one central question – what determines the success and failure of firms around the globe? Scholarly research is used throughout to help answer this question and to facilitate learning of the key concepts.

Wei, X. and Beamish P.W. (eds.), 2014, Ivey Business School Selected Cases, Shanghai, Truth And Wisdom Press (in Chinese).

The 12 Ivey Cases listed below were included. They deal with different aspects of international business including: strategy and strategic positioning; supply chain logistics; exporting; outsourcing vs in-house production; information systems; exporting and sustainability.

Research in Motion – Managing Explosive Growth
IMAX: Larger Than Life
Leo Burnett Company Ltd.: Virtual Team Management
Molson Canada: Social Media Marketing
Security Breach at TJX
Supply Chain Management at Wal-Mart
Swatch and the Global Watch Industry
Scotts Miracle-Gro: The Spreader Sourcing Decision
Ecco A/S – Global Value Chain Management
Carrefour China, Building a Greener Store
Dell Inc. in 2009
Chinese Fireworks Industry

Beamish, P.W., 2013, Multinational Joint Ventures in Developing Countries, London, U.K., Routledge, Chapman & Hall Inc. (Reprint of 1988 publication).

Many governments in less developed countries are keen to promote joint ventures between multinationals and local companies. The advantages of the joint venture form from the government's perspective are that multinational investment is attracted to the country without the multinational company coming to dominate a sector of the economy, and at the same time multinational technology and expertise is passed on to local companies whose competence is thereby significantly enhanced. From the multinational's perspective, the advantage of using a joint venture is that it can be a more effective form of investment than the use of wholly-owned subsidiaries. This book examines how joint ventures work in practice. Drawing on extensive personal experience and using case study examples where appropriate, the author analyses the various stages, discusses the problems of partner selection, implementation and control, and points out the various benefits and pitfalls. He draws out the implications for improving practice and discussed how the experience of joint ventures affects the theory of the multinational enterprise.

This book contains 9 chapters, some of which were previously published as journal articles:

Introduction
Characteristics of Joint Ventures
Partner Selection and Performance
Commitment
A Management Guideline for Joint Ventures in Developing Countries
Joint Venture General Managers
Equity Joint Ventures and the Theory of the Multinational Enterprise
Investing in China via Joint Ventures
Joint Ventures in China: Legal Implications

 
Wang, L., Schotter, A., 2013, Emerging Industries, in Legal-Business Management Cases Series, Vol. 5.,Beijing, China: The Economy & Management Publishing House (in Chinese).
Mu, F., Schotter, A., 2013, Profiting Foreign Business, in Legal-Business Management Cases Series, Vol. 4.,Beijing, China: The Economy & Management Publishing House (in Chinese).
Chai, X., Schotter, A., 2013, SOE (State Owned Enterprises), in Legal-Business Management Cases Series, Vol. 3.,Beijing, China: The Economy & Management Publishing House (in Chinese).
Wang, T., Schotter, A., 2013, Private Business, in Legal-Business Management Cases Series, Vol. 2.,Beijing, China: The Economy & Management Publishing House (in Chinese).

Lawrence, J., Beamish, P.W., 2013, Globally Responsible Leadership: Managing According to the UN Global Compact, Thousand Oaks, CA, Sage Publications.

What does a truly global manager today need to know to lead responsibly? How does he or she develop the core management competencies needed? This book uses the UN Global Compact and its Ten Principles as an overarching framework for understanding the issues facing global business managers today. Drawing on the knowledge of contributors from different parts of the world, the book shows readers the intersection between business and the major global issues of our time—human rights, labor, the environment, anti-corruption and bribery—and most critically, how to address these issues in the day-to-day running of their operations.

Fang, Y., Neufeld, D.J., Compeau, D.R., 2012, Profiting from Information Resources: China Practices and Global Trends (Simplified Chinese), Beijing, China: Beijing Normal University Press.
Mu, F., Sartor, M.A., 2012, Legal-Business Management Cases (Simplified Chinese), (Sun, X., Beamish, P.W., Co-chief editors of book series), Beijing, China: Economy & Management Publishing House.

Beamish, P. W., Wang, H., (eds), 2011, An Anthology of Ivey Business Journal, Beijing, China Machine Press and Huazhang Books (in Chinese).

Ivey Business Journal (IBJ), first published in 1933, was launched with the objective of improving the practice of management. This collection of IBJ articles was carefully selected for their relevance to Chinese managers. As China's economy continues to evolve rapidly, executives will find these articles valuable in the utility and practicality of the ideas discussed in them.

Issues tackled include:

China and India
CEOs & Boards
Leadership
Innovation & Knowledge
Human Resources
Globalization
Best practice

Bapuji, H., 2011, Not just China: the rise of recalls in the age of global business, New York, Palgrave Macmillan.

When China-bashing following product recalls was at its peak in 2007, Professor Hari Bapuji's research changed world opinion by showing that most recalls occur due to design flaws rather than poor manufacturing by Chinese companies. In this book, based on an analysis of the toy recalls of last 20 years, comprehensively examines the issue of unsafe products. Integrating the various analyses together, the book provides a number of useful guidelines to (i) eliminate the defects that lead to recalls, (ii) ensure the responsiveness of companies in a recall situation, and (iii) enhance the efforts to recover recalled products from consumers.

Hari Bapuji (Ivey Ph.D. 2005) is a faculty researcher of the Engaging Emerging Markets Research Centre and an Assistant Professor of Strategy and International Business at the Asper School of Business, University of Manitoba.

Beamish, Paul W., 2010, Engaging the Chinese Market, in M. Crossan, J. Gandz and G. Seijts (eds), Cross-Enterprise Leadership: Business Leadership for the Twenty-First Century, Wiley, pg. 121-155.

Corporate leaders are being rightly pushed by their boards, investors and the media to develop and maintain a coherent international strategy. Such a strategy is intended to incorporate a dominant role for foreign markets in terms of some combination of these countries as markets, sources and/or loci of competition.

Of particular interest in recent years is the role of emerging markets. The largest and fastest-growing emerging market is China. Hence we use it to illustrate how an emerging market might be engaged.

Read more (PDF 12M) with permission from the publisher

Beamish, P.W., 2008, Joint Venturing, Charlotte, NC, Information Age Publishing, Inc.

This book is about best practice in joint ventures: the factors and processes which lead to success.

Every year, corporations establish thousands of joint ventures (JVs), investing hundreds of billions of dollars. In fact, between 25% and 40% of all foreign investments take place via equity JVs.

The key purpose of the book is to demonstrate that joint ventures can work. They require however an open mind, and the willingness to work through a series of questions which relate to: testing the strategic logic; partnership and fit; shape and design; and operating the JV.

The format of the book is intentionally conversational. It uses the Socratic method (question, answer, question, answer) which works so effectively in a case study classroom. Here the 'classroom' is several business class seats on a flight to China.

This book is written for practicing managers and executives. Those contemplating the formation of a JV and those currently engaged in JVs will see improvement in the duration and performance of their collaborative ventures by following the recommended actions.

A second audience is business schools and academics. The book is ideal for MBA, executive MBA and non-degree executive education courses or modules focused on JVs, alliances, cooperative strategies, etc.
Books for Managers
If you're interested in obtaining copies of these books, please contact us.