Noah Soberano, MBA Direct '22 Candidate, on narrowing his interests and leveraging the Ivey network to pivot into a new role
When Noah Soberano, MBA Direct '22 Candidate, decided he wanted to pivot into strategy consulting, he realized returning to Ivey would be the best way to make that change.
As an Ivey HBA graduate, he would be able to earn his MBA in eight months and leverage the Ivey network and recruiting sessions to zero in on a new career path.
"I had a bit of a different vision in undergrad; I was looking more at financial and investing roles, but through my previous work I realized that the type of problems I was solving were more strategic and high-level and I really liked that," says Soberano.
"I've now had the opportunity to take more strategy courses and I'm loving seeing things from a different perspective."
After graduating from Ivey with an Honours Business Administration Bachelor's Degree, Soberano joined Bell Canada's Graduate Leadership Program, which included rotations in marketing, operations and applied technologies. He stayed on at Bell's Loyalty and Retention Strategy arm, before taking an investment associate role at Sharno Group Inc., a privately-owned independent investment group and family office.
He also dabbled in entrepreneurship, as the owner and operator of a cannabis shop, which he later sold.
"I came back to the MBA program partly because I wanted to meet more people and take some courses I never got to take in undergrad, but also because I wanted to pivot into consulting, and I thought the MBA would be a really good spot to do that," says Soberano, who will join Monitor Deloitte, the company's strategy consulting group, after graduation.
In his new role, Soberano will be able to consult with various industries, and hopes to eventually specialize as he continues to explore his interests.
It's a process of narrowing down which began in his undergrad and one Soberano feels has been facilitated by the Ivey alumni network every step of the way.
"The first people I reached out to at most companies were friends I made in the undergrad Ivey program, or friend of friends," he says.
"That's the network that I leveraged and for me it was even more prominent because it wasn't an alumni database; it was people I already knew."
The MBA has allowed Soberano to grow that network, and to learn from his classmates' experience.
"During every class discussion, there are at least a few experts in each topic we cover. A legal issue will come up and there are three lawyers to speak on it; or an accounting term will come up and there a few CPAs," he says.
"None of us came with those backgrounds to our undergrad, and that fresh perspective is huge within the MBA."
And while Soberano had already benefitted from Ivey's experiential method of learning, at the MBA level, he's able to approach his learning differently.
"Undergrad was so rapid-fire; it was a bit overwhelming. Now, it's a less stressful environment," he says.
"I'm taking more of a learning approach and picking courses where I want to learn new things and get better at them, not just the things I think I'll do well with. And I find a lot of what I'm getting out of the program is also the social aspect – meeting people, chatting about courses, and going through it together."
Noah Soberano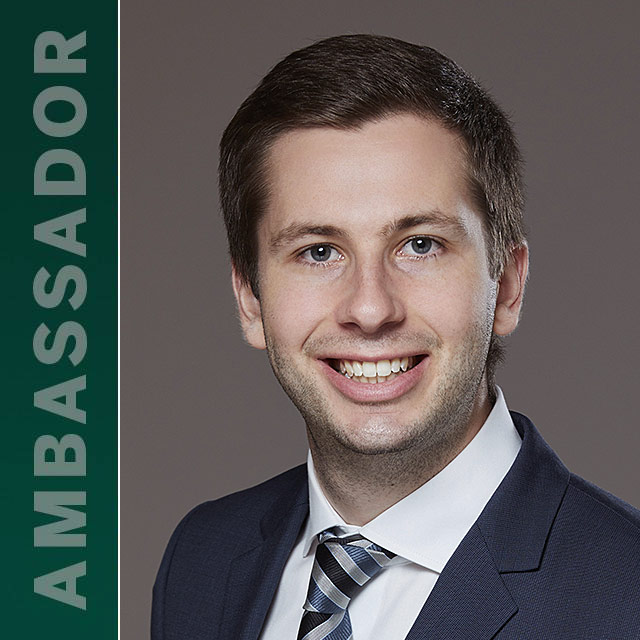 MBA Direct '22 Candidate
Toronto, Canada
Ivey In One Word:
Community