News@Ivey
Winter break reads: Top picks from Ivey faculty
Communications
|
Dec 15, 2020
Tiffany Bayley's pick
Tiffany Bayley is an Assistant Professor of Management Science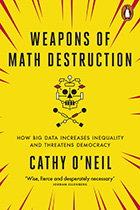 Weapons of Math Destruction
by Cathy O'Neil
Mathematical models, or algorithms, are increasingly being used to make decisions, but data scientist Cathy O'Neil points out the problems with that, particularly the need for regulations. Tiffany Bayley said the book effectively communicates the importance of ethics in analytics.
"Cathy O'Neil discusses the prevalence of mathematical algorithms in all aspects of our lives," said Bayley. "These predictive models can be dangerous if they are created and/or used haphazardly: we might unintentionally (or worse, intentionally) embed biases within these models, resulting in outcomes that can severely impact decisions we face, such as those related to university admissions, mortgage applications, health-care policy, or recidivism."
Craig Dunbar's pick
Craig Dunbar is an Associate Professor of Finance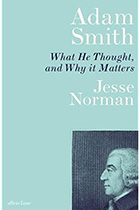 Adam Smith: What He Thought, and Why it Matters
By Jesse Norman
Craig Dunbar says Jesse Norman's account of the life and work of legendary economist Adam Smith gives a clear description of Smith's economic theories and his broader thinking and is particularly relevant today.
"In today's political environment where views are extreme and often lacking in nuance or real understanding, this book strikes me as perfectly timed," said Dunbar. "Adam Smith is known mostly for some famous statements and metaphors, like 'the invisible hand.'  He is often cited by those arguing for free markets, with a small and limited role for government. While talking about the societal gains to trade, Smith was also careful to talk about when things can go wrong, and the potential and important role of regulation. Norman's summary of Adam Smith's strong opposition to slavery makes the book worth a read, in my opinion."
Miranda Goode's pick
Miranda Goode is an Associate Professor of Marketing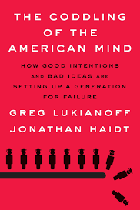 The Coddling of the American Mind: How Good Intentions and Bad Ideas Are Setting Up a Generation for Failure
by Greg Lukianoff and Jonathan Haidt
Are American college students being too coddled? First Amendment expert Greg Lukianoff  and social psychologist Jonathan Haidt analyze some of the recent trends on college campuses and how they are affecting young people's behaviour. Miranda Goode said the book offers a unique perspective on the changes that are seen to be occurring on university campuses in the U.S.
"It's interesting to think about if the same observations and analyses would apply to the experiences of students and faculty on Canadian campuses," she said.
Deishin Lee's pick
Deishin Lee is an Associate Professor of Operations Management & Sustainability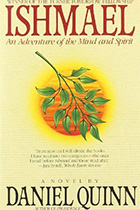 Ishmael: An Adventure of the Mind and Spirit
by Daniel Quinn

Daniel Quinn is an award-winning author who is known for fiction providing creative and positive solutions to global problems. And this book is no exception. Quinn's tale of a gorilla tutoring a man questions our relationship with nature and perspective of the world.
"This book will shine a light on and challenge every implicit assumption you have about the world," said Lee.
Klaus Meyer's pick
Klaus Meyer is a Professor of International Business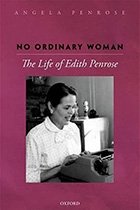 No Ordinary Woman: The Life of Edith Penrose
by Angela Penrose
Klaus Meyer says Edith Penrose (1915-1996) was one of the most distinguished scholars studying the multinational enterprise, development economics, and the interface between the two. And this biography by her daughter-in-law, Angela Penrose, provides a vivid account of her life and scholarly writings.
"Throughout her life, she took on new challenges that broadened her perspective, and exposed her to challenges in the real world – from food logistics during the Second World War to oil companies in the Middle East during decolonization," said Meyer. "Her research, often combining qualitative and quantitative methods, has informed key theories used in the field today, notably the resource-based view in strategy and the internationalization process model in international business."
Gerard Seijts' pick
Gerard Seijts is a Professor of Organizational Behaviour and Executive Director of the Ian O. Ihnatowycz Institute for Leadership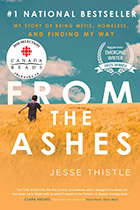 From the Ashes
by Jesse Thistle
Jesse Thistle is an award-winning author and Assistant Professor in Métis Studies at York University, but he went through a lot to get to where he is today. Gerard Seijts says he highly recommends Thistle's memoir of Métis life and homelessness because it provides some important life lessons.
"The book is the gripping story of Jesse as he finds his way in life as a survivor of the streets, jail system, and addictions. The story and life lessons embedded in it will stay with the reader for a long time," said Seijts.
Hayden Woodley's pick
Hayden Woodley is an Assistant Professor of Organizational Behaviour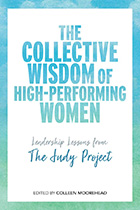 The Collective Wisdom of High-Performing Women: Leadership Lessons from the Judy Project
by Colleen Moorehead
Hayden Woodley says Colleen Moorehead's book, which celebrates the female leadership attributes in business, comes at an important time.
"During a time when equity, diversity, and inclusion is being brought to the forefront in the business world, it is important to add perspectives that helps us reflect, review, and re-evaluate our social (e.g. business) norms," he said. "Colleen Moorehead's book achieves this goal by providing (qualitative) evidence that draws attention to leadership behaviours that have historically been undervalued in many 'western' organizations. More specifically, drawing attention to the value of communal leadership traits, in an engaging, anecdotal writing style."