When Peter Katz began his career as a singer-songwriter, his vision of success was to sign a record contract. He never imagined how redefined that vision of success would become after learning about the impact he made on the lives of others by putting his songs out into the world.
Speaking to Ivey students at the 2022 HBA Leadership Day on September 14, Katz, a JUNO-nominated singer and musician, shared some of the many unexpected ways he has learned he has made an impact. One example is having his music incorporated into the curriculum of a youth mentoring program called FACES, and subsequently getting the opportunity to lead one of its summer camps. Another is hearing from fans that his songs were played during their significant life moments, such as getting married, giving birth, or while saying goodbye to a dying loved one.
He said these revelations often seem to appear during low points in his career and inspired him to carry on. They reminded him of his purpose: to be of service to others by sharing his emotions through song in a way that others can relate to.
Katz discussed the importance of showing up wholeheartedly for others and encouraged the students to connect with their integrity and the big picture, nurture key relationships, and contribute to cultivating greater humanity in the world.
Show your humanity
"We don't actually know the full impact of the work we are doing in the world so it's not about the outcomes, it's about how we show up every day. As future leaders, your success is going to come as a result of you being of service to the people that you lead," he said. "I might put songs and stories and facilitation out into the world, but you'll put out leadership, opportunity, care, compassion, support, and prosperity. You're going to put humanity out into the world."
Watch the video with Peter Katz above.
Learning to lead
It was a timely message for a day dedicated to the students' development as leaders. Hosted by the Ian O. Ihnatowycz Institute for Leadership, the day included mini-case classes and insights on the development of good leadership from some of Canada's most respected practitioners.
"I think we all agree that good leadership is essential, particularly in times of disruption, and there is no better example of disruption than the global COVID-19 pandemic," said Dusya Vera, Executive Director of the Ian O. Ihnatowycz Institute for Leadership. "As we move forward and learn the lessons from this global pandemic, we have the opportunity to move forward as better versions of ourselves."
Vera said learning to lead involves more than just developing competencies. It also involves developing character; meaning the values, traits, and virtues that enable people to lead in a holistic way.
Acquiring leadership competencies and developing your leader character will position you for the greatest and most positive impact. I want to invite you to value the impact that is in your hands." 
– Dusya Vera
And while the challenges ahead might seem overwhelming, a panel of leaders gave advice for leading through difficult times. The panel included Franca Gucciardi, CEO of McCall MacBain Foundation; Sevaun Palvetzian, Executive Advisor of ESG & Corporate Responsibility; and Rashid Wasti, EMBA '03, EVP and Chief Talent Officer of the Weston Group of Companies.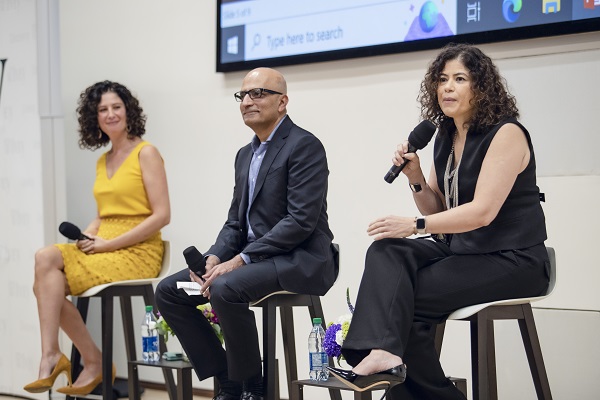 L-R: Sevaun Palvetzian, Rashid Wasti, and Franca Gucciardi.
Here are some takeaways:
Learn from history
Citing other crises in history, Sevaun Palvetzian said three attributes of leadership stand the test of time: collaborating with others, being curious and open to new ideas, and mining and developing great talent for the team around you.
She encouraged the students to learn from experiences in history, sharing an extreme example of how a leader looked to history for ways to move forward. She told how American politician, John Fetterman, tattooed on his forearms the dates when people were killed through violence in Braddock, Pennsylvania while he served as mayor to remind him of his commitment to reduce gun violence.
"I hope that all of us can take advantage of the learnings and experiences from history. If we're repeating it [history] something is wrong," she said.
If we're curious about finding out what others have done in other contexts, we might find solutions faster and certainly more creatively."
– Sevaun Palvetzian
Remember your purpose
Hope and resilience can help you to lead through tumultuous times and Rashid Wasti gave advice for remaining optimistic: keep in mind that you're on a journey with ups and downs and never lose sight of the purpose.
Remembering that you're in charge of your destiny versus giving up control to the environment around you is also key to staying hopeful. Wasti recommends tuning out toxic information and people.
And to build resilience, Wasti emphasized the importance of self-care and focusing on activities that will get you to a good place when times are tough.
Bring out the best in others
Franca Gucciardi shared four ways to nurture talent in others:
Figuring out how people want you to treat them and respecting and embracing people's differences;
Creating an environment where people can innovate and bring forward new ideas without fear of repercussions if they make mistakes. And that means acknowledging your own mistakes as the leader;
Setting the organization's values and ethical framework, but allowing people to develop their own tactics for getting there; and,
Delegating tasks, even if you can do them quicker, so that others can learn.
"People want to feel needed and have a purpose. How wonderful is it when everyone has a purpose and then we know we got there as a team," she said.  
Cultivate a sense of belonging
The panellists also discussed the importance of inclusive leadership. Gucciardi told of a time when a colleague had ensured her voice was brought to the table and encouraged the students to speak up if they see someone being excluded.
Wasti recommended doing small things right in the moment because they can eventually add up to big change, a concept he called "winning the key moments."
Embrace humility and self-awareness
In leadership, humility is often misunderstood and mistaken for weakness, but Wasti said it can and should co-exist with confidence. That balance requires knowing your strengths and standing up for them while learning through introspection what you still need to learn, change, or grow.

Calling humility "a leader's superpower," Gucciardi told how she nurtures it by surrounding herself with people she trusts who will tell her when she is not meeting the standards she has set for herself. And set such standards in the first place by recognizing that you don't know everything.
Humility is how you show your vulnerability and your true humanity."
– Franca Gucciardi