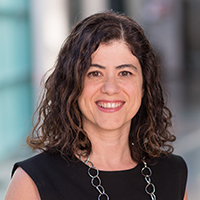 Franca Gucciardi
CEO
McCall MacBain Foundation

Franca served as CEO of the Loran Scholars Foundation, a charity that identifies and supports exceptional young Canadians who demonstrate character, service and leadership, for 13 years. Prior to leading Loran, Franca was the Founding Director of Canada's Millennium Excellence Awards. She has also worked at the Ontario Legislative Assembly, Brampton Caledon Community Living, and TVO. Franca is currently the CEO of the McCall MacBain Foundation.
In the community, Franca is board chair of College Montrose Children's Place and board director with the McGill Institute for the Study of Canada. An advocate for the value of volunteer service, especially by young people, she previously served as vice-chair of the board of directors of Volunteer Canada and as chair of its public policy committee.
Franca obtained a BA from the University of Waterloo as one of the first Loran Scholars to be selected in 1990, and has a MA from Carleton University's Norman Paterson School of International Affairs. She completed the Strategic Perspectives in Nonprofit Management Program at Harvard Business School and holds the Chartered Director designation from The Directors College.

In 2013 Franca was one of 33 women named a Fellow of the International Women's Forum. She is the 2015 recipient of the Gil Bennett Gold Standard Governance Award and the Sara Kirke Award for Entrepreneurship and Innovation.