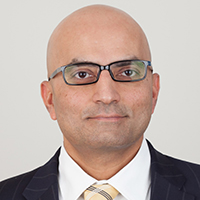 Rashid Wasti
EVP & Chief Talent Officer
Weston Group of Companies
EDI Advisory Council Chair Rashid Wasti is EVP & Chief Talent Officer of the Weston Group of Companies. In this role, he is focused on helping all the businesses in the group develop their current and future senior talent through effective succession planning, recruiting, learning & development, diversity & inclusion, culture-building and mentorship. The Weston Group is Canada's largest private employer with over 200,000 employees and $50 billion in revenues, consisting of well-known consumer businesses such as Loblaw, Shoppers Drug Mart, Joe Fresh, President's Choice Financial, Weston Foods as well as Choice Properties, which is Canada's largest REIT.
Prior to joining George Weston in 2013, he had a 25-year career in Marketing, Strategy Consulting, Recruiting and Talent Management at Procter & Gamble, Boston Consulting Group and Egon Zehnder International, at various points based in Europe, Middle East, the U.S, and Canada. At Egon Zehnder, he consulted with clients all over the world on senior talent management strategies, assessments, coaching, and executive team effectiveness.
He holds Bachelors and Masters degrees in Economics from Cambridge University in England, and an MBA from the Ivey School of Business at Western University.