Equity, Diversity, and Inclusion in Practice
Empower your teams with reciprocity, trust, and belonging. Nurture supportive relationships and a sustainable organizational culture through equity and inclusion.
Fall Session
$4,990 CAD
November 27 - November 29, 2023
In-Person
3 days
Toronto, Ontario, Canada
Program Overview
Identifying and dismantling systemic barriers to equity and inclusion requires respect and support among all members of an organization, regardless of their formal roles. Systemic change is challenging and often frustrating. Focusing on the substance rather than the optics of equity and inclusion requires a willingness to navigate the complexities of mistakes, failures, and feedback. It also takes resilience, commitment, and the ability to bring others along. 
Equity, Diversity, and Inclusion in Practice is designed to deepen your leadership awareness and help you recognize often neglected yet critical aspects of your identity and relationships with others. The program goes beyond the typical 'to-do' checklist or unconscious bias training. Instead, you'll work with diverse peers to combine systems perspective and critical thinking, identifying effective levers, moments of intervention, and practical means to affect positive change in organizations and society.
Who Will Benefit
Equity, Diversity, and Inclusion in Practice is designed to be inclusive, inviting people from all backgrounds, professions, roles, experiences or lives-lived. You will gain and deepen insights on equity and inclusion as intentional practices rather than concepts, apply learning to your personal practice of leadership, and examine approaches to building and sustaining inclusive organizations.   
While not required, we often recommend that two leaders from one organization attend together to amplify learning outcomes through context-specific dialogues and exercises related to their organizations or workplace teams.
What You Learn
Recognizing your positionality
Critically assess and identify your position within a system of social relations and identities.
Discover how intersectional identities interact with historical, cultural, and social contexts to create unique experiences of privilege and oppression.
Understand how lived experiences influence how we think, speak, and act as leaders.
Mapping systemic barriers
Apply systems perspectives to examine the stories we tell about ourselves and others.
Unpack the power dynamics, processes and structures perpetuating inequality and exclusion in organizations and society.
Intervening to create inclusion
Recognize when, where, and how to intervene to lower barriers to equality and inclusion.
Examine your social responsibility to engage in allyship and advocacy.
Design practical approaches to bring others along and affect positive system-level changes in your organizational structure and culture.
Ivey Inclusive Leader Certificate
Equity, Diversity, and Inclusion in Practice is eligible for your Inclusive Leader Certificate pathway. Click here to learn more and view additional program options.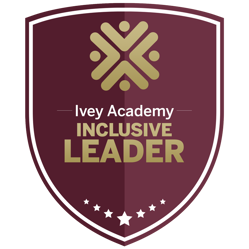 How You Learn
Equity, Diversity, and Inclusion in Practice is deeply experiential, grounded in case research, and facilitated by expert faculty from Ivey Business School. Engaging in deep introspection, discussion, and simulation, you'll complete the program with fresh insights and a clear strategy to drive positive change within your organization's structure and culture.
Learn more about the Ivey Experience
Return on Investment
Earn a credential from Ivey Business School. Your Equity, Diversity, and Inclusion in Practice digital badge is linked to a unique URL, allowing you to showcase your advanced proficiency in online profiles.
Form lifelong connections with peers through learning and social events. The Ivey Academy alumni network is a long-term resource for participants to share business opportunities or seek advice on life and career challenges.
Explore new perspectives while taking time for mindfulness, reflection, and practice away from the demands of your day-to-day. Return to work with an open mind and increased confidence.
Receive discounts on select programs, exclusive event invitations, and curated collections of thought leadership and research from Ivey Business School.
Enhance your awareness to become a more effective, inclusive, emotionally intelligent leader.
Adopt insights and best practices from Ivey faculty, industry experts, and other organizations to jump-start new ideas.
Enhance your company culture with progressive approaches to inclusive leadership. Encourage belonging and well-being among your employees and teams.
Explore contemporary research on critical business issues to navigate ongoing disruption in the business landscape.
Share new perspectives, frameworks, and research from Ivey with your team to build a greater sense of collaboration and cohesion.
Participant Testimonials
Anybody would benefit from this program, no matter what lived experiences they bring to the table. It provides a foundation for you to build strategies that fit your unique context — at the end of the day, I feel a sense of ownership. It's not just instruction, it's more about guidance. That approach works incredibly well in a diverse group with so many different perspectives.
Ranvir Dhillon, Plant Manager, North American Stamping Group
I have done a lot of equity, diversity, and inclusion work over my career. Coming to this program and hearing from the facilitators and my peers in the class—all of their knowledge, ideas, concepts, and ways of presenting—I learned so much. We focused on peeling back the layers and looking deeply at how to enact systems change within our areas of control, which was so valuable.
Laila Sarangi, Social Action Director, Family Service Toronto
What stood out is that it's not about a professor delivering a message. They become facilitators who set the stage for you to reflect on your personal practice and journey with EDI. The answers come from within, and it works. I would recommend this program to anyone who wants to advance their understanding and bring a different perspective into the workplace.
Steph Malo, Deputy of Operations, City of Mississauga
Fees
$4,990 CAD
The program fee covers program materials, meals, and hotel accommodations for programs held at our Ivey Spencer Leadership Centre. Program sessions offered in Toronto and Calgary include program materials, breakfast, and lunch; participants are responsible for accommodations and meals outside of program hours. Program fees are tax-exempt.
Applications must be submitted no later than 14 days before the start of the program.
FAQs
What funding resources are available?
When are new program dates announced?
How should I prepare before attending the program?
Our Program Managers will contact all registered participants prior to the program start date with instructions to join our online Learning Management System. Once logged in, you can create a class profile, view other participants' profiles, and access a list of assigned pre-reading, cases, and activities. Plan to review and complete preparation work in advance of each class session.