Sustainability and Digital Innovation
Use emerging technologies to boost performance while achieving strategic environmental and social sustainability goals for your organization's future.
Fall Session
$790 CAD
Module 1: To be announced
Online
2 hours
Live Virtual + Self-Paced Learning
Module 2: To be announced
Online
2 hours
Live Virtual + Self-Paced Learning
Workshop Overview
In today's rapidly evolving business landscape, organizations across every industry are creating competitive advantage through sustainability initiatives. New technologies allow you to adapt dynamically to consumer trends, regulatory frameworks, and market pressures. Leaders of tomorrow need technology-enabled strategies that not only align with sustainability goals but also use sustainability as a catalyst to drive growth.
Sustainability and Digital Innovation is an interactive workshop connecting leaders to a vital new world of innovative technologies that enable social and environmental sustainability. From analytics to machine learning, you'll explore real-world examples of leading companies using technology to drive sustainable business results. Through case discussions and an action learning project, work alongside Ivey faculty and your leadership peers across various industries to demystify emerging tech and find practical applications in your organization. In this essential leadership development experience, you'll gain the research-backed, contemporary insights you need to guide your organization toward a sustainable future.
Who Will Benefit
This workshop is essential learning for all professionals in operations, supply chain management, and IT. Leaders with strategic responsibility for digitalization, innovation, or sustainability within their organizations will also gain critical insights. 
The learning is also highly applicable for engineers, designers, R&D teams, and product managers looking to drive business results and meet sustainability goals. Public sector employees, including city planners, municipal decision-makers, and civil engineers, will also benefit. The workshop is open to consultants and coaches, as well as entrepreneurs pursuing sustainable business models.
What You Learn
Mapping the impact of sustainability and digitalization
Explore examples of organizations using artificial intelligence, machine learning, and IoT to drive social and environmental sustainability.
Identify how new technology solutions might impact your organization and consider ways to adapt your business strategy and operations.
Identifying core metrics
Link your use of technology to key metrics and build consensus for sustainable change between diverse stakeholders.
Plan strategies to improve customer experience, operational processes, and community engagement using your organization's existing data.
Collaborating across systems using technology
Understand how technology drives collaboration within systems.
Map the integrated network of suppliers, partners, customers, and community interests that connect to your organization.
Drive performance, ROI, and sustainability together
Innovate with purpose. Connect technology to performance, stakeholder engagement, and sustainable business outcomes
This workshop's total learning time commitment is 4 hours of live instruction and 1-2 hours of independent work.
Advanced Impact Certificate
Sustainability and Digital Innovation is eligible for your Digital Leader Certificate pathway. Click here to learn more and view additional program options.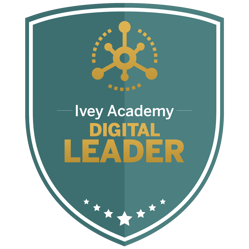 How You Learn
Sustainability and Digital Innovation is a live, interactive virtual learning experience featuring case discussions and exercises led by expert Ivey Business School faculty. You'll work with peers to generate immediate insights and impact in your role at work.
Learn more about the Ivey Experience
Return on Investment
Earn a credential from Ivey Business School. Your Sustainability and Digital Innovation digital badge is linked to a unique URL, allowing you to showcase your advanced proficiency in online profiles.
Enhance your knowledge of emerging technologies and their applications for sustainable business.
Differentiate your skillset and help your organization navigate successful change.
Share new perspectives, frameworks, and research from Ivey with your team to build a greater sense of collaboration and cohesion.
Help your team and organization identify and implement sustainability initiatives enabled by cutting-edge technology.
Fees
$790 CAD
The program fee covers all materials. Program fees are tax-exempt.
Applications must be submitted no later than 14 days before the start of the program.
FAQs
How are online programs delivered?
Online programs are delivered through a blend of live interactive virtual sessions with Ivey faculty facilitators and self-paced learning modules. Each module guides you through videos, cases, and exercises that help you prepare for and reflect on your learning. You'll then participate in a live online class to discuss and apply your new knowledge with peers and faculty. All components of virtual programs are required for participants.
What funding resources are available?
How should I prepare before attending the program?
Our Program Managers will contact all registered participants before the program start date with instructions to join our online Learning Management System. Once logged in, you can create a class profile, view other participants' profiles, and access a list of assigned preparation activities. Plan to review and complete preparation work in advance of each class session.