From high-end jewelry, medications and cardboard, to steel containers and adhesives, Ivey alumni are making it, making things. By focusing on innovation, quality and customers, they're keeping their enterprises successful during a time of change.
Rob Dimitrieff, MBA '08, President and General Manager of Niagara Energy Products and Patriot Forge Co. likes making things. Big, heavy things. "In our business we make some amazingly large stuff that is fundamental to our society," he says. "We make things that keep the lights on, that keep us connected, keep us moving, and keep us safe. I take pride in that."
Wayne Howard, HBA '79, is also proud of the products he manufactures, although they are very small. As Vice President of Manufacturing at Tiffany & Co. he oversees the production of high-end jewelry. "We make something that is very beautiful, something that people feel good about giving and owning."
Dimitrieff and Howard both know that no matter how "virtual" our world becomes, we still need to make and use many things. Worldwide, manufacturing accounts for some 16 percent of GDP and 14 percent of employment. In Canada, the sector represents approximately 10 percent of GDP.
Often seen as a traditional, even outdated sector, manufacturing is facing significant challenges and evolving quickly. Paul Boothe, Professor and Director of Ivey's Lawrence Centre, has studied Canadian manufacturers, focusing on nine of the most successful companies. He says that manufacturers have suffered during the prolonged recession, and indeed many have disappeared. The survivors, he says, are focused on process innovation, quality and technology. They pay close attention to consumer needs and wants, and are reaching out to find new markets in emerging economies.
Dimitrieff is a big proponent of innovation. Niagara Energy Products manufactures critical components for the Ontario nuclear industry, and Patriot Forge Co. does custom open die forging for industries such as oil and gas, power generation and aerospace and defence. The companies have felt the impact of lower energy prices, negative public attitudes toward nuclear power, and strong competition from U.S., Japanese and European companies. "We can't compete on labour costs, and we don't have much leverage on other inputs," he says. "So innovation is really where we can compete. We're always looking at ways to be smarter about how we organize our work and how we minimize costs." He expects staff to bring forward and champion ideas for improvements, and then encourages rigorous discussion by a group of peers. "We need to get the ideas out, and then make them better." 
Quality is also critical to the success of his companies, Dimitrieff says. Most customers have demanding specifications with little wriggle room. "The important thing is that we deliver time and time again over many orders, so they come to trust our quality system." The firms' quality programs constantly conduct root cause analysis and evaluate how to eliminate possible errors from future production. Says Dimitrieff, "The time and money spent on quality is actually an investment in reducing production costs in the future."
Given the nature of Howard's business, achieving quality is all about the people. "We have to make sure we have access to highly skilled craftspeople. Even when we bring in skilled people from outside, we have to train them on the Tiffany quality methods." While each piece may be slightly different because of the craftsmanship involved, all must meet rigorous quality standards.
Innovation takes the form of new designs, created by a skilled design team and prototyped by hand. Then technology, including Computer-Assisted Design, is used to ensure that there is an exact record of the original piece that can be reproduced by the craftspeople. "Once we have the right design, everything else falls in line—we have to have the ability to make the items through the supply chain, we have to do it in a way that is effective and efficient, we have to offer people a quality place to work, and we have to ensure that we're doing what's right from a social accountability perspective."
Tiffany's, legendary for its elegant Fifth Avenue store, is certainly finding new markets. More than half of sales now come from outside the U.S., and expansion in Asia has been very strong. The company already manufactures outside the U.S. and may expand further. For Howard, this means new challenges. "We have to ensure that our supply chain can keep pace on a global basis," he says. The company must also adjust to different tax jurisdictions, languages, customs and tariffs, and more.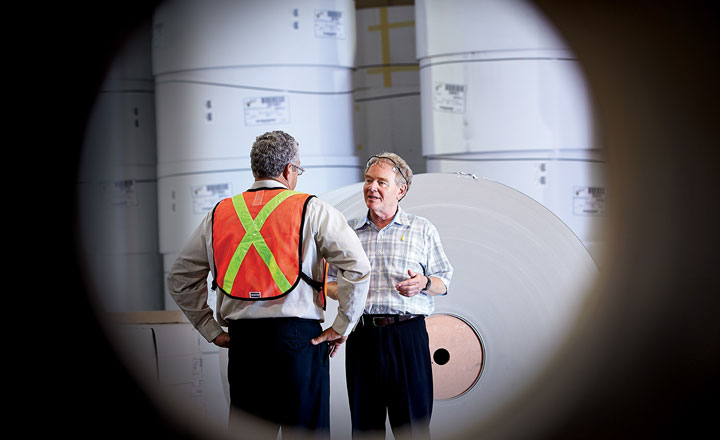 Mark Sklar, MBA '75, is President and COO of Strathcona Paper LP. Strathcona, which is owned by a U.S. private equity fund, produces annually some 100,000 tons of cardboard used in packaging, making it the largest Canadian producer. Sklar fosters a culture of innovation at all levels.
"Innovation is the reason we have excelled in the paper industry," he says. "And the innovations don't necessarily cost big dollars. I've really tried to drive ownership for the work to the people who do it, so when they have good ideas they don't feel inhibited in bringing them forward. I tell people I'll try anything as long as it's not going to put us out of business!"
Sklar says the plant is challenged when the Canadian dollar is low, because much of the raw material is priced in U.S. dollars. A lean program ensures the plant runs efficiently as measured against similar operations. But it's quality and service, rather than price, that enables Strathcona to succeed against its North American competitors. The company conducts an annual third-party customer survey to stay in touch with needs, and provides exceptional after-sales service. "If for any reason a customer has a problem, we're available 24/7. We'll get somebody on a plane or in a car right away to help them work through it."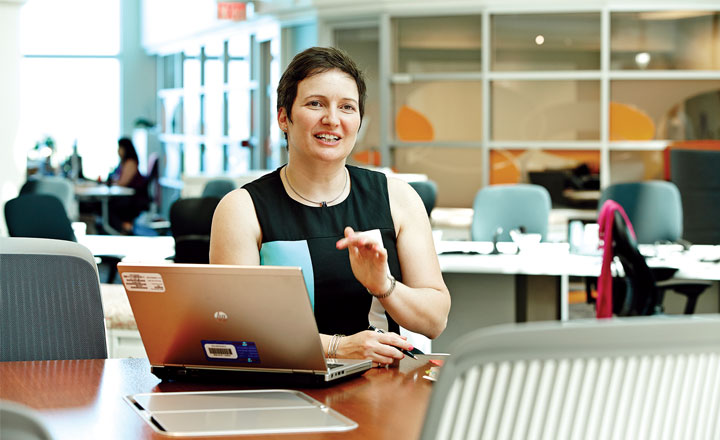 Innovation is also important at GlaxoSmithKline (GSK) Canada, where Tina Capotorto, MBA '03, is Director of Lean Deployment. Capotorto says traditional manufacturing was focused on long runs that produced the same product for years. Now it must change to meet consumer demand, moving from 'long and steady' to 'quick and nimble.' "Globally consumers want new and different things, so we need production systems that can change quickly. The challenge is to keep quality, safety and cost under control, while enabling flexibility."
GSK has traditionally marketed primarily to North America and Europe, but sees growing demand in emerging economies in Asia and Africa. That means changes in pricing, drug delivery methods, and more. "The key," says Capotorto, "is making it all about the patient, and being ready to adjust when the patient is in Zimbabwe instead of Sweden."
Capotorto is a prophetess of continuous improvement and process innovation. She sees manufacturing companies as slow to evolve, and believes that major cultural changes are needed. "My number one challenge is to get people to look at our processes differently so that we can continuously improve them. And secondly, I want to teach people to embrace the idea that what we're doing today isn't necessarily what we should be doing tomorrow." She notes that big manufacturers must think differently about investments in technology. "We have to design our production lines so that you don't have to wait five years for the payback. We have to embrace disruptive thinking."
Kevin Higgins, MBA '80, recently retired as Vice President, Industrial Business Group with 3M Canada. Higgins says the Canadian plants of the multinational company compete with 3M plants in other locations on cost, service and quality. "There usually isn't an issue with service or quality, but where we can get blindsided is if production becomes labour intensive. If there's a high labour component, there's probably a plant in Mexico or South Carolina that will be more competitive." The sweet spot, he says, is when labour represents about 15 percent of standardized costs, and processes are highly automated. Boothe agrees: "In Canada we want lots of technology and workers who are highly skilled to earn the high wages we want to pay them." Higgins adds that other issues, such tax structure and energy costs, help determine whether and where a plant can succeed.
3M has a long tradition of product innovation but Higgins says process innovation is equally important, especially when it comes to cost control. "Our people are always looking for breakthrough technologies that can transform processes and reduce costs," he says. For example, lab researchers look for ways to use chemistry and engineering to reduce the amount of rubber latex needed to produce 3M adhesive products. "The less you can be impacted by the price of raw materials using technical innovation, the better," says Higgins. 3M has been issued more than 100,000 patents in its long history.
The firm has used many different quality systems over the years, but Higgins is particularly excited about the impact of Lean. "Lean enables you to do a complete flow analysis," he says. "You don't just focus on the little things, you get after the big stuff too." For 3M, which manufactures for the biomedical, automotive, and aerospace industries, quality control is essential. "Quality means delivering to the customer what they want, when they want it, with the service they need." Higgins refers to the company's ethos as a combination of "mad scientist creativity" and strict financial and executional discipline.
Government policy can have a major impact on the manufacturing sector. Higgins notes that firms in Ontario are hampered by high energy costs relative to their U.S. counterparts. Sklar agrees, adding that "red tape" associated with government regulation is burdensome. 
So what is the future of manufacturing in North America? Despite the challenges, Sklar is bullish, proud that his company is thriving in what is sometimes seen as a sunset industry. Dimitrieff is upbeat too. He is investing in greater capacity and new technologies, including a major plant expansion now under way, and is exploring the potential of vertical integration.
Boothe sees room for optimism too, but emphasizes that it will take razor-sharp strategy to survive and thrive. "A bright future is possible, but not guaranteed," he says. "It all depends on firms doing the right things."
All Photos: Nation Wong
Art Direction: Greg Salmela, Aegis