Alumni
Shelley White
|
Sep 5, 2017
How a business education helped these six alumni physicians get to where they are today
At Ivey, diversity is strength.
It's something Canadian Forces General Surgeon Rich Hilsden, MBA '14, noticed early on when working with his first group of classmates at Ivey.
"We had someone who had a construction engineering background; someone who came from politics; someone who had a background in accounting; another person who did event planning," says Hilsden. "I brought a different set of skills to the table, and I can think of specific things I learned from each one of those people."
Diversity of knowledge, experience, and perspective has always been a hallmark of the Ivey community. And while medicine may not be the first profession one might think of in conjunction with an Ivey business degree, physicians of all types are increasingly coming to Ivey to improve their business acumen.
Meet six Ivey alumni from across the spectrum of the medical community, from neurology and podiatry to palliative care and veterinary medicine. Though their experiences and expertise are varied, they all share a common goal – to be leaders in their fields.
Rich Hilsden, MBA '14
General Surgeon, Canadian Armed Forces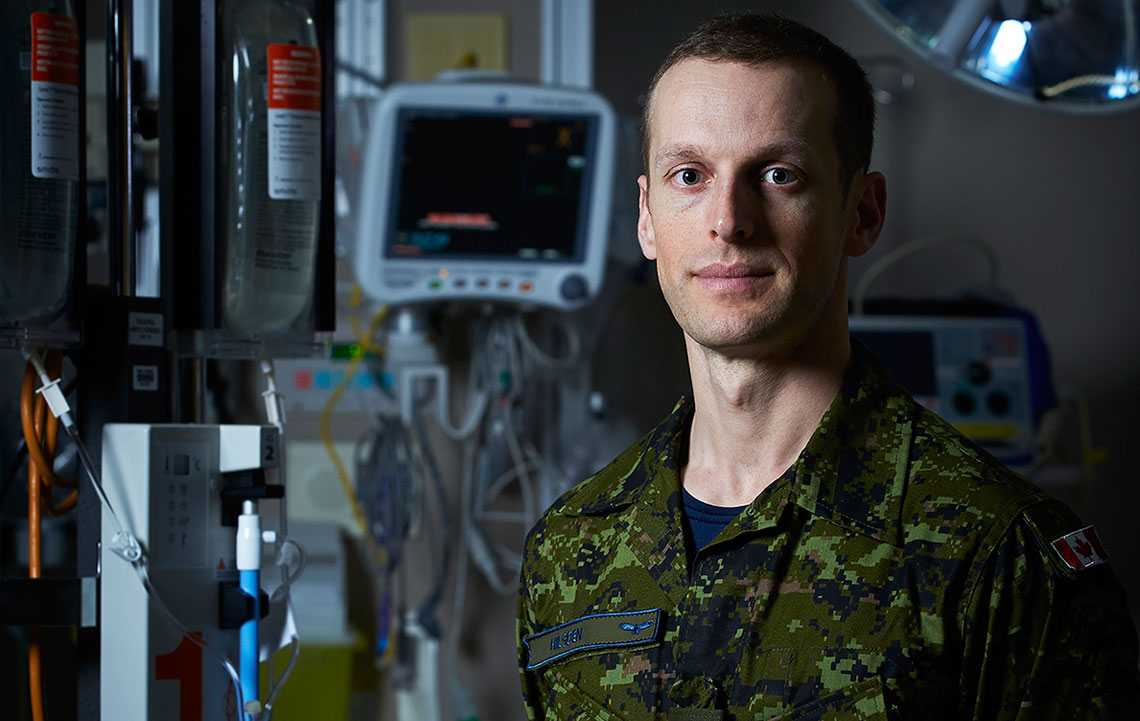 Rich Hilsden was a medical student at McMaster University in Hamilton, Ont. when he was approached by a recruiter from the Canadian Armed Forces. It was 2003, a time when the Canadian military was expanding its role in Afghanistan and they were short on doctors.
"I felt that there was an opportunity to be part of something really significant in history and in our society, and that drove me to join," says Hilsden.
After completing his medical degree at McMaster, Hilsden was deployed to Afghanistan in 2010 for eight months, treating battle-wounded soldiers, combatants, and civilians. Now a general surgeon based in London, Ont., Hilsden will be heading off to Iraq in October for a three-month deployment.
"Our unique skill set as military surgeons is that we are able to move from one location to another on short notice, to set up a small operating room and provide care as the battlefield moves around," he says.
When he isn't serving overseas, Hilsden is a Clinical Fellow in the Division of General Surgery at Western University and does general surgery at the London Health Sciences Centre. He's also passionate about leading several health resource management research projects there. Hilsden will be publishing and presenting some of his findings on high-efficiency operating rooms at the Canadian Surgical Forum in September.
"I'm still a fairly junior doctor, and I wouldn't have had the opportunity to lead that project if it wasn't for my Ivey experience," says Hilsden. "I've also used technical skills from specific Ivey electives, as well those soft leadership skills that are critical to getting projects done, when I'm leading the teams that I'm involved with."
Hilsden says he's also grateful for his network of Ivey alumni, both professionally and personally. "Ivey gave me an amazing experience to build those networks and connections and learn from other people, and not just in the classroom."
Wei Qiu, MBA '09
Chief Medical Information Officer, Jiahui Health
When it comes to rising in the ranks in medical administration, it's soft skills that make the difference, says Wei Qiu.
Qiu is Chief Medical Information Officer (CMIO) at Jiahui Health in Shanghai, China, a multi-site health-care ecosystem planned for Shanghai and the surrounding area, with its flagship Jiahui International Hospital opening in October.
Remembering his first module during his MBA, Qiu says he was a "little bit confused." It was a leadership module that focused on the soft skills of management like interpersonal and communication skills.
"I thought, 'Oh my God, I came all the way here and I'm learning leadership,'" says Qiu with a laugh. "I didn't realize the value at that time. In hindsight, I look at the first module as the most beneficial one. The soft skills I think are really mission critical, if people want to move up the ranks."
A physician originally trained in China and later in the U.S. with a PhD in Molecular Medicine at the Boston University School of Medicine, Qiu took his MBA at Ivey because he saw himself advancing in management and realized he was "a little bit short on knowledge in terms of the business mindset."
After graduating from Ivey, Qiu first joined Deloitte and later spent six years at eHealth Ontario in Toronto, where he was the inaugural CMIO for the provincial agency. In 2016, he was recruited to help launch Jiahui Health.
"Ivey gave me the opportunity to work within a number of different high-profile positions, and I think that will benefit me for a long time," he says.
The bonds he formed at Ivey have also been long-lasting – Qiu attended Homecoming a few years ago, and reconnects with alumni at Global Ivey Day events in Shanghai. "I think those friendships, the diversity, and the nature of the class offerings were really an eye-opening experience for me."
Farah Alani, HBA '05
Podiatrist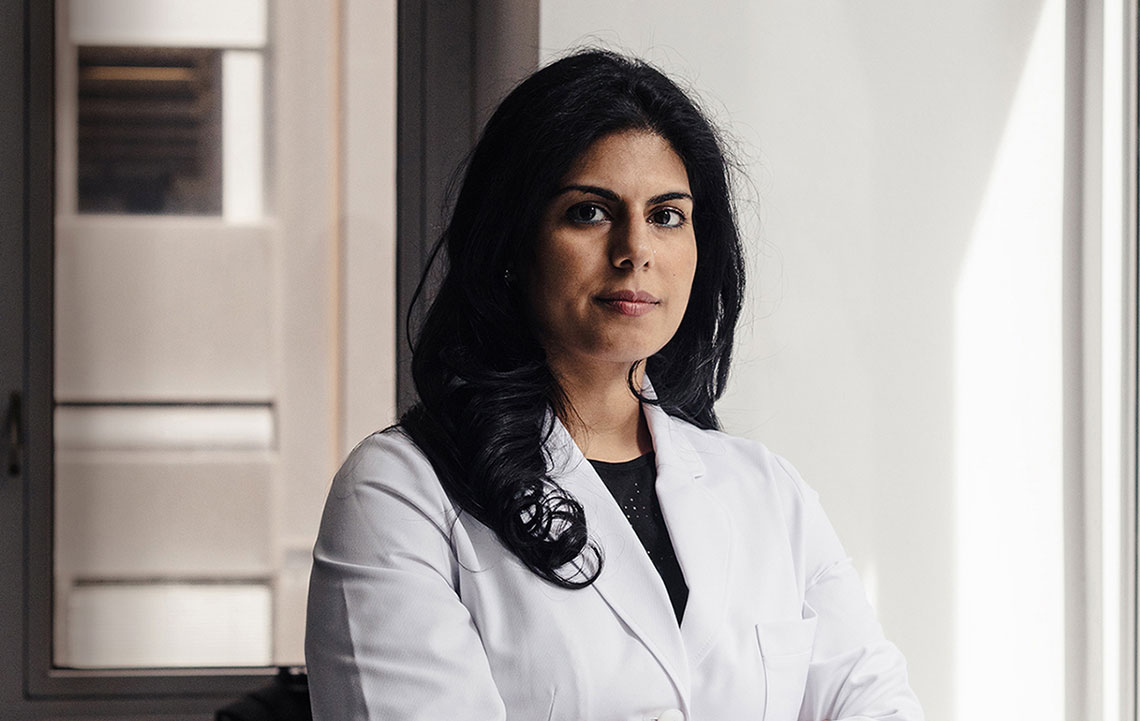 Farah Alani was all set to be a lawyer, but a trip to East Africa convinced her that medicine was her calling.
The Toronto native was enrolled in a global leadership program during her HBA, and as part of the program, she travelled to East Africa to work with an immigration refugee lawyer for the summer. Though she wasn't able to connect with the lawyer, she ended up working with a doctor through an HIV/AIDS charity.
"He did a lot of foot surgery and I thought, 'This is really cool.' So, I changed my mind," says Alani. She subsequently went to medical school in Chicago, splitting her residency between California and Brooklyn, N.Y. She fell in love with New York and decided to stay.
Now, Alani is a podiatrist with her own practice in Manhattan, treating "high-stress, overworked professionals." She is heavily engaged in community service in her free time.
Alani says she's found the Ivey Case-Method is something she applies to her current career as a podiatrist. She looks at her patients' problems from multiple perspectives, considering all the data and then problem-solving.
"My approach to people is very whole and very well-rounded, and my patients will say that I consider every aspect of their lives to get them better, not just 'here's a cast, go home.'"
Alani says her Ivey education also gave her a leg up over her colleagues when it came to having the confidence to start her own practice. "Manhattan's a very expensive city and so a big barrier to entry is the cost. But I definitely feel like Ivey's given me the business knowhow to be very confident in taking risks."
Jody Anderson, MBA '00
Palliative Care Physician, Victoria Hospice
After five years working in marketing and corporate responsibility at an Internet bank, Jody Anderson knew she needed a change. She just didn't know what that change would be.
"I felt like I had plateaued in my learning and I was casting about for what was next. And I really wanted to focus on coming right back down to what my life's purpose was."
Anderson had completed her MBA in 2000, and she contacted one of her MBA career coaches to discuss her future plans.
"I managed to reach her, literally, the day before she went on sabbatical to Australia for a year," says Anderson. "I worked with her for about six months long distance by phone as she helped me through this career transition to medicine."
Now, Anderson is a palliative care physician at Victoria Hospice in Victoria, B.C. In addition to working as a doctor in the hospice's palliative care unit, she also consults with the Royal Jubilee Hospital and Victoria General Hospital on patients that have a life-limiting illness.
"It is just so meaningful and rewarding to be working with the patient and their family during one of the most difficult times of their lives," she says.
She remembers her time at Ivey as "exhilarating," and says she brings so much of what she learned there to her current career. "Ivey is really about teaching you how to solve problems," says Anderson. "To help to analyze situations and incorporate as much information as you have to make the best decision you can. So I think that has served me well throughout my medical career so far, and I know that that's just going to continue."
Jacques Messier, EMBA '96
CEO, Toronto Humane Society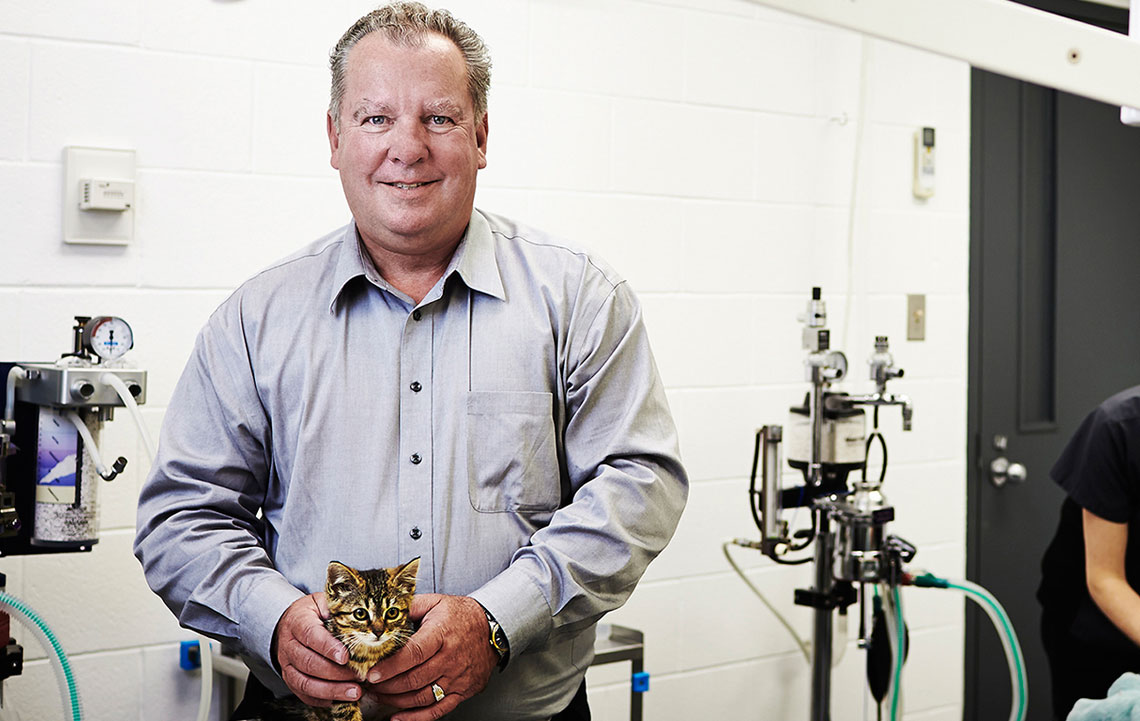 When Jacques Messier decided to take on the role of CEO at the Toronto Humane Society (THS) in 2011, the 130-year-old organization was struggling.
"The place was in shambles, not only from an organizational point of view, but also from a financial point of view," says Messier. "It had no cash; it was living on a line of credit so its survival was precarious. From an organizational point of view, it was in a lot of turmoil."
Messier reflected a long time before taking the job, but as he says: "I like new challenges." In the six years since he took the position, he's been pleased with how the organization has flourished.
"We raise approximately $11 million a year. It used to be $5 million. So it's allowed us to provide a lot of new programs to the community," he says.
Trained as a large-animal vet, Montreal-born Messier went from having a practice in Saskatchewan to leadership roles in large organizations, including CEO and president of Novopharm, and the director of the Veterinary Medical Centre at the University of Saskatchewan.
Messier got his EMBA at Ivey in 1996 when he was senior vice-president at Novopharm, but says his Ivey education still comes into play in his current position as CEO of THS.
"Financial sustainability is very important and understanding figures, numbers, the relationship between expenses and profits and all that is still very relevant today in this position."
Sunil Thummala, MBA '08
Neurologist
Originally from Southern India, Sunil Thummala came to the U.S. in 2004 to do his residency training in Boston. After a couple of years as a resident, he decided an MBA was the best route to reach his goal of owning his own practice.
"I wanted to go solo, but my wife was very hesitant because we had to take out a loan to buy everything we needed for the practice," says Thummala. "Failures happen. We can't avoid failures, but we can minimize them. My MBA gave me confidence that if you run your business in a certain way, the possibility of failure is low and the possibility of success is high."
After completing his MBA at Ivey, Thummala worked for a year in biopharmaceutical management consulting and then finished his residency in Vermont. He then moved his family to Texas. Now, he has a thriving practice, with two locations in Texas (Frisco and Paris) and ambitions to expand to multiple sites, including an imaging/testing centre and assisted living centre.
"We're trying to integrate all the services into one place because the elderly population cannot move from place to place to get the services. The children have to take time off, someone has to bring them, it's a difficult task for families," he says.
Thummala says his MBA helped him understand the mechanics of running a business, from controlling expenses to interacting with staff. "A lot of times, practices struggle because the staff come and go," he says. "Managing human resources is key."
Photo (Rich and Jacques): Nation Wong
Photo (Farah): Ike Edeani
Art Direction: Greg Salmela, Aegis