Alumni
Technological innovation is changing the face of healthcare, and Ivey alumni are helping make it happen.
When David Schned (pictured above), EMBA '00, moved from the private sector to work at London Health Sciences Centre, a large hospital in London, Ontario, he noticed that the state of technology in healthcare was "at both ends of the spectrum." At one end, surgeons were doing complex surgeries using robots; at the other, people were still using outdated email programs to collaborate.
While technology has revolutionized almost every other aspect of our lives, the healthcare system has often lagged behind. But that's changing. Technological innovation is accelerating. A 2015 Accenture report noted, "The healthcare IT leaders of today are doing more than just talking a good digital game: they are fundamentally changing the way technology is used for care delivery." And patients, providers and payers are all benefiting from improvements in efficiency and effectiveness.
Intouch spoke to seven Ivey alumni who are leading the charge.
David Schned, EMBA '00
Integrated Director, Infrastructure Technology, London Health Sciences Centre & St. Joseph's Health Care London
Paper patient files used to fill massive rooms in large hospitals. Then electronic health record (EHR) systems were introduced, servers that took up space. Now the hospitals in London, Ontario have moved their EHR system to the Cloud.
David Schned has many years of experience with tech giant BCE but says his role at LHSC is "the best job I've ever had." One of the first projects he was involved with was Healthcare Undergoing Optimization (HUGO). "The technology changes in HUGO were significant but not overwhelming," he says. "The biggest change was in how people work." Among the outcomes: a 35 per cent reduction in adverse medication events.
The next phase of the project was to move the EHR system to a remote hosted data centre—a "private Cloud." The new technology saves money, improves response time by 60 per cent and log-in time by 40 per cent, and ensures that 100 per cent of the hospital's EHR system is fully functioning in the case of a catastrophic event.
Schned is excited about the future of technology in healthcare. "There are some wonderful opportunities out there—mobile, more collaboration, wearables, and big data. To make it happen in a hospital environment, I just need to show that we can improve patient care and save money."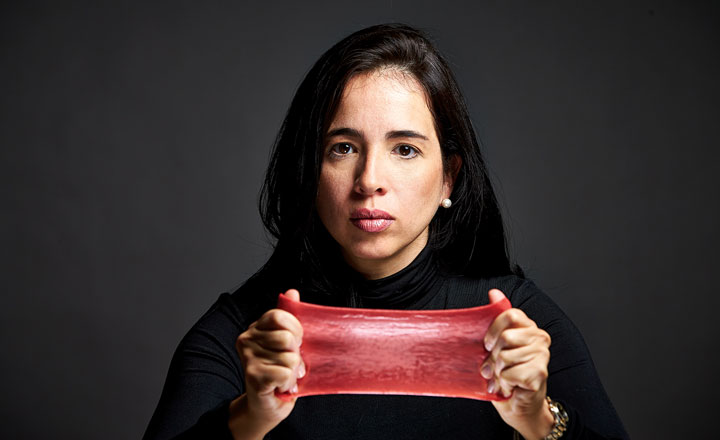 Karen Millon, HBA '98
President, LifeLike BioTissue
To become a surgeon, doctors must pass written and oral exams, but there is no practical test to see whether they can successfully complete even the most common surgical procedure. Surgical residents observe and assist, eventually doing a few procedures before their training is complete.
Karen Millon (pictured above) and her brother Leonardo Millon are out to change that. Their company, LifeLike BioTissue, manufactures synthetic tissues that have the same mechanical properties as real tissues for use in medical and surgical training and medical device research.
Millon grew up in a family business and always dreamed of starting her own. So when her brother suggested that they commercialize the artificial tissues he had developed as part of his PhD in biomedical engineering, she jumped at the chance.
Incorporated in September 2009, the company has grown organically, fed in part by government grants. "Starting a company is like having children," Millon says. "One of the biggest challenges for innovation is that it needs a lot of time—to develop, test, get customer feedback and generate revenue."
Today the company has a solid and growing customer base that includes several major North American universities and medical device companies. "We're finally out of the startup phase," says Millon. "We are working hard to leverage our success and our current capabilities." Ultimately she hopes that LifeLike's products will also be approved for human implantation.
Patrick Blanshard, EMBA '06
CEO & Co-Founder, Sensory Technologies
Healthcare is changing from a focus on acute care in hospitals to ongoing, long-term care in the community. But an aging population and nursing shortages are making it difficult for health systems to keep up with the demand. Enter Sensory Technologies, with a care model designed to stretch resources and improve patient care.
In addition to his Executive MBA, Patrick Blanshard has a military background, a degree in law and experience as a "hired gun" project manager. His company provides proprietary live 24/7 "virtual hospital" systems to regional health authorities in Canada, the U.S., England and France. In Ontario, for example, a Sensory Technologies system enables one registered nurse to supervise and support up to six bedside "technicians" caring for critically ill patients in their own homes. "Our system doesn't replace a nurse at the bedside; it supplements and augments it, and reduces the number of times the nurse has to be physically with the patient." There are many other potential applications, including oncology treatment and mental healthcare.
Blanshard says that to realize the full potential of the technology, healthcare organizations must make "a complete pivot" in the way they provide clinical care. "The number one rule," he says, "is to be respectful and to understand the issues in each jurisdiction. Open and clear communication is essential."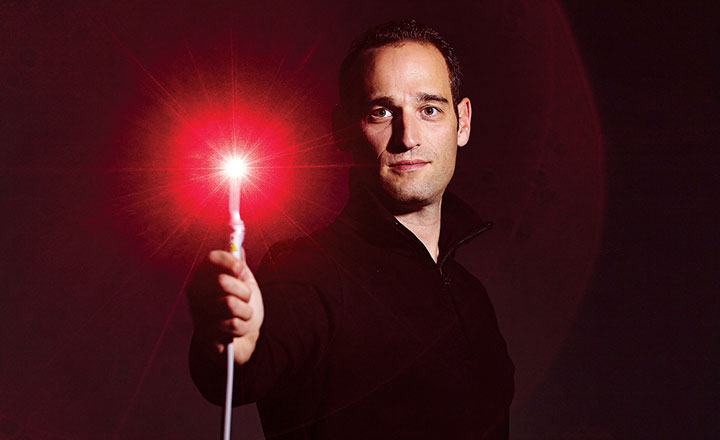 Josh Silvertown, MBA '07
COO, Quantum Dental Technologies
"It looks like a Nintendo Wii." That's Josh Silvertown (pictured above) describing the Canary System, a laser-based diagnostic device that detects tooth decay.
After a PhD in biomedical sciences, Silvertown became interested in how scientific discovery is commercialized. He chose Ivey for his MBA because of the specialization in biotech. While employed by a research consulting company, he designed a clinical trial for Quantum and was invited to become the company's first employee.
Despite the benefits of the Canary System, Silvertown says the biggest challenge is to convince dentists to make a fundamental change to their practice. "They went to school and learned classic diagnostic techniques, and then practiced that way for years," he says. "When you come out with a new paradigm, you need the right strategy to influence decision-makers in the field." Quantum has more than 60 peer-reviewed papers, and seven patent families, supporting its technology. Several leading universities around the world are doing clinical studies using the system.
Currently on market in the U.S., Canada and Europe, Quantum is planning to expand into new markets in the Middle East and Asia, and developing new technologies that will add imaging and measurement components to the current system. The company has a marketing agreement with 3M Oral Care, and is looking for other partnerships. Silvertown says the future of healthcare will involve the clinical adoption of therapeutics paired with companion diagnostics.
Peter Bialo, HBA '03
CFO, DocPlanner.com
When you need to see a specialist, you usually go to a family doctor to get a referral, trusting him or her to get you to the right doc in the right location. DocPlanner.com turns that process on its head. "It's for people who want to be active in the decision," says Peter Bialo. "They can read opinions from other patients on a website, filter by rating, locality, specialization and type of treatment, choose a doctor, and then book directly."
Polish-born Bialo worked in investment banking in Canada before returning to Poland to explore the cultural and business opportunities. Just three years old, DocPlanner.com already has 250 employees and offices in four countries. DocPlanner.com makes life more convenient for patients and more efficient for doctors, Bialo says. Appointments are made online, reducing the need for staff, and the system sends out reminders, limiting the number of no-shows. "In some ways, we're disrupting healthcare," says Bialo, "but it's really a very simple technology that restaurants and hotels have been using for years."
The software is currently being sold to doctors in Russia, Poland, the Czech Republic, Turkey and Hungary, with Italy soon to follow. The company is planning expansion to another 10 to 20 countries, adding new features and considering a new video consultation line of business.
Yad Garcha, MBA '84
CEO, Bionic Power
After 20 years as a venture capitalist in the biotech space, Yad Garcha found a company he wanted to own. Bionic Power, a spin-off from Simon Fraser University, is a technology that harvests energy from human movement, without any extra effort. Garcha explains, "It's like a hybrid car: you don't get free energy, but you capture energy that would be wasted as heat in the muscles."
To date, the company has focused on the military market. Soldiers on foot rely on technology, and as a result, end up carrying heavy disposable batteries in their backpacks. Bionic Power's technology enables them to recharge batteries while they're walking. Garcha says the technology would also be valuable for other professionals, such as photographers, first responders, geologists, surveyors, forest firefighters and others. There's also a huge potential market in parts of the developing world where there is no power grid.
And healthcare? Garcha says the technology could be used to enhance battery-powered prosthetic joints and limbs. "These devices enable users to have more normal functionality," says Garcha. "But their quality of life is a direct function of battery weight and charge duration. It's possible using our technology that we can make the batteries last longer." Bionic Power may also have a role to play in powering implantable drug pumps and neuro-electric stimulators.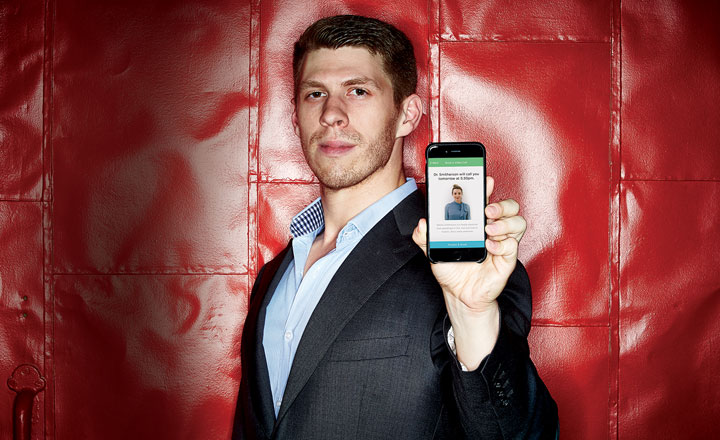 Dustin Walper, HBA '08
CEO & Co-Founder, Akira
When all of his classmates at Ivey were attending job interviews on Fridays, Dustin Walper (pictured above) used the time to create his own business. Myplanet, a company that builds web and mobile products for Fortune 100 companies, was the result. When it came time for a change, he decided to focus on healthcare. "I've had more experience than most people my age, and I was incredibly frustrated by the lack of technological progress," he says. "The fundamental doctor-patient interaction hasn't changed since the time of William Osler."
Walper and his partner Dr. Taha Bandukwala created Akira, a mobile app that he describes as "a doctor in your pocket." The app gives subscribers fast and direct phone access to Akira doctors to discuss health issues. It's based on the understanding that 70 to 90 per cent of primary care concerns can be addressed without a physical exam. Recognizing the challenge of working within a public pay system, Walper is marketing the app to large employers, who are motivated to help their employees stay well and at the same time avoid the productivity loss of lengthy waits at doctors' offices.
Akira launched with 1,000 members in January 2016, but Walper is confident of the growth potential. "We want healthcare to be extremely convenient and accessible to everyone," he says. "This kind of service could cover every single person in Canada, and beyond."
All Photos: Nation Wong
Art Direction: Greg Salmela, Aegis