Alumni
Nicole Laidler
|
Mar 23, 2020
Putting business skills to good use — these graduates work to benefit society, improve communities, and change the world for the better.
In Canada, charity is big business. How big? According to Statistics Canada, economic activity in the non-profit sector represents 8.5 per cent of Canada's GDP and around 2.4-million people are employed by a non-profit organization.
That number includes many Ivey alumni who are going beyond volunteering and philanthropy to create meaningful careers with social enterprises, established charities, or even launch their own initiatives.
Whether they work in Canada or around the globe, these Ivey grads are united by the desire to use their for-profit skills to build a better world.
Philippa White, HBA '01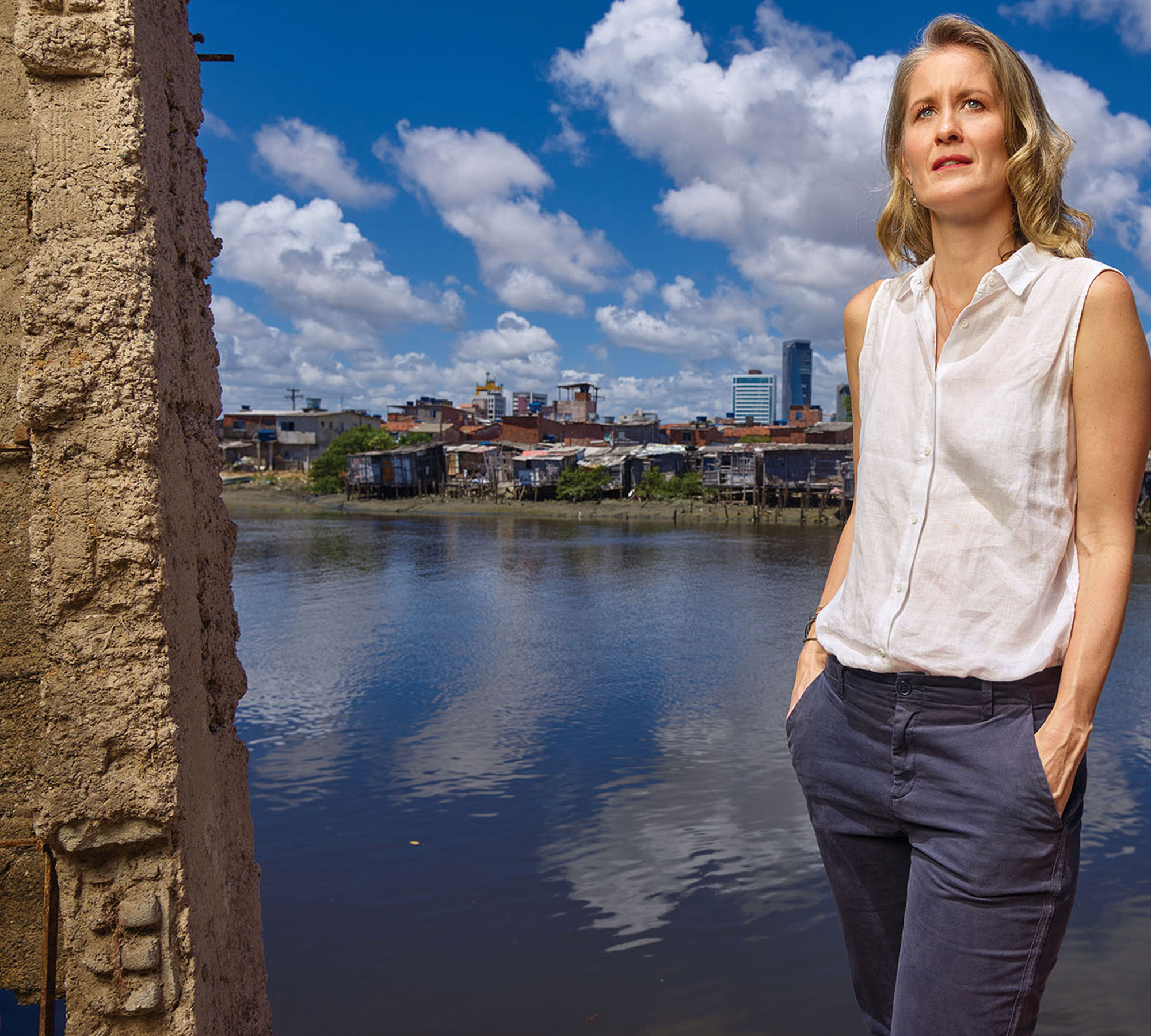 "TIE allows people to develop their cultural intelligence, challenge the status quo, and find the confidence to do things differently." —Philippa White, HBA '01, Founder and CEO of The International Exchange
After growing up in Canada and graduating from Ivey, South African-born Philippa White launched her career in advertising in London, U .K. She worked with major brands at agencies like Leo Burnett and Bartle Bogle Hegarty, and loved every minute of it. But after a family holiday, it got her thinking.
"My family works in the helping-people industries," says White. Surrounded by doctors, social workers, environmental engineers, and public health professionals, the visit left White feeling inspired. "I knew my education and skills could be used for some greater purpose," she says.
White figured she wasn't the only professional looking to use their skills to make a difference. She understood the struggles faced by non-profits whose human and financial resources are often stretched to the limit. And she recognized the business sector can be a force for change, and can benefit significantly from acting more sustainably. So, in 2006, White moved to Olinda, Brazil and founded The International Exchange (TIE).
The U .K. social enterprise places professionals from the private sector with social initiatives in the emerging world for seven-to-30 days of intense, hands-on leadership development. The goal? To change the world, one brief at a time.
White explains that TIE participants are given a specific objective that harnesses their skills, such as developing strategies, campaigns, financial plans, or business plans. "We take future business leaders out of their bubble," she says. Participants are challenged to work with new people, in a new place, and often in a language they don't speak. And they have to achieve their goal by the end of the placement.
To date, TIE has placed 72 individuals with 47 social enterprises located in Africa, Asia, and Central, South, and North America. The experience impacts non-profits and their local communities, and reshapes the sponsoring company through the development of their future leaders. For participants, it changes their lives.
"TIE allows people to develop their cultural intelligence, challenge the status quo, and find the confidence to do things differently," says White. "Many times, people are promoted or begin to work on new projects within their company when they return."
As for White, she's proud to be using her business skills to help others.
Stephen Hecht, MBA '82
As founder of the Montreal-based non-profit Million Peacemakers and co-author of Nonflict: The Art of Everyday Peacemaking, Stephen Hecht is on a mission to promote a culture of peace by training a million people around the world in his three-step method to conflict resolution.
It's a passion as well as a new career for Hecht, who experienced years of professional conflict working in multigenerational family businesses after graduating from Ivey. The stress took a toll on Hecht's personal life and he divorced – twice.
"I had experienced a lot of conflict in my life and was also a student of geopolitical conflict," Hecht says. Wanting to learn more about conflict resolution, he turned to books on the subject but found them too academic.
Around the same time, Hecht met organizational psychologist Amir Kfir, who had led peacebuilding programs for Israelis and Arabs. In 2012, the duo facilitated workshops on conflict resolution using the "Nonflict Way."
"Our goal was to create a simple model that could work with any conflict, be it interpersonal, business, or even geopolitical," Hecht explains. Since 2014, when Million Peacemakers was founded, more than 225,000 people have been trained in the approach, which focuses on finding a common vision to work toward together.
Hecht and his network of Nonflict-certified coaches have led workshops for corporations, organizations, and communities in 23 countries around the world.
In March 2019, Hecht was invited to speak at the Vatican for an international conference on "Religions and the UN Sustainable Development Goals." He was granted an audience with the Pope, and was invited back a few weeks later to share Nonflict at another conference called the "Path of Nonviolence: Toward a Culture of Peace."
"My initial goal was to reach a million people who would make a global impact by spreading the Nonflict way," says Hecht, who is now happily remarried. "But we're not going to stop at a million. We'll just have a party, and change our name to a billion."
Dan Kershaw, MBA '96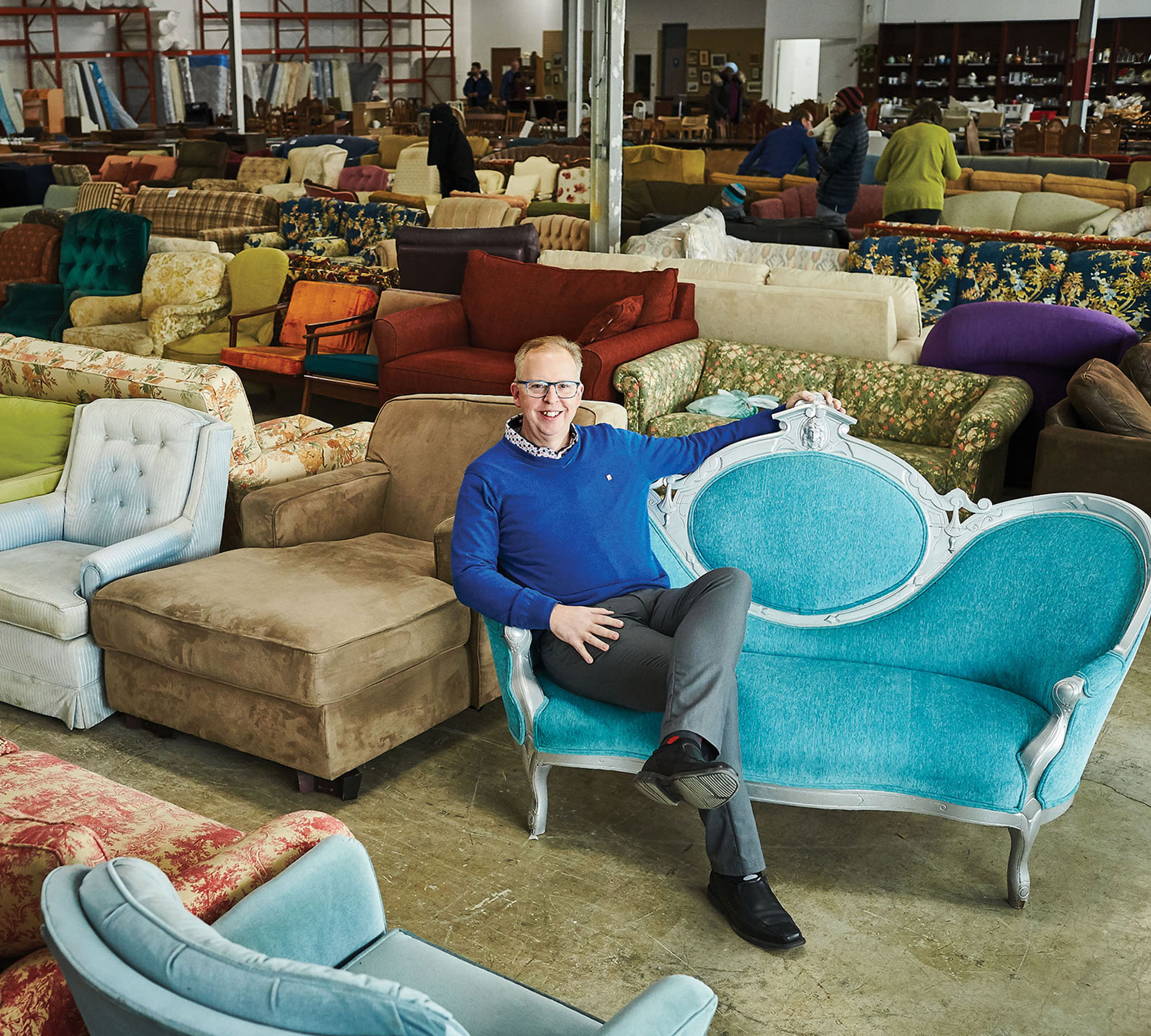 "Today I realize social enterprise is what I always should have been doing, which is running a business that benefits society rather than just maximizing shareholder value." —Dan Kershaw, MBA '96, Executive Director at Furniture Bank
Dan Kershaw entered the non-profit sector by chance. After more than 18 years working with tech startups, Kershaw was looking for his next opportunity when a recruiter asked whether he'd ever considered running a charity.
"I hadn't," he recalls. "Today I realize social enterprise is what I always should have been doing, which is running a business that benefits society rather than just maximizing shareholder value."
As Executive Director at Furniture Bank, Kershaw is at the helm of one of Canada's largest social enterprises. Founded in 1998, the organization works to end furniture poverty by redistributing gently used furniture and household goods to marginalized families and individuals across the Greater Toronto Area. Clients include women and children leaving shelters, the formerly homeless, and refugees and newcomers to Canada.
When Kershaw joined the organization in 2014, Furniture Bank served around 2,500 families annually. Last year, it supported nearly 4,000 families. "We know there are another 40,000 families that need our services," he notes.
The organization also makes a positive environmental impact by diverting useable household goods away from landfill. "Furniture is the least recycled item in the waste stream," says Kershaw. "Working with the City of Toronto, we've been able to demonstrate that we are a significant player in reuse for a circular economy."
After five years on the job, Kershaw sees many similarities between tech startups and non-profits like Furniture Bank. "They all want to change the world. They all have time constraints and resource constraints," he says.
The skills honed at Ivey prepared Kershaw to meet these challenges head-on. "I use all the skills I learned earning my MBA, and I get to see 20 families restart their lives every day," he says. "I'm blessed that I can wake up every morning and know that the more successful we are today, the more families we can support tomorrow."
Namita Joshi, EMBA '16
Namita Joshi earned her medical degree from Universidad Iberoamericana in Santo Domingo, Dominican Republic and spent more than a decade working as a medical administrator and insurance underwriter.
Her decision to pursue an EMBA at Ivey would put her on another path. "A few weeks into the Program, one of my colleagues said he didn't know if I belonged in insurance," Joshi recalls. "He thought I might be better suited to another role."
That colleague was a Canadian veteran involved with True Patriot Love Foundation — a national charity that supports military members, veterans and their families, funds community-based programs, and contributes to the Canadian Institute for Military and Veteran Health Research.
In 2015, Joshi agreed to help True Patriot Love organize a fundraising expedition to Antarctica. "Those six weeks provided me with some great insights into their work," she notes. "I felt that with my background in medicine and with what I was learning at Ivey, I might be able to provide some additional support to help them be successful in the future."
Today, Joshi is Chief Program Officer at the foundation. Since 2009, the non-profit has committed $28.3 million to fund research and support 825 community-based programs from coast to coast, with the objective of addressing the unique challenges faced by the military and veteran community.
"Ivey provided me with the confidence to take this on," says Joshi. "In addition to the business skills I learned, I think back to the lessons on leadership and character, and how to develop a strategy and then have the courage to see it through." As her role with the organization has grown, so has Joshi's sense of purpose. "To be able to create a ripple of impact is exciting to me," she says. "I've had the opportunity to speak with so many serving members, veterans, and their families. To hear their stories of resilience is very humbling, and it has provided a perspective that has transferred over into other parts of my life."
Carolyn Burns, MSc '12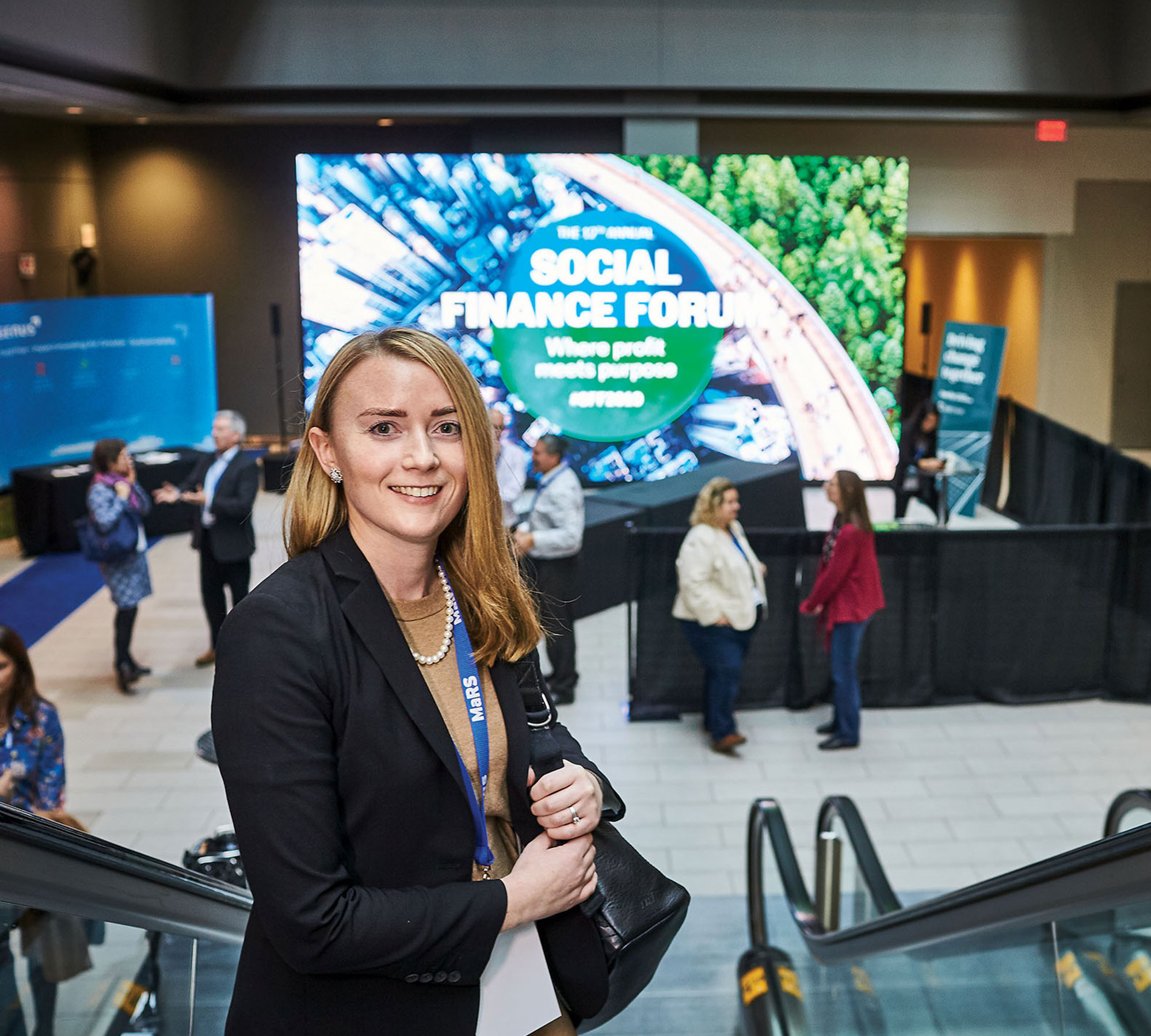 "Through the microfinance platform, we could follow an entrepreneur's progress and see how our money was being used to create social good. That got me interested in pursuing a high-impact career." —Carolyn Burns, MSc '12, Manager, Partnerships and Innovation at Mennonite Economic Development Associates
Carolyn Burns is passionate about using finance to yield positive global change. During her time at Ivey, she participated in a study tour of India and taught business strategy at two universities in China as part of the Ivey China Teaching Project.
"I gained a better appreciation for the unique business opportunities that emerging markets hold, along with essential hands-on experience," she says.
A year later, Burns was back in Toronto working for Info-Tech Research Group. She joined the company's granting committee — part of its social responsibility program — and witnessed the power of impact investing firsthand.
"The year I participated, we selected Kiva," she recalls. The microfinance platform enables funds to be donated to an entrepreneur in an emerging market. "We could follow their progress and see how our money was being used to create social good," says Burns. "That got me interested in pursuing a high-impact career."
Today, Burns works as Manager, Partnerships and Innovation at Mennonite Economic Development Associates (MEDA). Founded in 1953 by a group of private investors, MEDA has grown into an international economic development organization that continues to provide financial and technical support to alleviate global poverty. It assists micro, small, and medium-sized businesses that operate in emerging markets.
"The type of financing and advisory support that MEDA provides varies depending on geography, sector, size, management team, and impact needs," says Burns.
MEDA is also launching a gender lens investing fund and technical assistance program. "The time is now to show how inclusive businesses can deliver real value for women stakeholders."
Her career with MEDA has taken Burns to 12 countries, including Nigeria, Egypt, Singapore, and South Africa. "To see the power of capital and how lives have been changed by the work we are doing is so exciting," she says.
Photos: Chico Barros (Philippa), Nation Wong (Dan and Carolyn)
Art Direction: Greg Salmela, Aegis