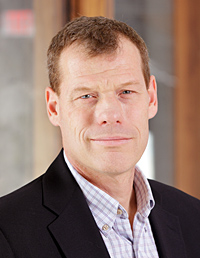 Mark Vandenbosch is Acting Dean at the Ivey Business School. He is also a Professor of Marketing and the Kraft Professor in Marketing. Mark earned his HBA from Ivey and his PhD from the University of British Columbia. He has held visiting professorships at IMD in Switzerland and INSEAD in France.
Mark's 26 years of institutional knowledge and leadership experience as Associate Dean, Programs, Program Director, and faculty member mean he is exceptionally qualified to lead Ivey. As Associate Dean, Programs, since 2012, Mark has had first-hand insight into the operational and strategic direction of the School. His background and experience will enable him to keep strategic initiatives moving forward in a time of disruption in the higher education space.
His research interests centre on competitive strategy, product management and marketing research and his work has appeared in many highly-respected journals. He has written numerous cases on issues concerned with competitive analysis, strategy market planning, advanced technology marketing and business-to-business marketing.
He has also acted as a consultant in marketing research and marketing strategy to a number of leading companies, including Hewlett Packard, Medtronic, Allied Signal and Nestlé, and taught in-company programs to many more, including Tetra Pak, Cisco Systems, Syngenta, 3M, IBM, Allianz, Pirelli, ABB and National Semiconductor.