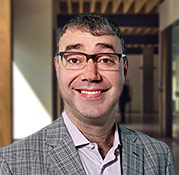 Education
MA Social and Political Sciences, Trinity College, University of Cambridge
MPhil Social and Political Theory, Trinity College, University of Cambridge
Profile
Damian Eleftheriou is a Partner in EY's Technology Consulting practice and EY's Consulting Leader for the Private Equity and Pensions Market Segment in Canada. 
He has twenty-five years' experience in business transformation, value creation and enabling new business models, revenue models and operating models through technology, technology strategy and architecture, and M&A IT integration.
Damian joined EY in London, UK in 2005, after other leadership roles in consulting and industry. He relocated to Toronto, Canada with EY in 2008.
He has previously led the Strategic Technology Consulting and M&A IT practices and Technology, Media and Telecommunications sector for EY in Canada.  
Damian is the Executive Sponsor in Canada for EY's pro bono platform for social impact, EY Ripples. He is also on the Advisory Board for the LEAP | Pecaut Centre for Social Impact and on the Innovation Committee for Pathways to Education.