Consistency and care should be taken when developing presentations to reinforce brand strength and elevate brand perception. To maintain consistency and minimize duplication of efforts, Ivey's authorized PowerPoint presentation template has been made available below.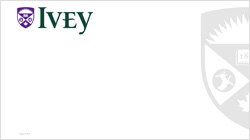 Download the PowerPoint Template
(updated November 2017)
Download the Icon Set
(updated November 2017)
Please discontinue using previous versions of the PowerPoint template.