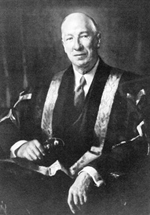 Richard G. Ivey was a lawyer, businessman and philanthropist.
It is his name that is on the Business School for in 1948 he became the first Chairman of the Advisory Committee. This Advisory Committee was critical in helping the School establish itself as a separate faculty and as the first national school of business.
He also led the fund drive that made possible the building on campus. His interests extended well beyond the bricks and mortar however and he financed the first Canadian MBA program, the first Management Training Course as well as the first PHD program in Business. He also donated to the School's Research Fund as well as to the continuing Plan for Excellence which placed Western's Business School in a leadership position in Canada.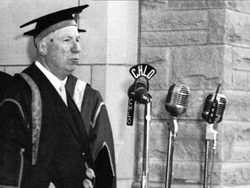 Both his son, Richard M. Ivey (HBA '47 and later Chancellor of the University), and his grandchildren, Richard W. (HBA '72) and Rosamond (HBA '82) are graduates of the School.
In 1954, the University granted him an honorary Doctor of Laws degree in recognition of his contributions.
Mr. Ivey remained Chairman of the Advisory Committee until he was elected Chancellor of the University in 1955, a position he held until 1961.
He passed away in 1974.