Alumni
Shelley White
|
Sep 4, 2018
Ivey alumni discuss the business challenges – and opportunities – that come with legalizing cannabis in Canada.
When the federal government passed legislation in November 2017 that would legalize cannabis for recreational use by 2018, there's no doubt that many in the Canadian business community nodded their heads in agreement. After all, accounting firm Deloitte recently reported that legal cannabis sales across the country are expected to reach up to $4.34 billion in 2019 – a nice boost to the Canadian economy. 
But for the country's cannabis entrepreneurs, there is extra reason to get excited. Suddenly, they are poised to build a brand-new consumer category from the ground up, supported by many areas of business infrastructure. And while the details of legalization and regulation in Canada are still being ironed out, this significant shift has the potential to be a new dawn for the country's cannabis pioneers. 
But with legalization around the corner, what are Canada's cannabis business leaders doing to prepare for when the floodgates open? And what are the potential pitfalls keeping them up at night? 
Expanding the Market
Alan Gertner, HBA '06 (pictured above), wants to help Canadians get more comfortable with cannabis.
He's CEO of Hiku Brands, one of the country's most well-known cannabis companies. With a roster of four brands – DOJA (their licensed cannabis producer), national retailer Tokyo Smoke, female-focused lifestyle brand Van der Pop, and accessory brand Maitri – Gertner says Hiku aims to be the "definitive modern cannabis retail experience."
Hiku has been preparing for legalization since they started the business in 2012, says Gertner. Now that it's on the way, he wants to show Canadians that normalization of cannabis is possible – particularly those Canadians who haven't tried it yet.
Messaging is incredibly important at this stage in the game, says Gertner, because there is a lot of stigma and misinformation surrounding cannabis, and that's something leaders in the industry have a responsibility to change.
"We're careful in the way that we present our product and the way we tell stories to consumers, to make sure that thoughtful and intentional use is our highest virtue," he says.
The mode of consumption is an essential part of helping Canadian consumers to better understand what's available, says Gertner. To prepare for an influx of new customers, Hiku has partnered with U.S. company dosist, which produces a vape (or vaporizer) pen that allows for precise, single doses.
"I don't imagine we're going to teach people how to roll a joint," he says. "The future is about secondary methods of cannabis consumption where you can better control the dose and the experience." 
We see legalization likely rolling out across the world for many reasons, but one of the simplest is because so many countries are struggling financially, and here is this opportunity to boost the economy and boost the tax base of many European countries." — Alan Gertner, HBA '06, CEO of Hiku Brands
All About the Product
So what about consuming cannabis as a spray, a melt, or taking it as a pill?
When it comes to differentiation in the cannabis business, it's all about new formats and formulations, says Nick Dean, EMBA '05 (pictured below).
Dean is CEO of Emblem Cannabis Corp., a large producer of medical cannabis, based in Paris, Ont. To differentiate themselves in a hot market, Dean says they are working on formats and formulations that physicians would feel comfortable prescribing to their patients.
"Health Canada has been telling us for 60 years to quit smoking," says Dean. "I don't think physicians want to say to their patients, 'I know you have an ailment, here, take this and smoke it.'"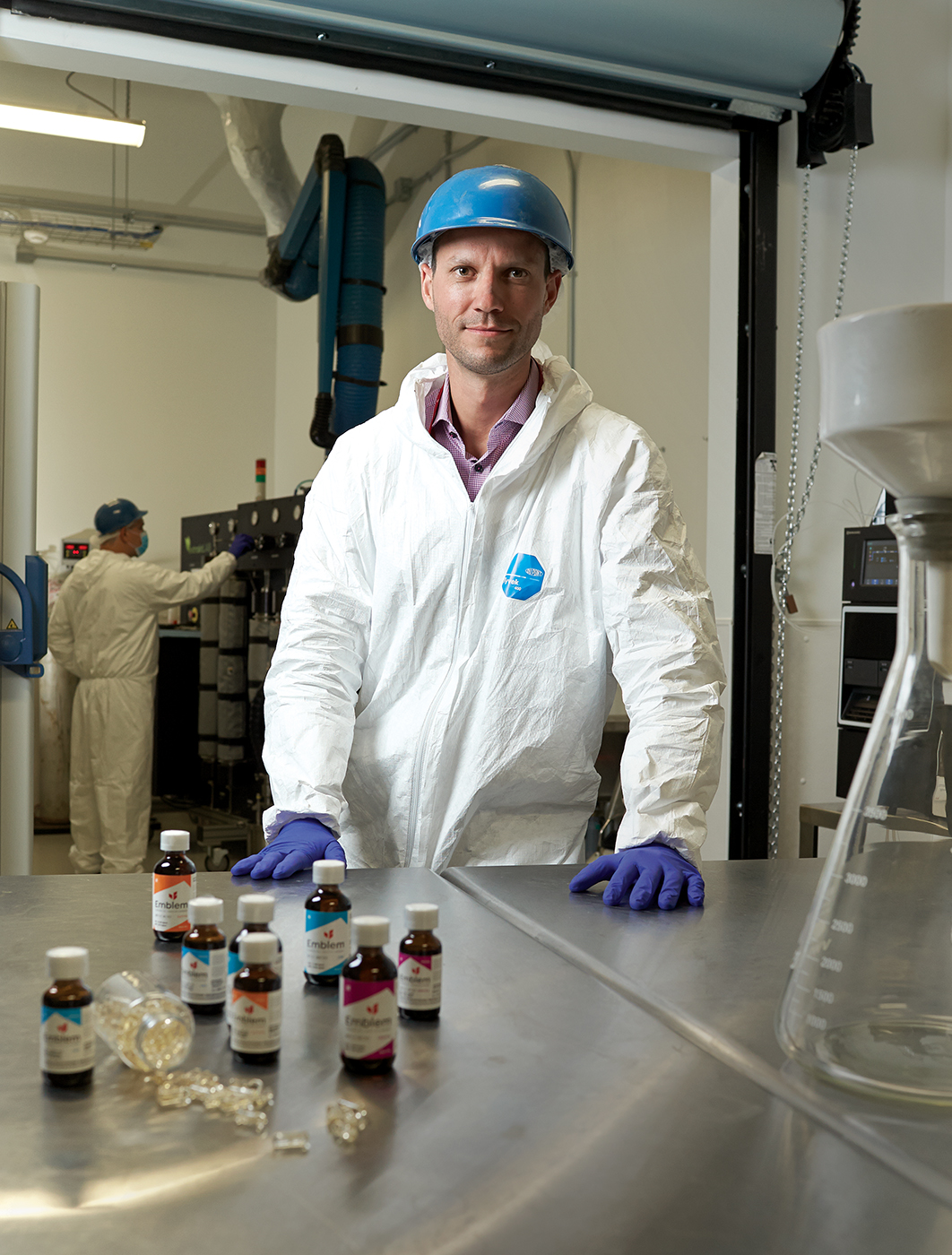 Because cannabis is a controlled substance, there haven't been widespread studies on its medicinal use, but there is evidence it may be helpful in treating a host of ailments, including chronic pain, nausea, muscle spasms, and improving sleep.
In order to explore other formats, Emblem is building a lab for pharmaceutical formulation and product development, says Dean. In addition to dried cannabis bud, or "flower," Emblem extracts cannabis oil from the plant, which can be administered with a dropper under the tongue. Some of the formats they are also working on include dose-controlled gel caps, oral sprays, flash melts that dissolve in your mouth in under 15 seconds, and sustained-release tablets that release, or "liberate," the drug through the patient's system over a period of 12 hours.
Dean says they also foresee bringing their formulations to the recreational market, especially formulations that help normalize the consumption of cannabis in a social setting. "At a dinner party, one person could be having a beer, someone else could be having a glass of wine, and then somebody else could be having a cannabis-infused beverage."
Learning from Others
A big lesson learned from the Colorado cannabis market has been the decline in smoked forms of cannabis, says Paul Seaborn, MBA '03, a management professor at the Daniels College of Business, University of Denver. Originally from Corner Brook, Nfld., Seaborn teaches a course on the business of cannabis.
"It's less than 50 per cent of our market now," says Seaborn of smoking cannabis in Colorado. Cannabis for recreational use became legal in Colorado in January 2014. "The majority is either edible products or some sort of concentrate, such as wax, resin, or sap.
According to what the Canadian federal government has announced so far, only dried or fresh cannabis bud or cannabis oil will be allowed for sale when legalization first happens, with edibles and concentrates following about 12 months later.
Seaborn notes that it might be a challenge for the Canadian market to meet customer demand in that first year because they will not be able to offer all forms of cannabis initially. "Especially if people have an expectation [of these other forms], or found them through other means prior to the legal recreational market," he adds.
I think in the long term, people see Canada as a country with a low population relative to its geographic size, and so it's a great place where you could produce to serve the world, especially if the U.S. is not in the picture." — Paul Seaborn, MBA '03, Assistant Professor at the University of Denver
'From Seed to Sale'
Michael Lickver, MBA '10, knows that an opportunity like this doesn't come along very often.
Not only is it rare to see the emergence of a brand-new consumer category, it's even rarer for that to be happening with a product that already has built-in demand (from decades of illegal consumption). But that's what's happening with the cannabis industry in Canada, he says.
"This industry is an enigma, and an unbelievable opportunity for the people that can take advantage of it," says Lickver, Executive Vice-President of Strategy for Auxly Cannabis Group (formerly Cannabis Wheaton Income Corp.).
To take advantage of this unique moment in time, Auxly has recently expanded their vision, says Lickver. Since 2017, they've been providing funding to licensed cannabis producers in exchange for a minority equity interest and a "stream" of their cannabis production. But they've recently made some strategic acquisitions, including KoLab Project, a licensed producer in Ottawa, and PEI's Dosecann, the largest cannabis research and development facility in Canada. Auxly is also doing deals on the distribution side, with groups like Inner Spirit, which is establishing a chain of recreational cannabis dispensaries in British Columbia, Alberta, and Saskatchewan. "We think it's very valuable to control the supply chain from seed to sale," he says.
Lickver says he doesn't fear competition because it breeds innovation. "There are 109 licences right now in Canada. Are some of these companies going to fail? Yes, they are going to fall flat on their face," he says. "There will be mergers and acquisitions and consolidations to the point where there will be a few very, very strong survivors. You're either going to have to be a differentiator, or else you may just become another farmer."
A lot of countries are going to say, 'We don't want local cultivation. We don't want to regulate that. We'll just import it from a country that is really good at producing it at a high standard.' That's already happening with medical cannabis. Germany is importing from Canada. Australia is importing from Canada." — Michael Lickver, MBA '10, Executive Vice-President of Strategy for Auxly Cannabis Group
A Lot More Knocks on the Door
While some businesses have scrambled to get into the cannabis market since the legalization announcement, Leigh Coulter, HBA '91 (pictured below), has been working with cannabis cultivators for almost two decades.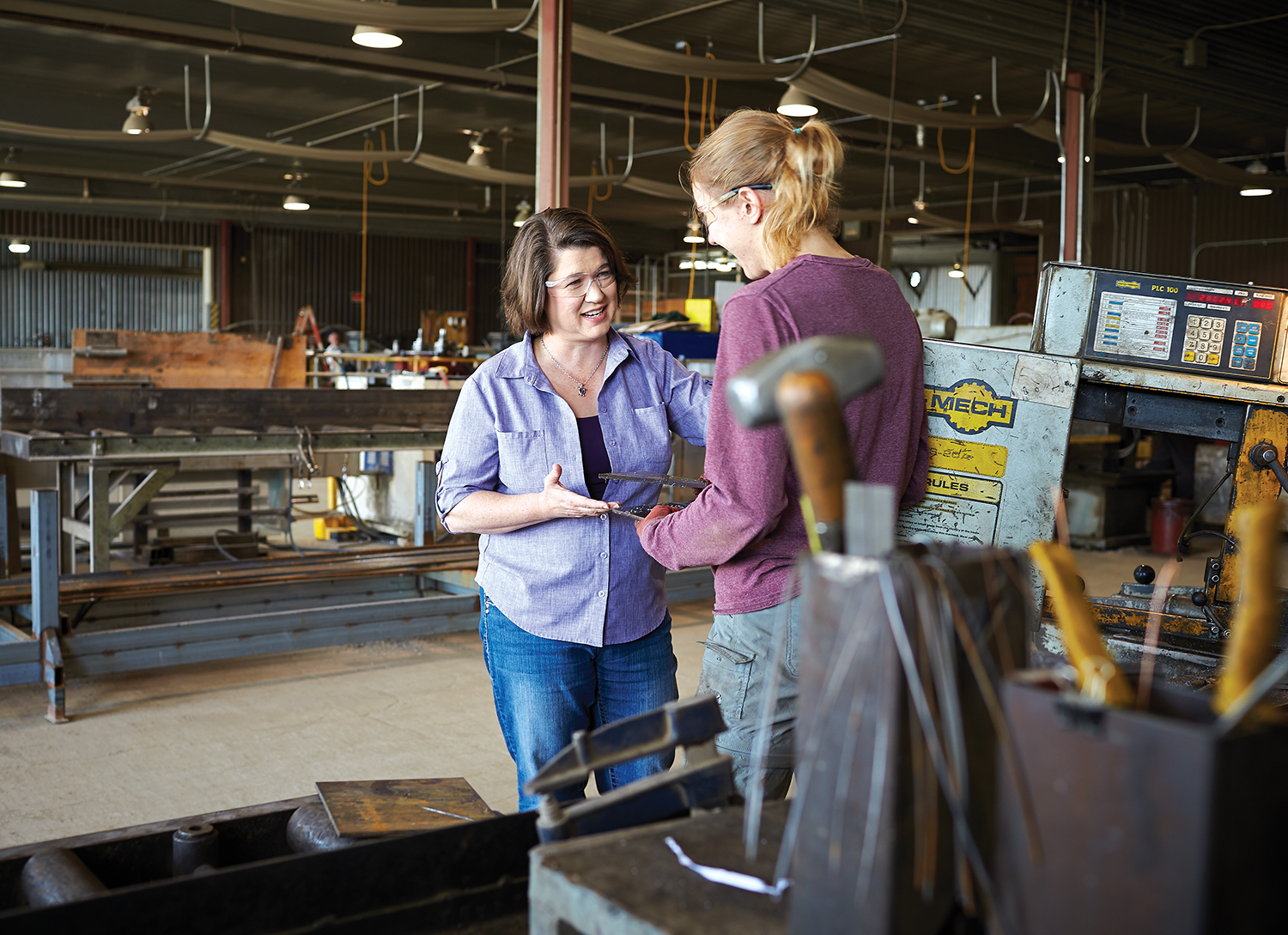 Coulter's company, GGS Structures, Inc., designs, manufactures, and installs commercial greenhouse structures, and she's been helping create growing environments for cannabis since it became legal in Canada for medical purposes in 2000. In fact, they were the first greenhouse manufacturer in the world to actively promote cannabis cultivation in greenhouses.
"We have never discriminated based on what plants you grow," says Coulter, whose company operates out of Vineland Station, Ont. "Our job is to create the environment for the plant to thrive."
Coulter says there is "no question" that legalization of cannabis for recreational use means great opportunity for her company and her customers. 
But she notes that the other big change as a result of legalization is the swell of investors that have entered the business with no previous agricultural or horticultural knowledge.
And while having years of experience gives them a competitive advantage over upstarts in the business, Coulter says they frequently encounter people and companies racing in with the "gold rush" mentality.
"Every day we get calls from 'consultants' who have been hired by some trusting investor to design a cannabis facility, but when they call us, they ask us to tell them what they need to know," she says. "Smart investors partner with smart growers and ensure that companies like ours are brought in to create the environments for growth."
The global shift towards legalizing cannabis as a viable medical option has also seen tremendous growth opportunities for GGS, with growers from Germany, Israel, Australia, and other countries seeking us out. Canadian cannabis companies are not just thinking domestically. The whole world is watching Canada, and this is our time to shine." — Leigh Coulter, HBA '91, President of GGS Structures Inc.
Ramping Up Investment
Dan Sorger, HBA '04, is Director at Rockshield Capital, a Vancouver-based, early-stage venture capital fund and merchant bank that invests in North American cannabis companies, like Plus Products (a California-based, cannabis-infused gummy manufacturer) and The Green Organic Dutchman (a cannabis producer out of Ancaster, Ont.).
Sorger says that impending legalization in Canada has ramped up an investing environment that was already incredibly hot.
"You're now starting to see significant, very large cannabis transactions happening in the U.S.," he says. He notes that Canopy Growth of Smiths Falls, Ont. is now listing on the New York Stock Exchange, while Toronto's Cronos Group is on the NASDAQ.
"There are probably more than 100 publicly listed cannabis companies, let alone all the private companies, and there's a whole bunch more trying to tap the public markets," he says.
Sorger notes that traditionally, sectors like alcohol and tobacco are seen as "incredibly boring, stable investments," which is why they are so popular. "What do people do in good times? Smoke, drink, and gamble. What do people do in bad times? Smoke, drink, and gamble," he says.
After this period of explosive growth and consolidation, cannabis will eventually share some of that "boring" appeal. Additionally, Sorger points out that unlike tobacco or alcohol, it's being more and more accepted that cannabis has potential health benefits. While some stigma remains, particularly in the United States, "the tide is turning, and every day more and more people are having to acknowledge it as a real investment category," he says.
Onward and Upward
With exact details about the recreational cannabis roll-out not yet clear, there will no doubt be speedbumps along the road to legalized recreational cannabis in Canada. Lickver notes that because each province has announced different plans for distribution, that aspect of the business will be complicated.
When asked what's keeping him up at night, Gertner admits that, with the stakes so high, he worries about "this whole revolution going safely both in Canada and around the world, because we are really building the world Petri dish for legalization of marijuana."
But Lickver notes that the uncertain future is more exciting than it is nerve-wracking.
"You've got to take a step back from everything, and all the challenges and all the potential red flags, and say, 'We're legalizing cannabis. And we're the first country in the world to do it at this level.' We know that what we're doing is the right thing."
All Photos: Nation Wong
Art Direction: Greg Salmela, Aegis