HBA
Kathy Zhang
|
Jan 23, 2023
Our Community
As someone passionate about social change and sustainability, I've always wondered what I can do to contribute towards it.  While it may seem an intimidating and broad field to get into, the Ivey Social Impact Club gives us the perfect way to take our first steps into this community!
Formed in 2017, the Ivey Social Impact Club (SIC) is a merger of the original Ivey Not-for-Profit Club and Ivey Sustainability Club, and although relatively new, has grown to become Ivey's third-largest club in terms of members! Led by Firuza Huseynova and Oliver Zhou, the club currently focuses on "providing a home for the impact driven, and inspire members to create value in their own communities." By using business as a tool, SIC aims to create positive social and environmental change. Mia Semeniuk, VP of communications for SIC, explains: "Club events and initiatives are guided by six portfolios: careers, communications, community, conference, education & advocacy, and projects." These portfolios entail opportunities such as career panels, workshops, and notably SIC conferences. These opportunities give perfect entranceways to students who are looking for careers in social impact and sustainability-related fields.
This year's Ivey Social Impact Conference, Roots, will be hosted on February 5th, 2023. Roots is an event that provides students with the foundational knowledge to impact an adapting industry, eliminate self-doubt about pursuing a career path related to impact and sustainability, and support attendees in discovering their purpose. Specifically, Roots will give attendees a chance to ask questions and hear from specialists and recent grads in order to learn all about the focused topics of ESG and carbon literacy!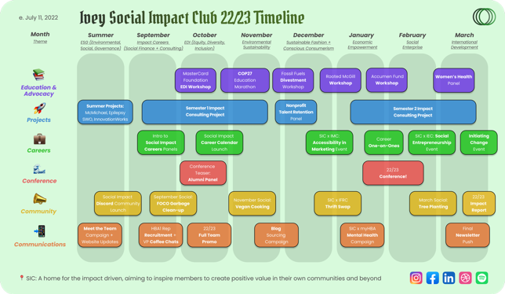 For AEO students, SIC is an amazing career-forwarding opportunity to anticipate; being able to join a community of like-minded students is beneficial to anyone no matter how minor or significant the role of sustainability may hold in your career. Mia shares how the club allows members "to explore sustainability-related careers through info sessions, coffee chats, and a network of SIC members and alumni." The abundance of activities and events gives students of all backgrounds and experiences something to gain. For AEO students looking to further familiarize themselves with the club, Mia discusses how SIC is currently sourcing blog articles from students in all years and programs. Further information on the club and how to get involved can be easily accessed on SIC's website at https://www.iveysocialimpact.org or through their social media platforms to keep up with initiatives and events.