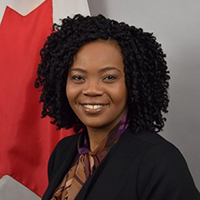 Natacha Prudent is recognized as a trusted leader and a change agent. She recently assumed the role of Director General, Management Cadre Programs and Services (MCPS) at the Canada Border Services Agency (CBSA).  CBSA, a law enforcement organization with 14,000 employees across Canada and at international locations, is mandated to ensure Canada's security and prosperity by managing the access of people and goods to and from Canada. MCPS, a microcosm of the overall Human Resources functions in the service of CBSA's Executive community, plays a vital role at CBSA. Among its other responsibilities, Natacha's team is responsible for the delivery of national programs and services that support leadership capability building - elevating character alongside competence.
With an impressive career that spans roles in both the private and public sectors, Natacha brings a solid track record of success in the leadership development and talent management spheres. Most recently, she led the integration of Leader Character into CBSA's Leadership Development Strategy and its Anti-Racism Strategy.
Natacha has an unwavering commitment to achieving an equitable, diverse and inclusive workplace for all and is at the forefront of CBSA's Equity, Diversity and Inclusion agenda. She plays an active role in CBSA's efforts to increase representation of equity-seeking groups in leadership positions. Natacha serves as co-chair of both CBSA's Visible Minority Advisory Committee and its Anti-Racism Task Force and is the architect of CBSA's Leadership Development Program for equity-seeking groups.
Natacha holds a Bachelor's degree in Social Sciences from the University of Ottawa and a Master's Degree in Labour Relations from the University of Montreal.  She is a certified professional coach and is a member of Quebec's professional order of certified human resources specialists. She is currently completing her Leader Character Practitioner certification with Ivey's Ian O. Ihnatowycz Institute for Leadership.
Natacha and her partner have a son and daughter. She enjoys singing, listening to music, and practicing adult colouring to relax and reduce stress.