The Ivey Leadership Summit took place on Friday February 28, 2020 at the Four Seasons Hotel in Toronto, Ontario. 
Read the article - Ivey Leadership Summit: The power of character-driven leadership
In today's complex and complicated world, the character of our leaders (and indeed, their followers) has never been more critical—yet often, it is leaders lacking in character that dominate our purview. In 2008, Ivey - one of Canada's preeminent business schools – put a stake in the ground after conducting pioneering leadership research. We exposed that good leadership depends on competencies, commitment, and character and yet character had been severely neglected in leadership discourse and development. We decided to change that – for our students and for leaders in the public, private and not for profit sectors. During this day-long event, we hosted leaders who have shown extraordinary character in their leadership who revealed how individuals could integrate it into their own leadership practice. The Ivey Leadership Summit was designed to:
cultivate a deeper understanding of the power of character in the art of leadership;
demonstrate how character is critical to leadership success because of its foundational role in making effective decisions and taking transformative, generative action; and
reveal how character-driven leaders out-behave their competition and create sustainable excellence, for their own organization as well as for society at large.
Our keynote speakers were exceptional leaders who have had to rely on their strength of character to meet challenges, perform in their roles, to influence others, and to ignite excellence. We hope you enjoy these resulting videos, blogs and articles that captured the day and that they leave you as inspired, enlightened and invigorated as we were. 
Summit Leaders:
Celebrating 10 Years of Leader Character
In this video, Ian O. Ihnatowycz, the Institute's founding donor; Ivey Dean Sharon Hodgson; and Institute Executive Director Gerard Seijts reflect upon the Institute's founding and successful journey to create deep impact on the research, teaching and outreach on leader character.
Activating Character to Infuse Character
Stephen Virgin, Director of Character Leadership, Canada Revenue Agency, shares the CRA's journey to embed character leadership into their organization and how it serves as a complimentary strategy to all other HR activities – performance management, talent management, and leadership development in general.
There is a Heartbeat in Every Story
Anna Maria Tremonti, journalist, podcaster, and 17-season host of CBC's The Current, reflects on common elements she has witnessed in effective leaders throughout her career and the humanity necessary for good journalism.
Learning About Your Two Sides
Cheryl Pounder, two-time Olympic gold medallist, discusses how good leaders commit to learning about their two sides – their character strengths and weaknesses. She also discusses the impact of humanity and humility on organizational culture, and her reliance on drive and courage to get through challenging times.
Theranos is a Cautionary Tale
Erika Cheung, whistleblower/ Executive Director, Ethics in Entrepreneurship, shares the cautionary tale of Theranos due to their profound leadership failures despite having all the ingredients for success. Cheung's commitment to acting in service of others is what gave her the courage to speak up and speak out under daunting circumstances.
Women of Character
Anna Maria Tremonti, journalist, podcaster, and 17-season host of The Current, shares the stories of three women who exemplify strength of character and good leadership: Gina Cody, engineer and business leader; Nice Nailantei Leng'ete, FGM activist; and Jennifer Doudna, co-discoverer of CRISPR-CAS9.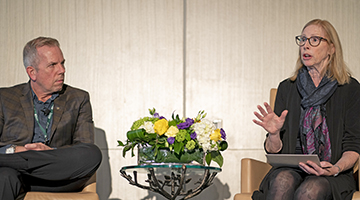 Written by Julia Campbell, an Ivey HBA2 student pursuing a dual degree with the School for Advanced Studies in the Arts in Humanities.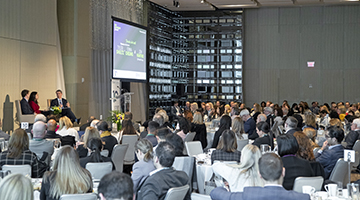 Written by Jess Orchin, an HBA2 student at Ivey Business School and a special guest blogger for Ivey Communications.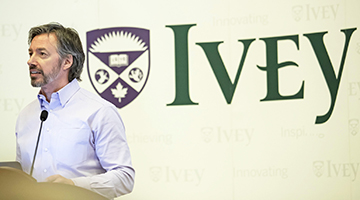 Written by Bill Furlong, Executive-in-Residence and Leadership Council member, and Senior Financial Services Executive.