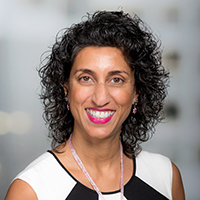 Jeannine D. F. Pereira, CPA, CA
Director, Talent Development
EY Canada
Executive-in-Residence, Ian O. Ihnatowycz Institute for Leadership

As EY Canada's talent development & learning leader, Jeannine leads a team of 50 organizational development and learning consultants to develop and deploy learning, increase employee engagement, build high performing teams, grow leadership competencies, and onboard new hires. Currently managing transformational changes including implementing a new learning platform, offshoring transactional work, and applying innovative teaming and training methodologies, Jeannine continues to foster an inclusive culture. 
Jeannine has extensive experience as a master facilitator, distinguished speaker, and emcee. She coaches high potential senior managers and most recently, completed the Leader Character Practitioner Certification. Using the Leader Character framework, Jeannine moderated a conversation with Canada's BlackNorth Leader, Wes Hall, titled "Racism is our Pandemic." An advocate for inclusion, Jeannine enjoys helping other organizations and communities accelerate their talent development and inclusiveness agenda.
Jeannine Pereira launched her career at EY as a student, before joining the financial services team in the firm's Assurance Services practice. She graduated from Western's Business School and obtained her chartered accountant designation. Several years later, Jeannine moved to Talent. During her tenure as EY's Diversity, Inclusiveness and Human Equity leader, EY was on Canada's Best Diversity Employer List 7 years in row since inception of the award.
In 2008, Jeannine received the Ernst & Young Rosemarie Meschi award in the Rising Leader category, an internal award recognizing inclusive leadership and 2014, she received Ascend's Manulife Mentor of the Year award. Jeannine has served on boards for the Council for Inclusive Work Environments, Ascend Canada, Canadian Board Diversity Council and the Diversity Roundtable. Jeannine co-chaired the inaugural Great Place to Work Forum.
Today, Jeannine is an Executive in Residence and member of the Leadership Council for the Ian O. Ihnatowycz Institute for Leadership and a volunteer with United Way's Women United.
Jeannine is married to her husband Christopher for over 20 years and has two teenage daughters. She enjoys fitness and playing the piano.