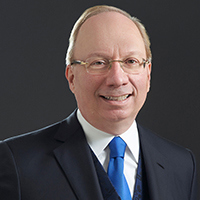 Dr. Laurence B. Mussio
Historian and Chair, Long Run Institute
Dr. Mussio is one of Canada's most senior business historians. He has spent his professional career as a both a scholar and senior C-Suite consultant advising, working and publishing at the intersection of the private, public, and academic worlds.
The focus of his published work has ranged from the history of financial institutions in banking and insurance, to government policy and regulation, to how companies and public policy practitioners manage large-scale technological transformation. His most recent work is the landmark publication of a two-volume scholarly history of the Bank of Montreal, called Whom Fortune Favours: Bank of Montreal and the Rise of North American Finance, published by the McGill-Queen's University Press. The historian Niall Ferguson called Laurence's book an "exemplary, deeply researched and insightful history" of one of North America's founding financial institutions.
Laurence is a founder and Chair of the Long Run Institute, an independent non-profit organization based in Toronto, London, England, and Belfast. Established in 2018, the Institute is becoming a critical meeting place for historians, experts, senior executives and government policymakers in the North Atlantic world to discuss the grand challenges facing firms, governments and societies. The LRI's conferences on climate, risk, and the future of the public corporation are establishing a unique and much-needed arena for discussion of our past, present and future.
Laurence is CEO of Signal Influence Executive Research & Communications (SIERC Canada), a boutique consulting firm specializing in the strategic application of organizational experience for senior leadership. He is currently Special Advisor to the Office of the CEO at BMO Financial Group, a position he has held since 2017. He also acts as a special advisor to senior executives in the corporate, government and university arenas.
Laurence has taught at both the graduate and undergraduate levels at McMaster University, York University and Syracuse University. He currently teaches in the MBA Program at the Schulich School of Business, York University. In addition to sitting on the Leadership Council of the Ian O. Ihnatowycz Institute for Leadership, Laurence sits on the International Advisory Board of the Centre for Economic History at Queen's University Belfast.
Laurence is fluent in French, Italian and (intermediate) German. He lives in Toronto with his wife, Flavia.