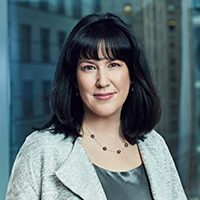 Miyo Yamashita
President and Chief Executive Officer
The Princess Margaret Cancer Foundation

Miyo joined The Princess Margaret Cancer Foundation as its new President and Chief Executive Officer in July of 2021. She has spent the past twenty years in corporate Canada, where she has held senior leadership roles in multiple industries, including management consulting, banking, and IT, leading large enterprise transformation initiatives and major operations across sales, HR, marketing, regulatory risk and compliance, and corporate strategy.
Miyo is an entrepreneur by background, having founded her own consulting company before it was acquired by Deloitte Canada in 2010. Deloitte is the world's largest independent consulting company with over 300,000 employees and record revenue of nearly $50 billion USD in 2020. At Deloitte, Miyo served on Deloitte Canada's Executive Committee where she led the firm's priority client accounts, the HR function, Marketing, Brand, and the client employee experience. She also served on Deloitte's global board of directors and was the first woman from a visible minority group to serve on the Canadian Executive Leadership team and the global board of directors in Deloitte's nearly 165-year history. Today, all of Miyo's legacy team from her former consulting firm are partners at Deloitte.
Since leaving Deloitte, Miyo has served as the Global Chief Privacy Officer and head of digital media compliance for TD Bank Group, Canada's second largest bank and one of the five largest banks in North America by retail customers. She has also worked as the Chief Strategy Officer for one of Canada's largest and fastest growing artificial intelligence startups, MindBridge Ai. MindBridge is based in Ottawa and provides artificial intelligence solutions to financial auditors. Earlier this year, Forbes ranked MindBridge one of the Hottest 50 artificial intelligence companies in the world.
Miyo has a Ph.D. in communications from McGill University. In 2017, she was named one of Canada's Top 100 Most Powerful Women by the Women's Executive Network. She and her husband have two sons, ages 13 and 15.
Miyo actually started her career in the Ontario public hospital system in data privacy and risk management, and she worked at UHN in the early 2000s before starting her consulting company. In 2004, the Princess Margaret became the first client of her newly formed consulting firm.
Miyo is delighted to "come home" to the Princess Margaret to raise money for cancer care, education and research after seeing many families, including her own, ravaged by cancer, and she firmly believes the next curve we need to flatten as a global human community is cancer.