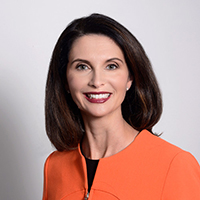 Mona Malone (Leadership Council Chair)
Chief Human Resources Officer and Head of People & Culture
BMO Financial Group

 Mona Malone is Deputy Head, Human Resources for BMO Financial Group. She also acts as Chief Talent Officer where she leads the team responsible for talent, learning, diversity & inclusion. She holds company-wide accountability for organization design, talent planning and recruitment, executive succession and leadership development, and she leads BMO's corporate university – the Institute for Learning (IFL) – and enterprise learning programs such as orientation and risk management.
 Mona began her career in 1994 as a consultant at Ernst & Young, where she focused on organizational strategy and human resources. She joined BMO in 1996 to design key learning programs at the IFL. In 1999, she made the leap to ePost (a joint venture between BMO and Canada Post Corporation) as Director of Human Resources, and was promoted to VP of Marketing & Product Management at ePost in 2001.
Mona returned to BMO in 2004 and held a variety of learning and professional development roles. She was appointed to VP, Advanced Leadership & Management Development in 2008 to revitalize BMO's focus on leadership development, orientation, and risk and regulatory learning.
Mona has worked closely with leaders in every BMO group, to act as a trusted advisor. As Chief HR Officer for BMO's Canadian Personal & Commercial Banking group, Mona led a national team of HR professionals to support the retail and commercial group in Canada, a 6.5 billion dollar business with over 17,000 employees. In 2013, Mona was appointed Regional VP, Personal Banking in Toronto. This led to her current role.
BMO Financial Group was the recipient of the Catalyst award in 2017 for innovation in diversity and inclusion, the Bloomberg Financial Services Gender-Equality Index Award in 2016 and the Best Workplaces in Canada and Best Workplaces for Women Award in 2016.
In addition to her leadership experience at BMO, Mona is an author and conference speaker. She was a contributing author for an award-winning business book on strategy execution, Behaviour Breakthrough, and a set of articles in the Ivey Business School Journal on strategy and behavioural leadership. 
Mona lives in Toronto with her husband and three children. She is a recipient of the Queen's Diamond Jubilee Medal in recognition of her community service with youth development organizations.
Mona holds an Honors Business Administration degree from Ivey Business School at University of Western Ontario.