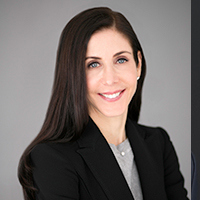 Sandy McIntosh
Executive Vice-president, People & Culture and Chief Human Resources Officer
TELUS

Sandy leads TELUS' people and culture. Her team is responsible for creating business, talent and culture practices that drive remarkable human outcomes. Sandy believes the path to brand advocacy is paved with exceptional customer and team member experiences, and she's made it her mission to re-imagine them to fuel TELUS' differentiation and ability to deliver on our social purpose to improve lives and the world we live in.
Sandy's authentic, creative and collaborative style promotes a culture of integrity, innovation and spirited teamwork. In addition to supporting TELUS' Human Resources and Compensation Committee, she advises the Executive Leadership Team and Board of Directors, counselling them on culture transformation, labour relations, cost transformation, mergers and acquisitions, total rewards and talent development programs to accelerate TELUS' growth and performance.
During her tenure, TELUS has achieved team member engagement in the top 10th percentile of employers globally, has been recognized as one of Canada's Top 100 Employers, inducted into the Top 10 Corporate Cultures Hall of Fame, and named Best Diversity Employer for several consecutive years.
Sandy demonstrates TELUS' community promise to give where we live, acting as Honourary Chair for The Weekend to Conquer Cancer benefiting the Princess Margaret Cancer Centre for over a decade. She is also an executive sponsor and champion of the Move Forward for Youth Mental Health campaign in support of the TELUS Friendly Future Foundation.
Sandy is recognized as one of the Women's Executive Network's Most Powerful Women and was inducted into the Hall of Fame in 2017. She has also received a Leadership Excellence Award in the Trailblazer category from Women in Communications and Technology and is identified as a Woman Worth Watching by Diversity Journal.
Sandy holds an Executive MBA and a Master of Industrial Relations degree from Queen's University, and an undergraduate degree in Public Administration from Carleton University.