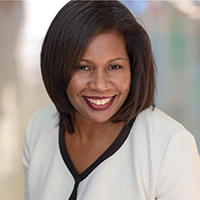 Tara John
Vice-President, Human Resources, U.S. Commercial
TD Securities
Tara John has spent over 20 years in the financial services industry and has experience in both front line sales and human resources. She is a business-focused professional with a strong commitment to aligning the employee experience with the customer experience. Tara has worked in both Canada and the United States and during her tenure in HR she has been involved in M&A, risk & regulatory, HR strategy, organizational design, talent management, and learning and development. Throughout her career, Tara has built a reputation as an action-oriented individual with a clear focus on the development of human capital strategies which align to and
enable the achievement of her organization's business goals.
Prior to joining TD Securities, she was Vice-President, Talent Management at Manulife. Tara was accountable for building and strengthening the leadership pipeline across Manulife while mitigating succession risk. Her role included oversight for talent and succession planning, leader development, talent assessment and coaching and career pathing. 
Tara has an MBA from Dalhousie University and an Honours BA in Business Management from the University of Toronto. She previously served on the Board for Access Living in Chicago.