Activating Character in Times of Uncertainty and Possibility
3 & 4 November 2022
Vantage Venues
150 King Street, Toronto, Ontario
Early bird pricing ends soon! $575 CAD + HST;  After October 14 - $675 CAD + HST (fee includes all meals and conference materials)
This event is in person only. 
We find ourselves amidst a unique period of time that possesses an exceptional opportunity for character-fueled leaders.
Our world has become increasingly complex and unpredictable with seismic and dynamic change unfolding at a rapid pace. This uncertainty can be daunting and yet also rife with possibility. Character elevates our ability to make wise judgements and engage in fluid and adaptable decision-making. It cultivates the dual outcomes of sustained excellence and well-being, both individually and organizationally. We hope you will join us for this two-day conference and learn how character leadership elevates our capacity to thrive amid a shifting landscape, and to sense and seize the myriad opportunities on the road ahead.
Our agenda will include:
The research, resources, and frameworks to lead in times of uncertainty and possibility;
A solid theoretical foundation based on deep scholarship on character development; and,
Timely, current, and active examples provided by real world practitioners demonstrating the impact of leader character.
Conference Sessions
Unpacking Uncertainty and Possibility
Character & Well-Being
Resilience Through Leadership - as Way of Learning, Living and Working
Evidenced Based Character Leadership
Activating Character to realize Possibility in an Uncertain World
Conference Facilitators
Keynote Speaker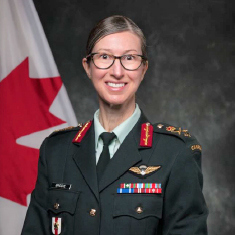 Brigadier-General Krista D. Brodie is the Commander of Military Personnel Generation Group (MPGG) for the Canadian Armed Forces. She is a student and practitioner of leadership and literature, of history and humanity, of character and culture, of tactics and tenacity, of science and strategy, and of global supply chains. Over the course of her career, Brigadier-General Brodie has served in key command and staff appointments, been a paratrooper and professor, deployed on international operations in Croatia, Bosnia, Afghanistan, and joined domestic battles against floods, ice storms, forest fires, and pandemic. She is a passionate advocate for People Operations. With the help of a ridiculously large shaggy dog, she and her husband are raising three school-age children.
Hotel Accommodations
The Intercontinental Toronto Hotel is pleased to provide a limited number of rooms to conference guests at the reduced rate of $191/night. The hotel's address 225 Front Street West, Toronto and is a 5 minute walk from the conference venue.