Sip & Speak, Session Three: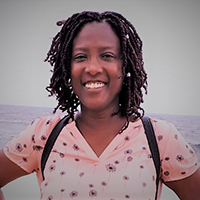 Thursday August 20, 4:30 - 5:30 pm
(Re)Claiming 'Uppity': "Ordinary" Women as Leaders and Public Intellectuals
With Professor Erica Lawson
Undergraduate Chair & Associate Professor, Women's Studies and Feminist Research, Western University
In this session, we will explore examples of women's day-to-day leadership for social and political change. However, because "legitimate leadership" and power are associated with wealthy men, mostly white, women are not viewed as leaders in their own right. With historical and contemporary examples, this talk is an invitation to re-think 'ordinary' women as leaders and public intellectuals within the theoretical tradition of Black feminist thought. 
Erica S. Lawson is an Associate Professor in the Department of Women's Studies and Feminist Research at Western University. She teaches in the areas of feminist and critical race theories and gender and post-conflict recovery.
Sip & Speak Session Archives:
S1: Navigating Today's Multidimensional Workplace with Niloufer Afzal, CEO, G2G Impact Group
S2: Advancing Reconciliation Through Indigenous Economic Development with Professor Frankie Young, Western Law