Ivey's Centre for Building Sustainable Value exists to provide practitioners and students with the knowledge, tools and capabilities to manage both private and public interests effectively through organizational actions.
The Centre's members strive to meet two objectives:
Research organizational issues that simultaneously build private and public value across the enterprise
Educate students and practitioners in the corporate, non-profit and government sectors to understand the intersection of the private and public sectors
In today's world, the private and public sectors are becoming increasingly connected. With the advent of global communications technologies and transportation infrastructure, and the erosion of trade barriers, organizations are finding themselves connected to people and organizations throughout the world. It is increasingly difficult for organizations to operate in isolated environments.
The failure to accommodate public interests through their private actions poses real risks to corporations; it can lead to the loss of customer markets, limit access to financial capital, and disrupt the supply of goods and services. Corporations, now more than ever, must accommodate the needs of society in pursuit of private wealth. Only by doing so, can any organization be viable in the long-term.

In the long-term, private and public interests start to align. For example, investments in leading edge environmentally responsible technologies often have long-term payoffs through lower energy or waste management costs, and by appeasing the concerns of the community and activists. As well, although investments in relatively generous employee compensation packages and consensual decision-making processes may seem costly and time consuming in the short-term, they often result in greater employee loyalty, lower turnover, and improved motivation and innovation in the long-term.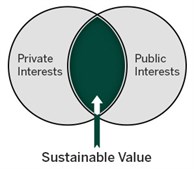 Research and education in the Centre for Building Sustainable Value will investigate the overlapping space. This position reflects the organizational reality that public and private interests are becoming increasingly interconnected.
Contact:
Email: sustainability@ivey.ca
Mail: Centre for Building Sustainable Value, Richard Ivey Business School, Western University, 1255 Western Road, London, ON, N6G 0N1
Dr. Tima Bansal 
 -  Director, Centre for Building Sustainable Value, Shurniak Professor of International Business, Tel: 519 661-3864, Email: 
tbansal@ivey.uwo.ca