The circular economy connects firms within and across supply chains, so the waste of one organization becomes the feedstock for another. It is the embodiment of sustainable development, because business production and consumption are contained within the Earth's planetary limits.
However, implementing the circular economy is tough. It requires businesses to recognize economic opportunities related to waste. It then requires to act collaboratively to innovate products, processes and supply chains that extract and capture value from waste. 
The Circular Economy Lab identifies, examines and facilitates waste repurposing exchanges between businesses through research, to understand the components required for long-term change in business practice and the economy at large. This research considers cognitive, operational, organizational and regulatory factors enabling or constraining circularity across businesses. Further, through life cycle assessment, the research also quantifies the extent to which B2B repurposing exchanges abate carbon emissions and, as a consequence, mitigate Climate Change.
Our research program primarily focuses on organic waste streams, particularly Food Loss and Waste (FLW). Only 40% of food produced in Canada is currently consumed (35 million tonnes of FLW every year!), with 68% of FWL happening upstream in the supply chain, at farming, processing, and manufacturing levels. Our research program explores how businesses can discover and implement higher order value applications for this incredible amount of FLW.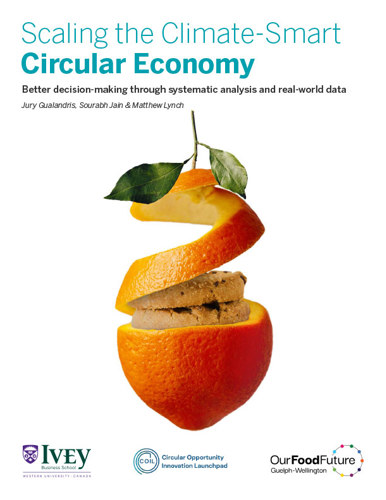 Scaling the Climate-Smart Circular Economy
The circular economy - conserving materials and avoiding waste through closing material flows - can be a key approach for reducing greenhouse gas emissions, and will be an important strategy for Canada to meet its 2030 Emissions Reduction Plan. This especially applies in the agri-food sector, responsible for almost 100 million tonnes of CO2 equivalent emissions per year in Canada, in which 60 per cent of production is currently wasted with an economic loss of $50 billion annually.
The big question for businesses and policy-makers: what are the best solutions and policies that optimize the use of resources to aggressively reduce carbon emissions?
A landmark study, Scaling the Climate-Smart Circular Economy, conducted by researchers at the Ivey Business School's Centre for Building Sustainable Value (BSV), tackled this question through examining two Canadian "hot spots" for circular innovation in the agri-food sector - the Guelph-Wellington (Ontario) and Montreal (Quebec) regions. The multi-year study analyzed over 110 "waste exchanges," in which one firm took the food waste from another firm for an intended beneficial use.
Circular Leadership Program
The Circular Leadership Program (CLP) is an innovative leadership development initiative developed by the Circular Economy Lab, Innovation North and the Circular Opportunity Innovation Launchpad (COIL), an innovation platform aimed at scaling transformative solutions for the circular economy in Canada.
This year, a cohort of 19 companies worked to develop circular business innovations that are technically feasible, economically viable, and ecologically impactful. The group had the opportunity to pitch their innovations for funding at the end of the program. 
The initiative combines teaching with applied research. Faculty teach systems thinking tools to a group of managers from small and medium sized enterprises (SMEs). Following the program, applied research will be used to explore how effectively the intervention helped managers expand their cognitive complexity and develop circular solutions.
The group's curriculum was informed by Innovation North's Compass and research from the Circular Economy Lab.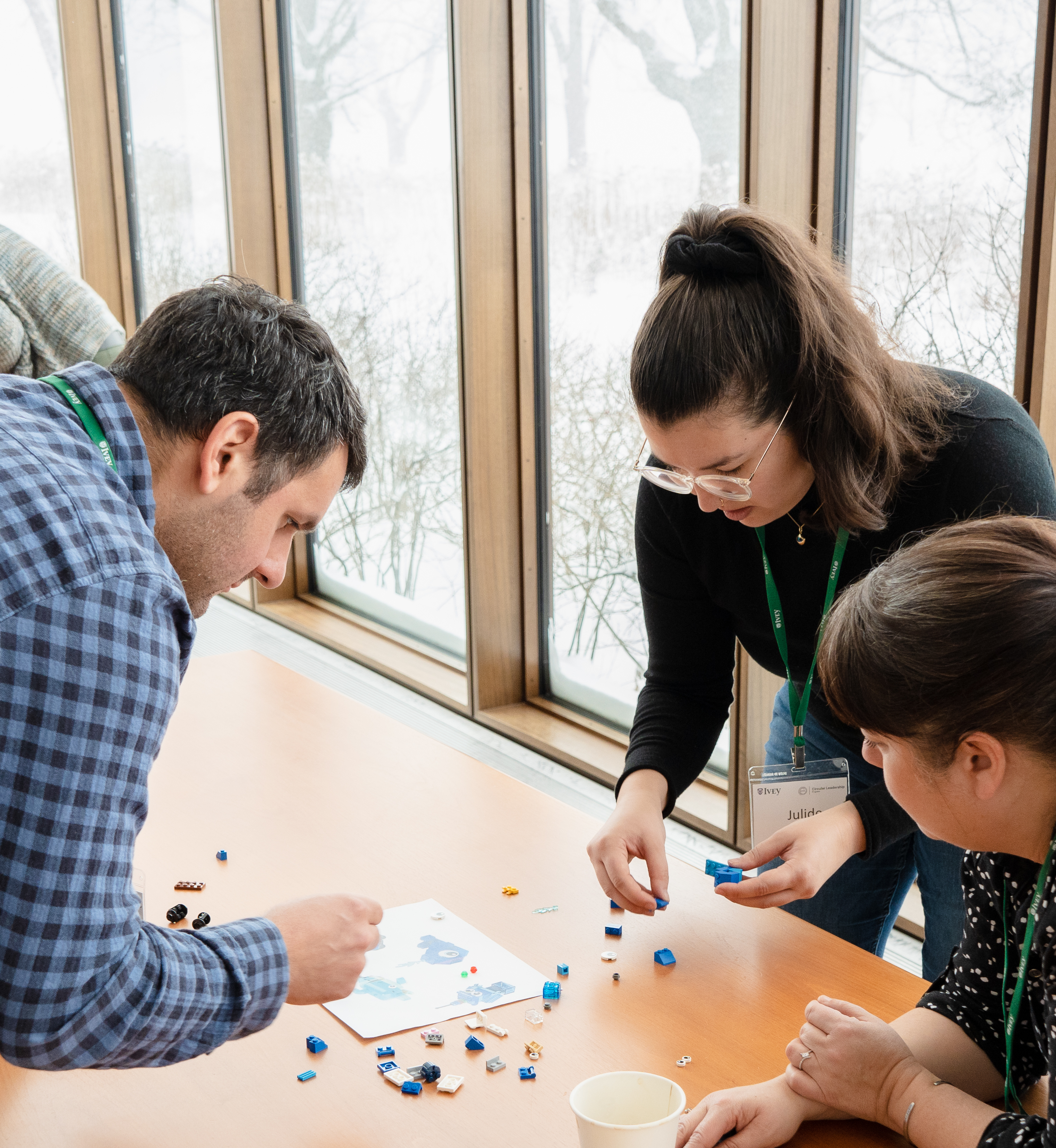 Mapping the circular economy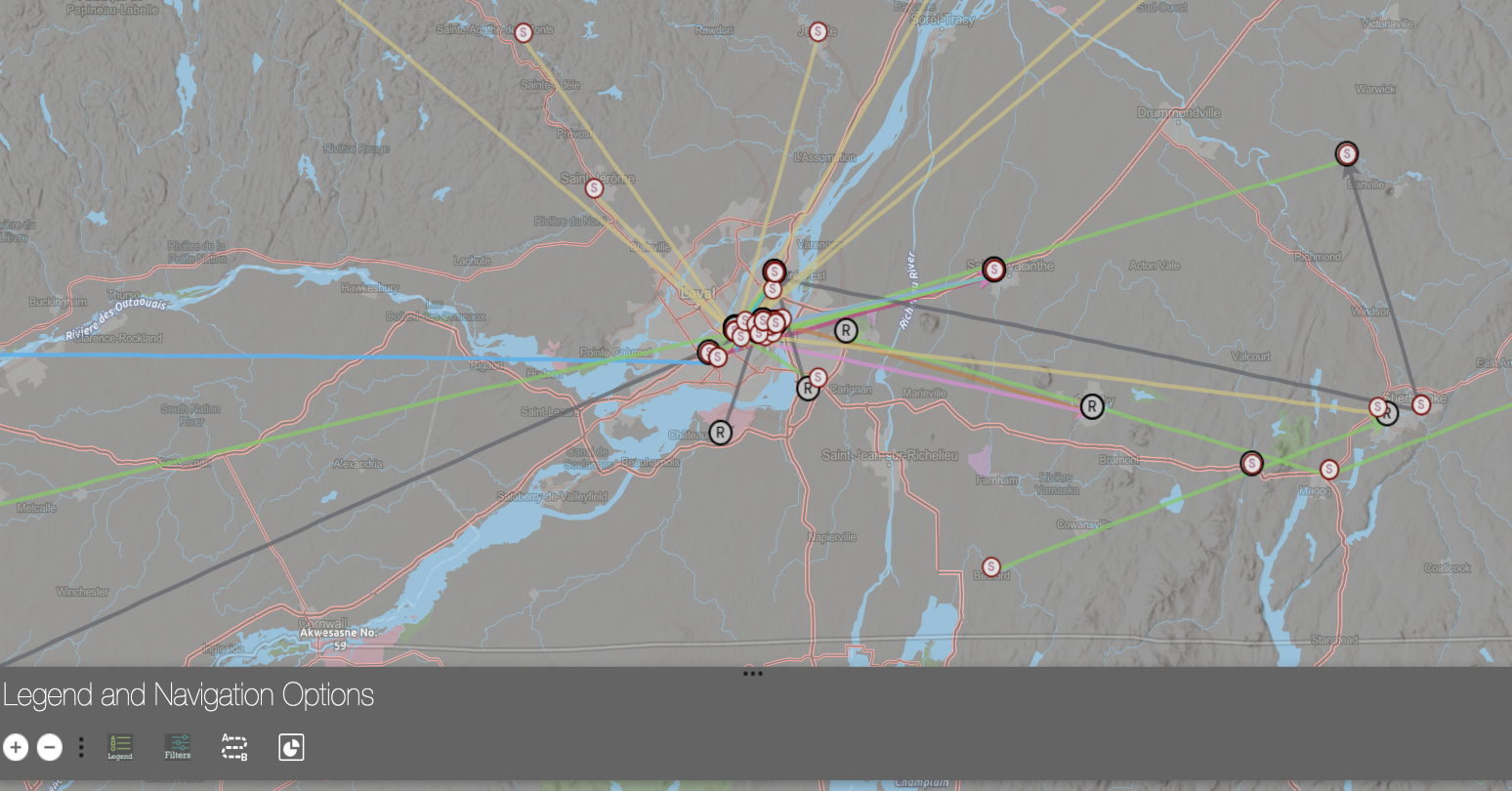 Interactive map of the repository of FLW repurposing exchanges that cut across Canadian provinces and Industrial sectors
Click on the map to zoom in and out to analyze specific material streams, waste categories and temporal brackets, thus fostering your understanding of how the emergent circular economy for FLW develops and functions.
Do you know about existing or developing B2B repurposing exchanges for FLW? Complete our short survey here, which takes less than one minute.
Get Involved
Interested in learning more about the circular economy or how you can improve your operations and supply chain? We are always looking for organizations that want to achieve positive change, whether through involvement in upcoming events, consulting projects with our talented students, or sponsored research initiatives. To learn more, contact us with a brief description of what you'd like to do.

Currently, we're working with leading organizations in the Canadian agri-food sector to identify strategies to reduce food and plastic waste and transition towards circular supply chains. If you're in the agri-food space and would like to get involved with this initiative, contact us.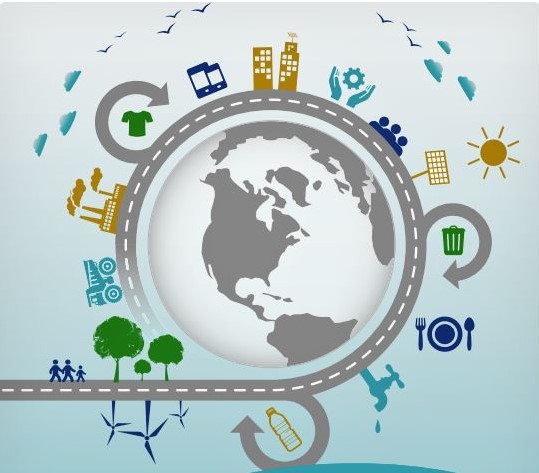 Turning Point: Advancing the Circular Economy in Canada
Professor Tima Bansal chaired a high-level interdisciplinary expert panel that examined the potential economic, environmental, and social impacts of advancing a circular economy in Canada. The panel's flagship report – Turning Point – was published in November 2021. The panel was created by the Council of Canadian Academies (CCA), a not-for-profit organization that convenes the best experts in their respective fields to assess the evidence on complex scientific topics of public interest to inform decision-making in Canada.
For Executives & Managers
From our partnerships with industry, we know that committed business leaders are at the forefront of driving real change toward the circular economy. Below are insights and resources that can help executives and managers drive circularity in their own organizations and across their supply chains:
For Researchers
Ivey has a unique concentration of top researchers who study supply chains and sustainability. They apply a wide range of empirical and analytical research methods to investigate and understand the transformation of supply chains systems towards circularity.
Learn more about our faculty's research:
For Instructors
Ivey is well-known for its collaborative and practical case method teaching. Learning through cases challenges students to analyze information, make decisions, and defend those decisions when others may disagree. 
Below are some cases related to sustainable supply chains written by Ivey faculty.