Thousands of businesses are making commitments to achieve net-zero greenhouse gas (GHG) emissions by 2050 (or earlier) in line with the goal of the Paris Climate Agreement. These commitments are being driven by investor pressure, the risk of stranded assets, evolving national policy frameworks and ratcheting societal expectations. 
Establishing a credible path to net-zero presents major challenges, uncertain risks and transformative opportunities for firms to shift or completely alter key aspects of their business model, value chain and competitive positioning. Firms can capitalize on strategic opportunities, such as the possibilities of new products, services and markets, and novel ways of interacting with or serving customers. As we enter a decade of unprecedented transformation and disruption, the leaders will be the firms that take a strategic approach to net-zero – aligning ambitious emissions reductions with long-term business strategy, innovation and value creation.
The Centre for Building Sustainable Value established the Net Zero Lab to mobilize Ivey's research and teaching expertise to help business leaders and policy makers navigate the highly-complex net-zero transition. A flagship initiative – Canadian Corporate Strategies for Net-Zero – is engaging and convening a unique cross-sector group of leading Canadian businesses taking bold climate action. Through exchange, dialogue and research, the initiative is identifying the opportunities and decision points to build ambitious and actionable net-zero strategies that position firms to thrive in a net-zero future. Other research focus areas include reducing GHG emissions through climate-smart approaches to the circular economy, as well as identifying and preventing "greenwashing" in corporate climate pledges.
The Net Zero lab is also supporting the development of a new Graduate Diploma program focused on business and climate impact that will begin Winter 2024.
For more information, please contact Matthew Lynch.
Corporate Strategies for Net Zero
Corporate Strategies for Net Zero: the emerging landscape for Canadian business examines the key dimensions of the new strategic landscape for corporate climate action in Canada. The report explores the main drivers that have compelled companies to take ambitious strategic action in recent years, including: investor pressure and disclosure requirements; increasing policy and regulatory drivers; and competitive pressures to match or lead sector peers on climate performance. To aid leadership teams seeking to understand their firm's readiness for making an ambitious commitment to reduce GHG emissions, the authors have mapped a pathway identifying four critical questions for firms to consider in developing their net-zero strategy.
Greenwashing 3.0: Why addressing greenwashing
remains as important as ever (and what can be done about it)
Greenwashing – any communication that misleads people into adopting
overly positive beliefs about an organization's environmental performance,
practices, or products – has rapidly become one of the most prominent issues in
corporate sustainability. 
A new report from Ivey's Centre for Building Sustainable Value and the University of Michigan's Erb Institute outlines the evolution of corporate greenwashing. Most importantly, the report shares approaches for addressing the issue.
Scaling the Climate-Smart Circular Economy
The circular economy - conserving materials and avoiding waste through closing material flows - can be a key approach for reducing greenhouse gas emissions, and will be an important strategy for Canada to meet its 2030 Emissions Reduction Plan. 
A landmark study, Scaling the Climate-Smart Circular Economy, conducted by researchers at the Ivey Business School's Centre for Building Sustainable Value (BSV), examines two Canadian "hot spots" for circular innovation in the agri-food sector - the Guelph-Wellington (Ontario) and Montreal (Quebec) regions. The multi-year study analyzed over 110 "waste exchanges," in which one firm took the food waste from another firm for an intended beneficial use.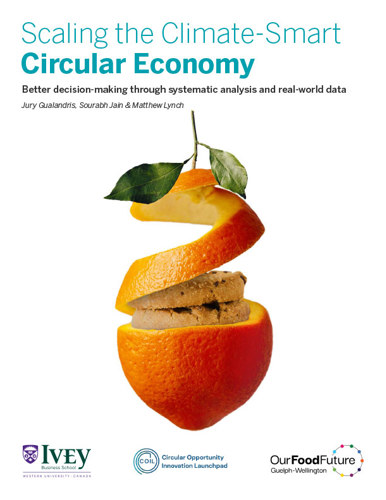 Ivey Net-Zero Event Series
Created in collaboration with Ivey Academy, the Ivey Net-Zero Event Series is convening Canada's climate leaders to explore the strategic implications and opportunities for businesses in pursuing a net-zero strategy for climate emissions.
Events Held:
---
Corporate Strategies for Net-Zero — The Strategic Dimensions of Ambitious Climate Leadership
A growing number of Canadian companies are making major commitments to reduce their climate emissions through setting "science-based" targets, with some pledging to more than halve their emissions in the next decade. In this session we explored initial insights emerging from BSV's Corporate Strategies for Net-Zero research, discussing key questions that many executive leaders are now grappling with. Executives from KPMG Canada and Canadian Pacific Railways contributed to the session alongside leading Ivey faculty.
En-ROADS Climate Simulator
Ivey hosted a unique interactive learning event that challenged over 100 executive alumni to work collectively to chart a path to a net-zero future, using the En-ROADS Climate Solutions Simulator.
En-ROADS is a global climate simulator built by Climate Interactive and the MIT Sloan Sustainability Initiative. En-ROADS allows users to explore the impact of roughly 30 policies – such as electrifying transport, pricing carbon, and improving agricultural practices – on hundreds of factors like temperature, air quality, and the evolution of energy mix. The system dynamics model weaves together the best available science and research, to show how our world and the climate reacts to interventions in our energy and land-use choices.
Your organization's net-zero future is closer than you think
As the world gathered for the COP26 climate change summit in Glasgow in November 2021, some of Canada's leading voices on corporate climate action unpacked the enormous strategic implications of the net-zero agenda for business. These included Sarah Chapman of Manulife, Laura Zizzo of Manifest Climate, and Robert Klassen of the Ivey Business School.
Climate Action Fellowships
Two professors have been named the Centre for Building Sustainable Value's Climate Action Fellows - Wren Montgomery and Nouri Najjar. The recipients were selected for their topical and important research related to climate change.
Assistant Professor
Assistant Professor
Charting Canada's Path to Net-Zero
Related Content
Net-Zero: What are Canadian companies committing to?
This article provides a desktop review of climate commitments made by 64 large Canadian companies, including net-zero targets and/or targets under the Science Based Targets Initiative.
Seeking Net Zero? You Should Know Not All Carbon Offsets Are The Same
Amid calls to reduce their companies' carbon footprints, business leaders are looking to buy carbon offsets. However, not all offsets are the same, writes Professor Tima Bansal in Forbes.
How to Be a Net Zero Company
Many businesses are setting a "net zero" target to help address climate change. Find out how to tackle net zero in your company through insights from Robert Klassen and Matthew Lynch, published by the Network for Business Sustainability.
Retailers' Dirty Secret: Emissions In Shipping Freight
Retailers are touting their ambitious emissions targets. Yet just getting their products across the ocean creates more greenhouse-gas emissions than all 2 billion of America's cars and truck combined, writes Tima Bansal in Forbes.