Overview
The Ivey Centre for Building Sustainable Value (BSV) was one of the first sustainability centres in a business school globally, and is recognized for its excellence and 20-year track record in research and teaching.
BSV is housed at the Ivey Business School and the Centre's work directly advances Ivey's sustainability ambitions. In March 2022, Ivey released a new strategy, called Ivey Next, which made sustainability central to its purpose and mission.
For Ivey, one of the most significant changes is embedded in its mission statement: address critical issues facing business and society. The school plans to prioritize work on three critical issues for which Ivey already has demonstrated strength in research, teaching and outreach. Sustainability is one of those critical issues.
Ivey is aiming to be the thought leader on sustainability, where academics, business, and governments come to understand and address the most critical sustainability challenges we face.
The mission of BSV is to shape pathways of systems change towards an ecologically sound, fair future.
Ecologically sound and fair refers to the inter-connected environmental and social dimensions of sustainability. We need to both live in harmony with natural systems and address inequity across society, acknowledging we cannot achieve one without the other.
Systems change means we must fundamentally transform societal systems to deliver the scale and pace of change we need. For example, in our work to make agri-food more sustainable, it's not enough to simply improve production practices to reduce climate emissions. Rather, we need to enable collaboration between farmers, processors, distributors, retailers, consumers, and government to simultaneously improve access to affordable healthy food, lower emissions from the entire value chain, and overhaul production to enhance rather than degrade biodiversity. We acknowledge this is complex and challenging. However, understanding and navigating difficult problems is what Ivey researchers are known for.
Shaping pathways means helping key system players clearly see their way forward to be agents of positive change. For example, we know that many business leaders are motivated to take major action on sustainability, but the complexity of the challenges means it is difficult to know "how?". How can technological solutions and operational practices be most effective at abating carbon emissions in specific contexts? How should a business tackle climate and injustice at once? How can new financial instruments protect, grow and benefit from our green infrastructure? How can new processes and networks enable businesses to reduce and upcycle otherwise wasted materials and resources? How could consumers be nudged towards buying less – and more responsibly?
Our mission is to work with partners to help answer these questions.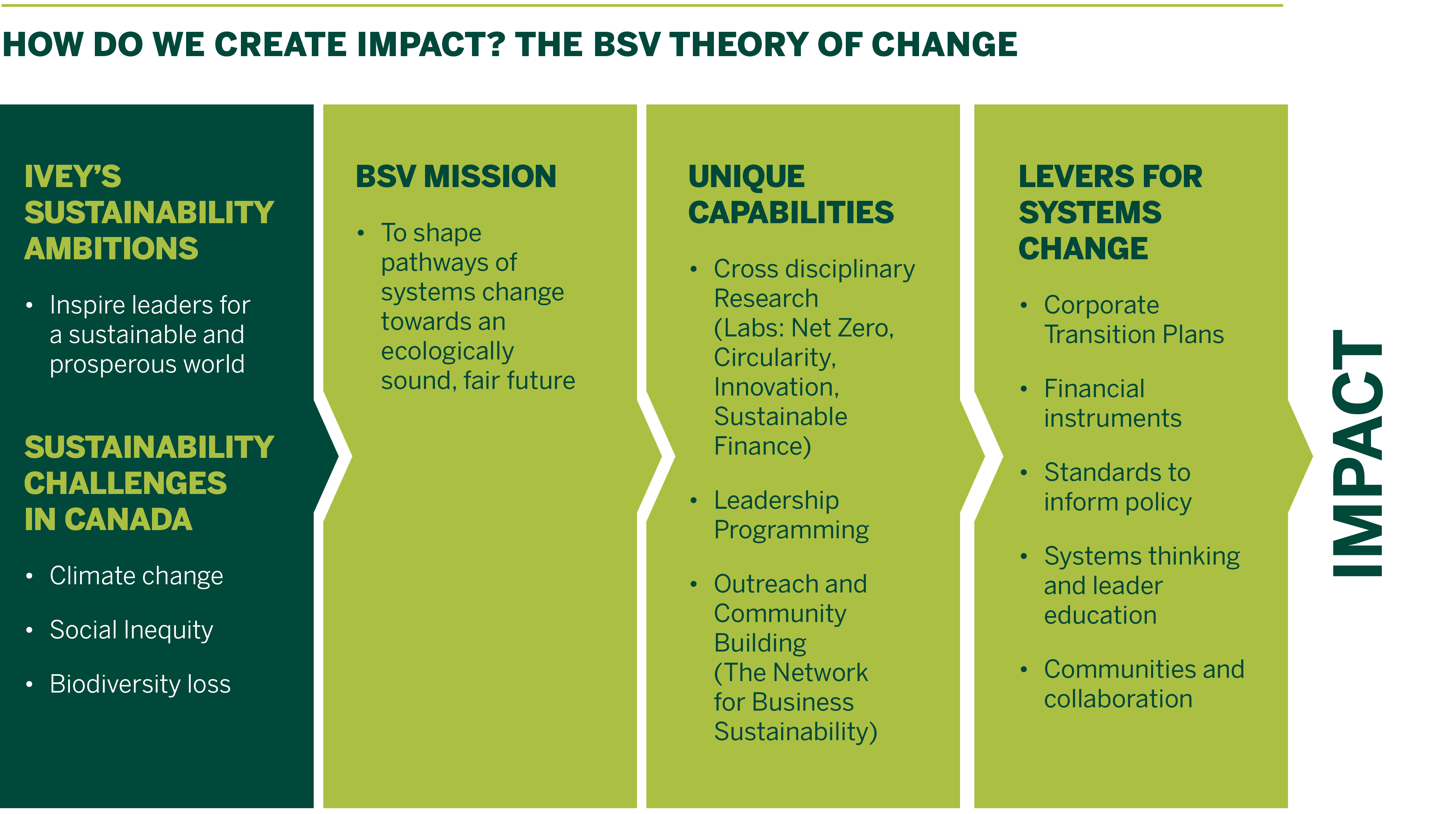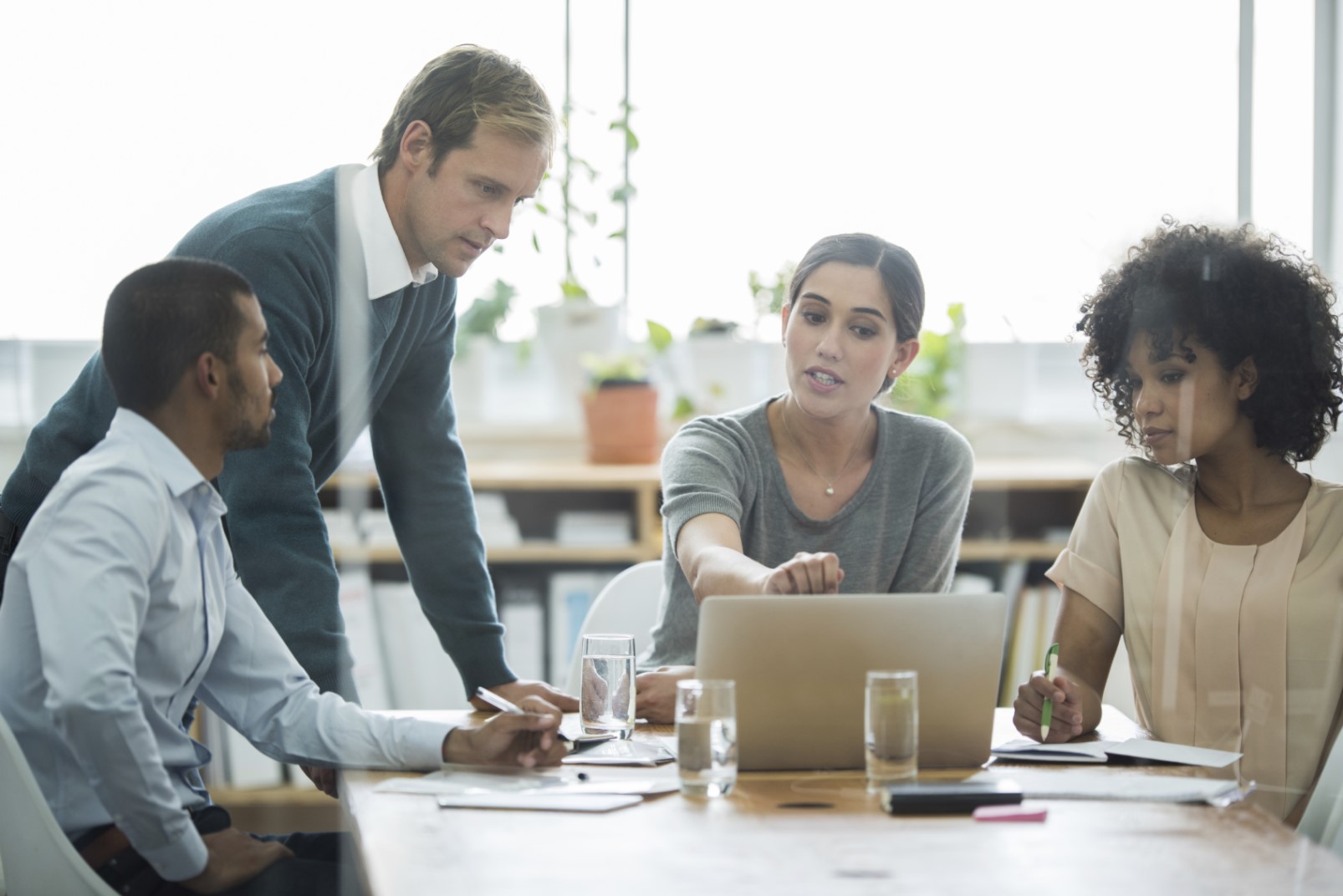 Empowering the leaders of the future
Ivey's students have immense passion and motivation. They believe that business can be a force for good and they want to help move the sustainability needle. The BSV Centre is harnessing and growing the enthusiasm of these future business leaders so that they can apply their passions in environmentally, socially, and economically beneficial ways.
Find out more about our sustainability-focused student programs.
Transforming systems through cutting-edge research
The BSV Centre focuses on four impact labs that are critical to transforming business and society toward sustainable development:
Our unique approach
Systems orientation: Much business school research and education focuses on localized impacts, in which cause and effect can be measured and managed. Participants in our centre recognize the value of a systems orientation, in which one sees local relationships within the broader social, environmental and economic context.
Interdisciplinarity: Because many sustainability issues are broad systems issues with localized impacts, their solutions require interdisciplinary problem solving. Participants in our Centre activities appreciate interdisciplinary dialogue and collaboration.
Applied focus: We care about impact. Participants in our centre want to be part of the conversations that matter to practice, including business executives, non-profit leaders, and government policy makers. We aim to co-create knowledge with the users of the knowledge, so that we not only push the frontiers of rigor, but also relevance to enable systems change.
Global influence
Businesses need access to rigorous, relevant research to support their decisions and actions, and researchers need to understand real-world business challenges to ask relevant questions. The BSV Centre hosts the Network for Business Sustainability (NBS), a growing global network of over 35,000 researchers, managers and students committed to advancing sustainable business.  
NBS also convenes a community of 190 business school sustainability centres worldwide, working together to push the research agenda and integrate sustainability into business research and teaching.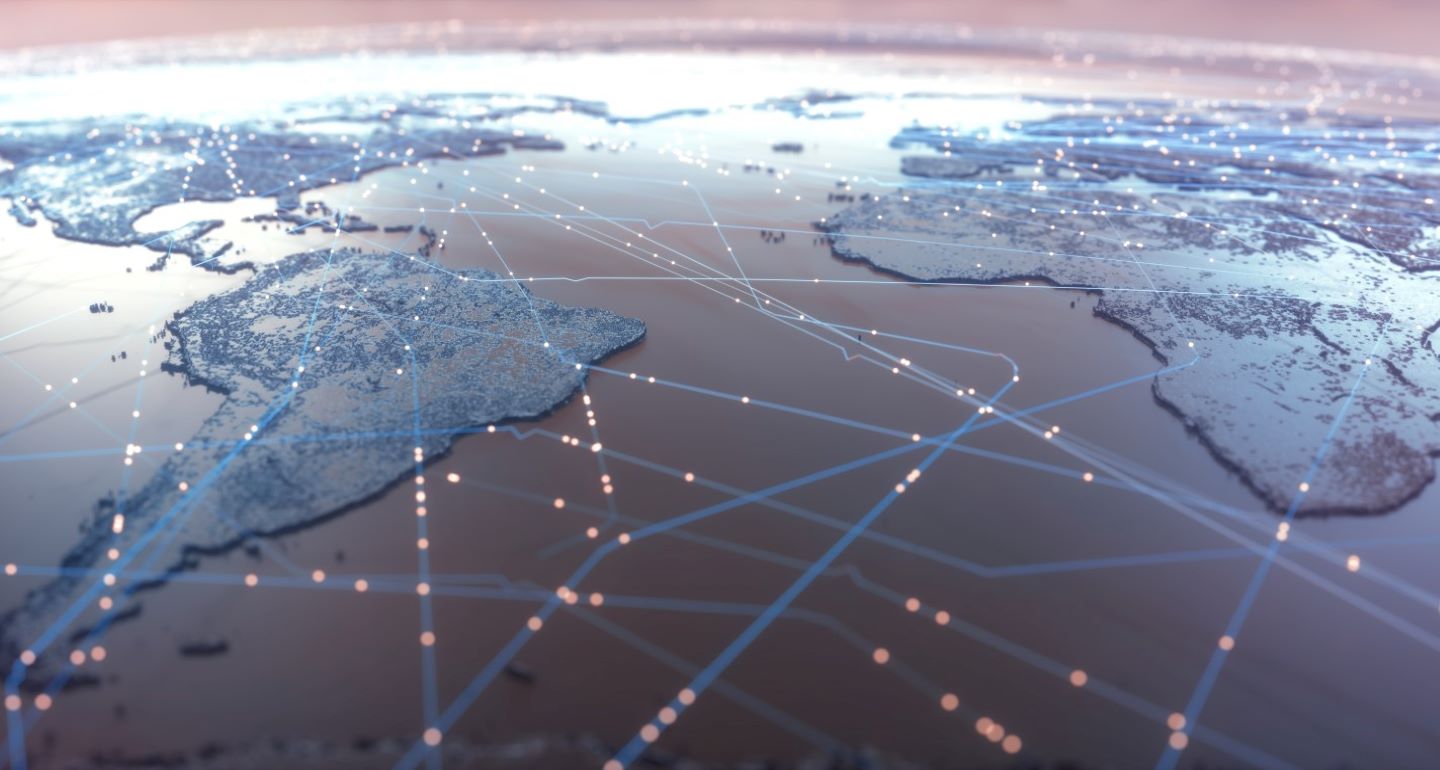 Contact

Centre for Building Sustainable Value, Richard Ivey Business School, Western University, 1255 Western Road, London, ON, N6G 0N1