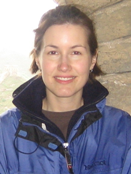 Natalie Slawinski
Richard Ivey School of Business,
University of Western Ontario
Short on Time: The Role of Organizational Time Orientation in Business Sustainability

nslawinski@ivey.uwo.ca
Natalie Slawinski is a PhD candidate in Strategy at the Richard Ivey School of Business. She has an undergraduate degree in Political Science, a Masters degree in History, and an MBA. Her research interests include time, sustainability, corporate social responsibility and identity. With a background in History, it is perhaps not surprising that Natalie is drawn to the notion of time. This interest has led to her current dissertation research which explores different temporal dimensions of individuals, firms and their environment, and how they relate to business sustainability. Natalie is also intrigued by the tensions firms experience when trying to accommodate social, environmental and economic goals. Her research therefore examines the role that firms' orientation to time plays in the management of these trade-offs.

Short on time: The role of organizational time orientation in business sustainability

Our research explores the role of time in explaining firm responses to social and environmental issues. We draw on time perspective and other related individual level constructs from the psychology literature, along with research on time from the organizational and sociology literatures, to develop time orientation as a multi-dimensional firm-level construct. We suggest that the different time frames used by firms in their decision making help explain differences in the social and environmental initiatives of firms. We develop propositions that explain the relationship between a firm's time orientation and its decisions regarding sustainability issues. We conclude that understanding how time is perceived in organizations holds promise for advancing business sustainability research.