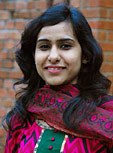 Aarti Kataria
Management Development Institute
An Exploration of Consumers' Perceived Sustainability Value and it's Outcomes: A Mixed Method Study in India.
This research applies the consumer value approach in the context of consumer-sustainable brand relationship. It investigates factors that enable or hinder the adoption of and relationship development with sustainable brands. For the purpose of data collection and analysis, a sequential mixed method research design was employed. A preliminary qualitative study using in-depth interviews was conducted to explore different types of values and costs which consumers' associates with a sustainable brand and to refine the proposed model. Based on the findings from the qualitative study and intensive literature review, a survey was developed. A pilot was conducted using a student sample (n=100) to validate the instruments in the Indian context. The researcher will test the postulated hypothesis using structural equation modelling. The empirical testing of here-proposed model may help practitioners to better target sustainable consumers and formulate relationship marketing strategies. The study also fulfils an identified gap in the literature, as it incorporates two dimensions of sustainability (social and environmental brand attributes) and brings together consumer value perspective and relationship marketing fields in the sustainable marketing context.
Biography
Ms. Aarti Kataria is presently a research scholar (Marketing Area) at Management Department Institute, Gurgaon. She completed Bachelor of Information & Management and MBA from Kurukshetra University and has taught at Jaipur National University, Jaipur. Her research interests include sustainability communication and consumer behaviour.