Centre for Building Sustainable Value
Out of Ivey and into the sea
Melanie Issett
|
Aug 19, 2019
Current student, Melanie Issett, HBA 2020 is pursuing a dual degree, pairing Ivey HBA with Environmental Science. She spent a part of her summer studying dolphin and whale biology and conservation in Hong Kong and Taiwan.
East Asia is facing some of the worst marine conservation issues in the world. Home to densely populated countries, multi-billion-dollar fishing industries, and major coastline industrialization, the last few decades have seen declines in native marine mammal populations, fish stocks, and overall oceanic health.
This past summer, I explored my interest in humanity's ever-evolving relationship with nature and applied the knowledge that I have gained from my undergraduate studies by attending a field course studying dolphin and whale biology and conservation in Hong Kong and Taiwan. Taught by globally recognized marine mammal researcher, Dr. John Wang, the course was an intensive two weeks that challenged me and twenty other students on an intellectual, philosophical, and emotional level.
My HBA studies proved to be incredibly valuable on this science-focused course. As the only student with a business background, I engaged in conversations with my professors about the apparent disconnect between current economic systems and the fragile, finite resources of our planet. My education allowed me to attempt to make sense of the complex systemic issues underlying the crises that we saw.
Through eye-opening and humbling experiences, the course pushed us to challenge our status quo. We spent days at sea surveying Hong Kong coastal waters for the vulnerable Chinese White Dolphin whose population has fallen 50% in the last 10 years. We learned about the infrastructure developments in Hong Kong that are leading to major habitat loss and ecosystem disturbance including the world's longest sea crossing bridge and Hong Kong Airport's planned runway extension. At a fishing port in Taiwan, we learned about the social rights issues that ensue on boats that spend months at sea in international waters and the impact of overfishing. In lecture, we discussed the ethics of marine mammals in captivity, the intrinsic and anthropocentric value of species survival, and the often-misguided hubristic tendencies of humans to intervene in nature. We drove along what our professors referred to as, "cancer highway" past one of the world's largest carbon dioxide emitting coal-burning power plants. Then, finally, while standing outside of one of Asia's largest petrochemical plants, we talked about how western consumer demand for low priced goods come with major environmental and social costs.
One of the most moving moments of my trip occurred on the east coast of Taiwan. Out at sea at sunrise, standing at the tip of the boat with two of my classmates, scanning the horizon for marine mammal activity, we spotted a pod of Fraser's dolphins. As we got closer, we soon realized this was not a small pod. With our professors help, we estimated there to be around 400 dolphins. It was an absolutely breathtaking experience and I could not help the tears welling up in my eyes as I watched these dolphins darting in and out of the water, travelling together in their natural habitat. To me, this experience was a reminder of nature's resilience and represented a symbol of hope.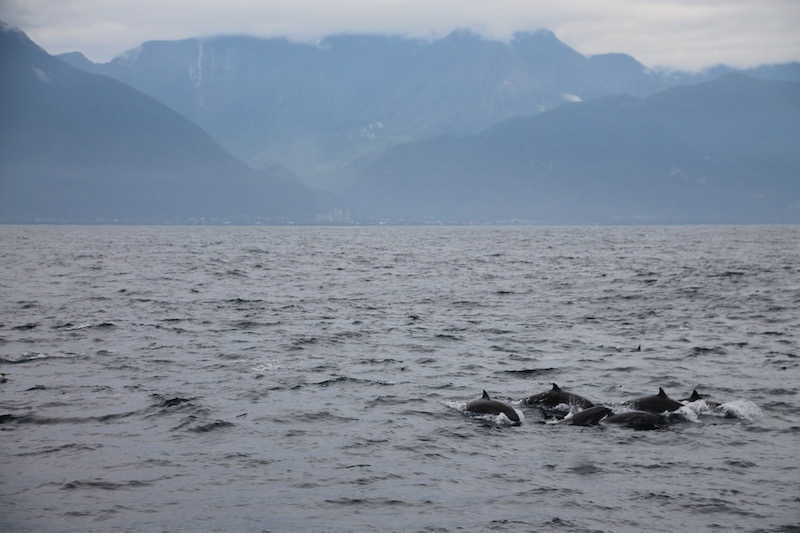 My field course abroad was heart-wrenching in many ways. The environmental situation in Hong Kong and Taiwan is dire. If you have been watching the news, the recent Planet Earth series, or listening to Greta Thunberg's chilling speeches, you may know that the global situation is too. The Intergovernmental Panel on Climate Change issued a report in October 2018 stating that the next ten years must bring about transformational change if we are to stay within the United Nations' recommended target of limiting global warming to 1.5°C.
This is an issue that affects each and every one of us, as well as every species that we share this beautiful planet with. If we want our children and our grandchildren to inherit a planet that we are proud to pass down, then it requires us to band together and collaborate on a deeper level than ever before. This will force us to recognize our inherent interdependence with nature and ultimately shift our economic system from one of resource exploitation to one focused on regeneration and sustainability.
My field course had a solemn tone, but I was inspired by a quote that our professors left us with, "we are their greatest threat and only hope." We are living at a pivotal point in human history and we are lucky enough that there is still time to make a change.
If you are interested in getting in touch to hear more about my course, talk about developments in the sustainability field, or the power of business to solve social and environmental issues, please connect with me via email at missett.hba2020@ivey.ca.