In April 2023, keen sustainability-focused Ivey students were sent to The Economist's Sustainability Week. Their learnings were endless, and they are excited to share them with you.
Rethinking business for a better world: Embracing business ethics, regulation, and degrowth
Author: Firuza Huseynova
"Moral leadership is the way of the future." 
This simple yet powerful quote from Gwenaelle Avice-Huet of Schneider Electric sums up my biggest takeaway from The Economist's 8th annual Sustainability Week in London, UK. Experts provide rich insight on topics including decoupling, decarbonisation, and divestment. There was no shortage of knowledge to draw on from sustainability leaders around the world and bring back to the Ivey sustainability community.  
Going Beyond Regulatory Risk 
Let's face it: business and government have always had a tricky history. Businesses have rarely been incentivized to push for or even embrace stronger government regulation, since this is still associated with inefficiency and curbed profits. However, according to María Mendiluce, "companies now more than ever need to speak up and pressure policymakers to regulate in the environmental sphere."  
At a time when over 4,900 companies have signed into the Science-Based Targets Initiative (SBTi) and pledged to reduce their greenhouse gas emissions, the regulatory space in Canada has yet to show that targets will be enforced in any significant way. For this reason, it was extremely refreshing to see European business leaders welcoming environmental regulation with open arms rather than attempting to stifle it. Mendiluce mentioned that with regulation, companies become more confident to set ambitious targets because they actually "foresee a tangible pathway" in achieving their goals.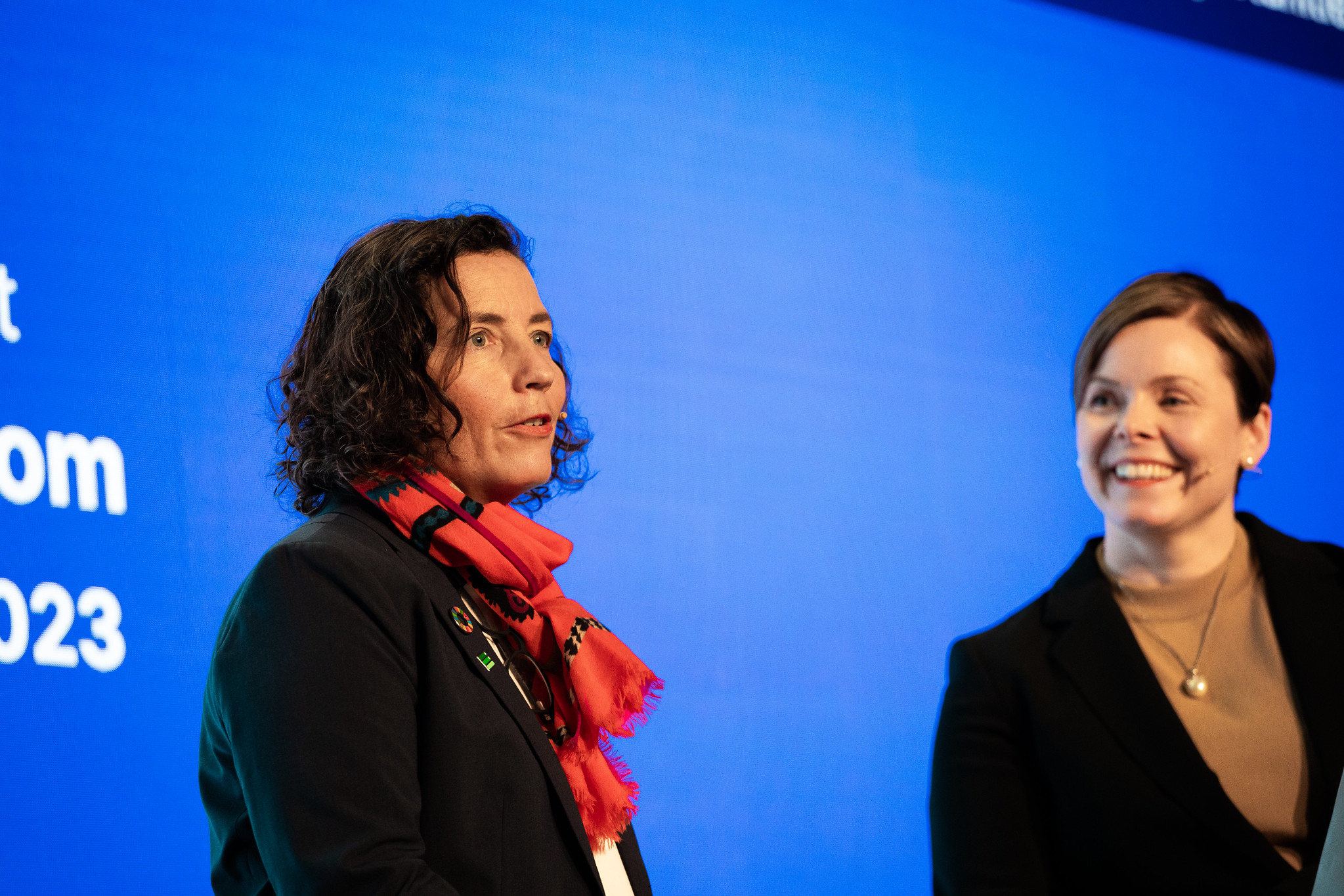 Maria Mendiluce, Fireside chat: Climate leadership—Can profitability truly marry with sustainability? Photo Credits: The Economist.
Our Obsession with Possession 
"Simply put, the externalities of our consumption habits are creating detrimental tipping points." This quote, passionately delivered by Richard Manley of Canada-based CPP Investments, highlights the next frontier that our business leaders must confront: overconsumption.  
Canadians have the highest per-capita carbon footprint out of any country in the world. Research has shown that if everyone in the world lived like Canadians, we would need 5.1 Earths to sustain our planet's biocapacity. Calls for climate justice are growing louder every day as the world's poorest, lowest-emitting countries are facing the brunt of the climate crisis.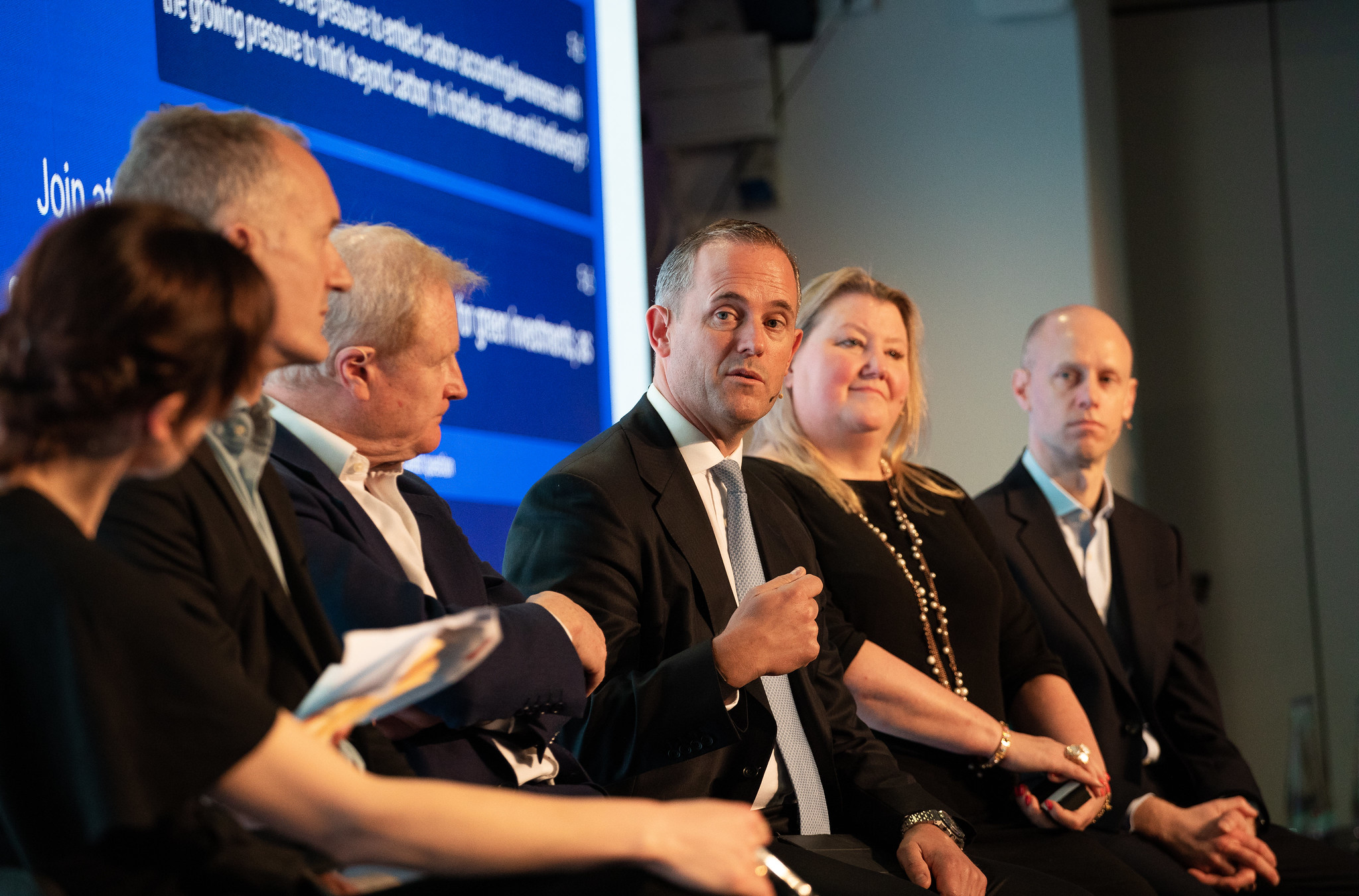 Richard Manley, Panel: Investing in net zero—financing a sustainable future. Photo Credits: The Economist
The "D" Word 
Unfortunately, business has historically never been good at 2 things: taking into account long-term consequences over short-term gains, and internalizing externalities. This has led to a prioritization of short-term growth at the expense of communal prosperity and environmental health.  
Leaders in the Degrowth Movement such as Tim Jackson and Jason Hickel have developed economic alternatives to challenge the conventional infinite growth model embraced by today's businesses. According to Ivey's Network for Business Sustainability, degrowth calls for a societal shift away from accumulating profit for the sake of it, and towards more collective goals which will allow us to develop healthier social bonds and ecosystems.  
Ruth Andrade, the Regenerative Impact Lead at Lush, explained to an audience of 200+ that if Lush's profits decrease, it "doesn't worry" her. She recognizes that lower profits often mean that the business is internalizing the harm they cause in the form of higher wages and greater community involvement, which is ultimately their goal as an impact-oriented firm. [Text Wrapping Break] 
After receiving a question about how to value growth and scalability in the 21st century (one of many degrowth-related questions posed throughout the conference's various panels), she responded with a call to critically reexamine traditionally held beliefs about the infinite growth imperative:  
"We need to really question capitalism. We need to rethink business for a post-growth world."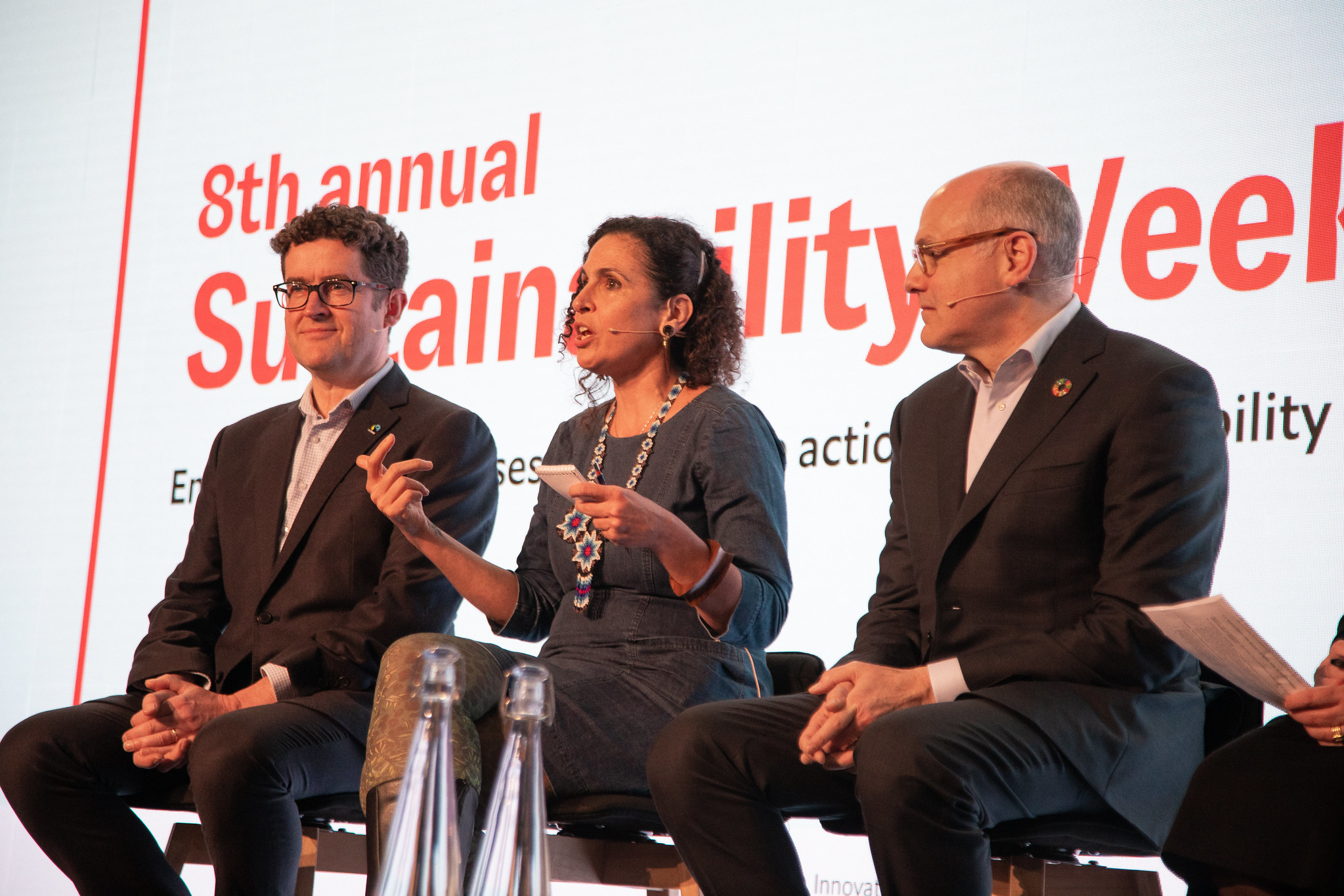 Ruth Andrade, Panel: Managing expectations: helping consumers on their net-zero journey. Photo Credits: The Economist
I'll add one - we need to rethink business for a better world. As Ivey students and alumni, we are uniquely positioned to deliver on radical business shifts to ensure the world we leave behind is better than before. The following are a few actionable takeaways for business leaders, distilled by someone who experienced 48 hours of immersive sustainability programming from the world's leading experts: 
Work with the public sector collaboratively rather than reactively regarding regulation in the sustainability space. For Canadian businesses, begin preparing for the

upcoming ISSB regulations

now.

 

Think critically about the ways your business is contributing to the problem of overconsumption and mass production. Use the

SDG Action Manager

with a specific focus on SDG 12: Responsible Consumption and Production to align your business with the best interests of society. 

 

Don't be afraid to scale down your business to stay true to your mission and align with your capabilities; degrowth is not a dirty word.
Competition, ecocide, divestment, and the Tube. The Economist 8th annual Sustainability Week had it all.

 
Author: Kiera Taylor
With a turnout of over 1000 participants and more than 300 speakers, extracting the main insights from the Economist's 8th annual Sustainability Week in London, UK, provided ample opportunity for reflection. Here are three themes that have stuck with me: what competition looks like in a climate crisis, the divestment conversation, and why ecocide may become international law. 
The nature walk we all need to take
Jojo Mehta, Co-founder of Stop Ecocide, gave a passionate presentation arguing that legal recognition of ecocide (mass damage and destruction of ecosystems) could help stabilize investment risk in the face of climate change and biodiversity loss.  
"Even if we reduce all greenhouse gas emissions, we are still going to be in a climate crisis because we are destroying nature."  
While ecocide is already recognized in the criminal code of the European Union, Mehta believes it should be added to the list of international crimes, as voluntary action by nations is not enough.  
The movement's goal is to create a precedent to change culture and behavior. Criminal law, unlike fines, holds individuals responsible for their actions and removes the incentive for businesses to simply internalize fines as a part of its operating costs. The point of ecocide is not to mass-prosecute but to shift decision-making. When something is law, board members can now table discussions backed by the power of the criminal code, effectively establishing a playing field and providing guardrails for society to operate within. She emphasized that people don't react the same way to killing the environment as they do to killing a person, and adding ecocide to the list of international crimes would help change this.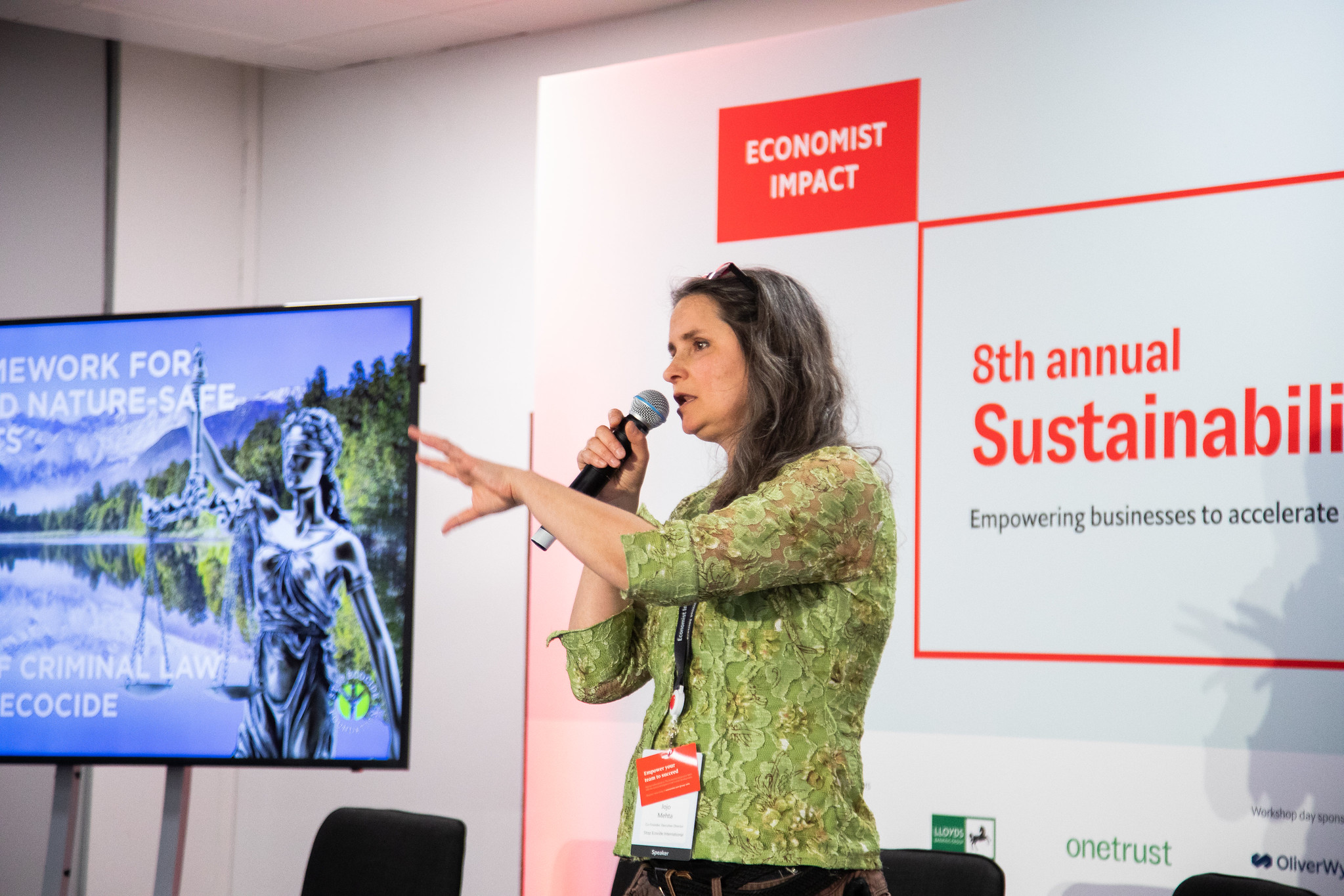 Jojo Mehta, co-founder of Stop Ecocide. Photo Credits: The Economist
Competing during a climate crisis
During the conference, strategies of competition vis-à-vis collaboration were frequently discussed among the panelists. Paul Polman, former CEO of Unilever, and Clover Hogan, Executive Director of Force of Nature, emphasized the need for broader partnerships across civil society. They urged people to not tip-toe around problems but instead recognize the crisis of greed, apathy, moral leadership, and connectedness of citizens to the planet.  
During another panel, Michael Grenfell, of the Competition and Markets Authority, provided a unique perspective on how competition agencies typically prioritize businesses competing for the benefit of consumers, but the sustainability story is more complex.  
Grenfell argued that collaboration can accelerate a Just transition by diminishing the risk for early adopters and reducing the expenses associated with transitioning to alternative energy sources. However, can good-natured collaboration turn into exploitation? Consumers may be willing to pay "green premiums", but the absence of competition may lead to uncontrolled price hikes and greenwashing. 
Therefore, both are necessary, Grenfell believes. Companies must share knowledge and technology to accelerate climate mitigation, yet competition is needed to prevent the exploitation of customers.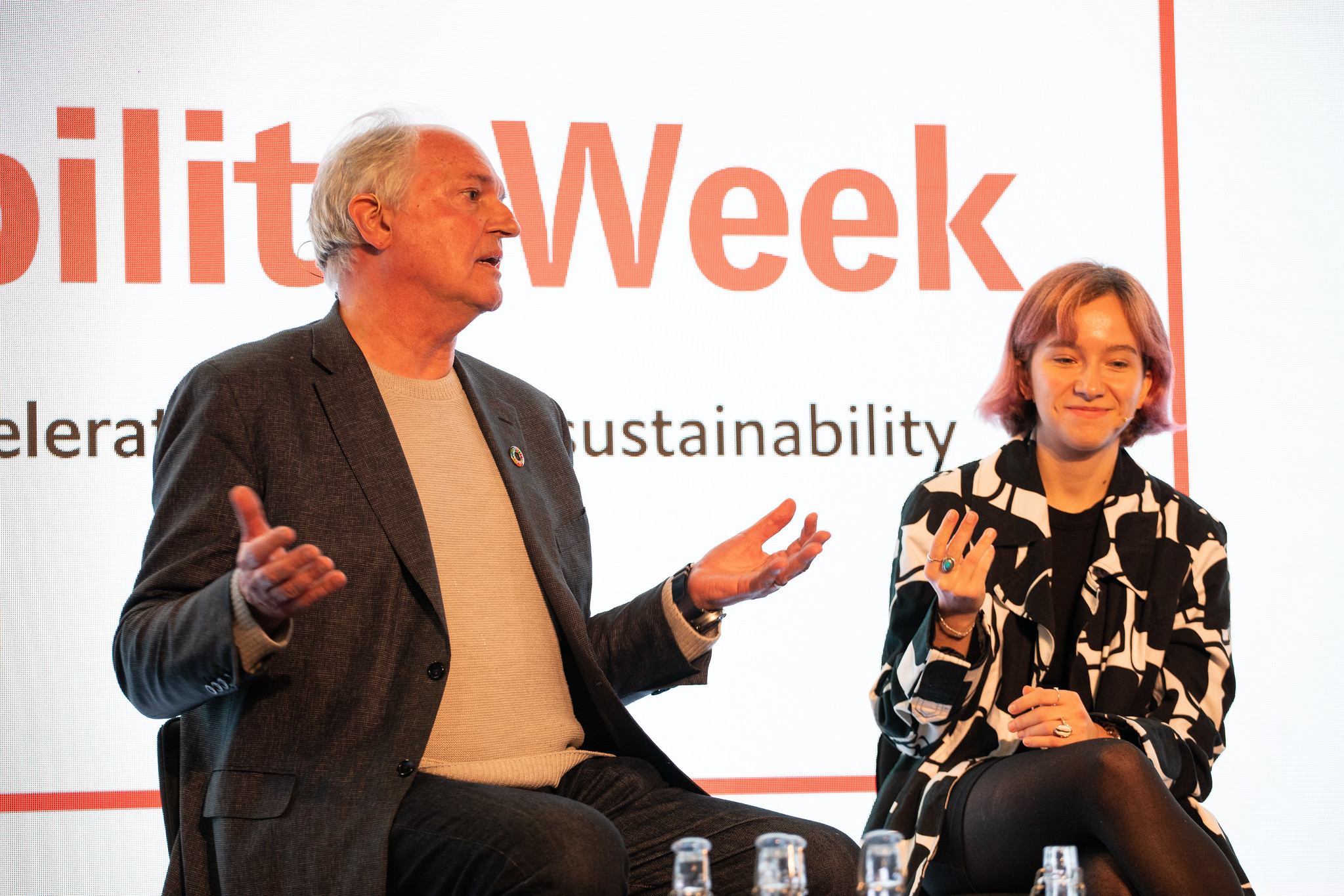 Paul Polman and Clover Hogan, Panel: Closing the ambition gap. Photo Credits: The Economist
Divestment vs. engagement… or Paris-malalignment?
Divestment campaigns date back to the South African anti-apartheid movement. Currently, the divestment conversation is dominated by fossil fuels. Discussions throughout the conference recognized that being a climate leader means having a plan to phase out fossil fuels. Maria Mendiluce explained one of the current barriers to transition: 
"All oil and gas companies think that they are going to be the last one standing in 2050." 
Though most organizations have net zero 2050 plans, how these targets are reached was up for debate. On the panel surrounding 'divestment or engagement', three of four panelists believed both divestment and engagement are necessary, and that the debate between the two is a false dichotomy.  
However, Mark Campanale had a different perspective. He emphasized the basic principles of investing: What is an asset worth today compared to the future? He posed the question: what is your engagement trying to do? "We are in a technology battle and clean energy is going to win" so, why engage with a business that is dying? Campanale's fresh perspective, adding to the large foundation of arguments in favour of divestment, also added a few catchphrases to my personal dictionary, including "energy security washing" and "Paris-maligned."  
The other three panelists pointed out that although divestment reduces risk, sends market signals to companies, and puts downward pressure on stock prices, it also means losing your voice at the shareholder activism table. The panelists suggested divesting from the worst offenders first, then working with some companies to promote positive behavior, followed by ​​more potential divestment over time after monitoring other financial metrics, such as revenue thresholds.
Business leaders in 2023: Understanding interconnectivity and accelerating impact. 
Addressing the climate emergency is not done in isolation, within an HR department, or in one portfolio. Ivey community members know we are in the middle of a radical transition away from business-as-usual and into one that addresses the interconnectivity of things and addresses relationships rather than linearity. Bringing together my insights from the 3-days of conversations with world-leading sustainability professionals, the breadth of the topics covered was a testament to the need to embrace complexity rather than reject it. Settling for incremental progress is unacceptable when there are solutions waiting to be scaled and a workforce waiting to be mobilized. I am inspired by my two peers who attended this conference with me, Christopher Mohan and Firuza Huseynova, the speakers and attendees, and all those who understand the urgency of the situation and are making moves to position business as a force for good.
All photos are accessible at Economist Impact Events