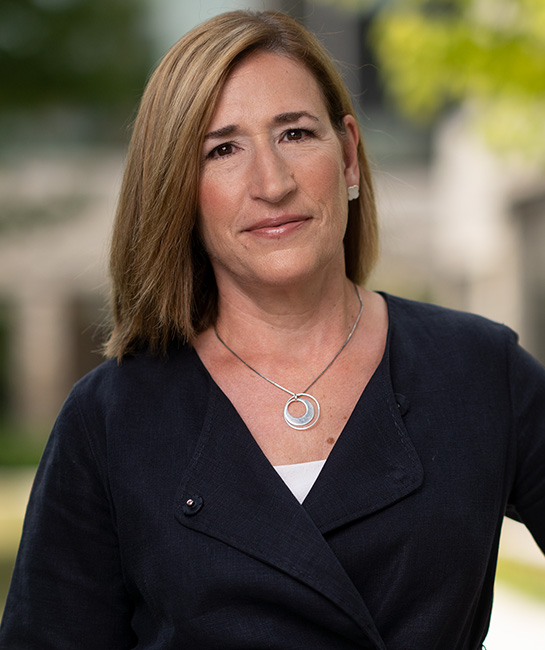 Dean's Message
I am pleased to provide you with an update on the progress of our strategic plan, Ivey Next, which we launched just over a year ago. As you may recall, in the first six months many tactical things were addressed quickly. At the same time, we planted the seeds for foundational changes that would take longer. We are pleased to see those foundational aspects now coming to life.
Dean's Update Message
We are excited to share the continued progress on our new strategic plan, Ivey Next, and some of the next steps to accomplish our strategic goals and fulfil our new purpose and mission.
Building Capacity to Address Critical Issues
Progress highlights
Established the Critical Issues Steering Committee (CISC) to promote and integrate Critical Issues work in research, teaching, and outreach
Established the Ivey Critical Issues Challenge to support and fund projects to advance research, teaching, and outreach related to Critical Issues
Identified Ivey research publications aligned with Critical Issues, including more than 450 publications aligned with one or more Critical Issue
Formally launched a new Graduate Diploma for Sustainability for Ivey MSc students, which will begin in fall 2023, as well as a multi-disciplinary Graduate Diploma in Climate Risk Assessment and Opportunity
Launched new executive education programming aligned with our Critical Issues. This included three open programs (Data & Analytics, Artificial Intelligence, and Equity, Diversity, and Inclusion). There were also livestream events on Corporate Strategies for Net-Zero, generative artificial intelligence technologies, and Neurodiversity in the Workplace.
Upcoming focus
Bridge academia and business through multiple forums, including upcoming Idea Forums and an Ivey Symposium in November
Support high-impact projects through the Ivey Critical Issues Challenge
Attract new funding for Critical Issues research and programming.
Continue to incorporate our Critical Issues into current curriculum and launch new programs specifically focused on Critical Issues
Create a knowledge hub to consolidate Ivey's insights and activities and drive audience engagement
The six strategic goals we set in Ivey Next will drive the organizational transformation needed to continually deliver on our mission, including building our capacity to meaningfully address critical issues facing organizations and society.
We will advance and amplify all world-class research, with particular emphasis on confronting critical issues facing business and society
Progress highlights
Increased internal research funding by 50 per cent in the last fiscal year to a total of $1.8M (includes funding for six junior faculty fellowships, new Research Merit Awards, Junior Faculty Fellows, and additional research funding for faculty, conference sponsorship, cases, and PhD research grants)
Increased 2023 SSHRC Insight Development Grant submissions by 75 per cent over the prior year based on the Research Office Grant Mentorship and Reviewing program to support applications
Implemented a new funding model for PhD students to increase program competitiveness
Enhanced oversight and awareness of the Ivey Behavioural Lab along with initiatives to increase research participants to support faculty research projects
Provided 15 undergraduate students with research internships through the redesigned 2023 Ivey USRI program aligned with Critical Issues and our commitment to Equity, Diversity, Inclusion, and Decolonization (EDI-D)
Upcoming focus
Increase external funding and research grants
Increase fundraising for long-term research supports, including Chairs and Professorships
Create new avenues to connect research with practice
We will innovate case-based teaching, experiential learning, and co-curricular engagement and integrate the latest insights to develop curious, responsible, adaptable, and inclusive leaders
Progress highlights
Completed the initial phase of our Program Portfolio review of current degree programs which highlighted areas of needed improvement and began the second phase, which is evaluating new offerings
Established a new Director of Student Experience to support the full student experience journey, including academic advising, student well-being and EDI initiatives, and international experiences
Launched eight new Ivey Publishing Digital Learning Experiences (DLEs), including digitally enhanced cases and virtual learning modules on specific subjects
Launched a new EDI Collection of Ivey Publishing cases, which includes 250 cases where EDI is a primary or secondary issue
Initiated a data-informed review of program case usage, beginning with HBA, to create a baseline around case diversity, including protagonists, issues, industries, and geography
Increased the EdTech team's capacity, including the inaugural Director of the John F. Wood Centre for Innovation in Business Learning
Upcoming focus
Complete our Program Portfolio Review and implement new offerings and degree and executive education program changes
Explore new ways to incorporate Critical Issues into different dimensions of learning
Develop and launch additional Ivey Publishing Digital Learning Experiences
Increase diversity of students in line with the Ivey Measurement Plan, including pursuing more scholarships and experience grants to support these goals
We will develop the mindset of global citizenship among members of our community and increase the School's international scope and diversity
Progress highlights
Increased engagement and collaboration with our global partners and organizations, including CEMS, FOME, PIM, and EFMD through both virtual engagements and in-person conferences and events
Engaged with global alumni through various in-person events in locations such as Hong Kong, Singapore, the U.K., and the U.S.
Established a working group to develop recommendations for Ivey's strategy in Asia with initial recommendations expected in summer 2023
Established student recruitment goals to promote increased global perspectives in our programs
Inventoried and prioritized our international exchange agreements with the intention to increase the scale and impact in the future
Supported international alumni connections and career exploration for approximately 50 HBA students through the Global Career Conference in the UK in February 2023
Engaged with Western to advance the Engage the World pillar of the strategic plan
Upcoming focus
Develop and implement an Asia strategy based on the working group's recommendations
Prioritization of strategy development for other regions
Increase scholarships that support student international exchanges
Explore staff and visitor exchanges to support increased global experiences for faculty and staff
We will create, curate, and sustain an ecosystem of Lifelong Learning to elevate individuals' and organizations' development
Progress highlights
External benchmarking and focus groups to refine the vision of the Lifelong Learning ecosystem
Pilot sessions and discussions with students and community leaders to refine valuable lifelong learning offerings for recent graduates related to navigating careers
Held Ivey's first branded Lifelong Learning event for EMBA alumni in April 2023
Upcoming focus
Launch lifelong learning offerings targeted at different alumni segments
Create a catalogue of Ivey learning modules through developing current content and identifying gaps in our portfolio based on market research and feedback from our target learners
Research and analyze technology platforms to support lifelong learning, including content management tools to deliver Ivey knowledge, insights, research, and learning assets to our participants
Engage global educational partners on research and initiatives that support our lifelong learning vision
We will foster a community where members feel they belong and contribute to a supportive, inclusive, and accountable culture that pursues excellence, is aligned with our values, and is nurtured through curiosity, respect, mentorship, and recognition
Progress highlights
Weekly staff Values Studios for team and individual reflection on Ivey values and how to practice them in the Ivey Community
Hosted a Culture Studios concert series in collaboration with the Don Wright Faculty of Music, to build community through the arts, with plans to host another series in the upcoming academic year
Roll out of updated Foundations of Equity Practice sessions to students, fall 2022 through spring 2023
Implemented new self-identification fields during the student application process to increase our capacity to collect data from applicants. This will support our measurement plan and inform our program recruitment strategies
Completed a Sense of Belonging Survey for faculty, staff, and students in spring 2023 with a community report and recommendations to be completed during the summer
Welcomed 55 students into the inaugural University Pathways Program (UPP) and will soon begin recruiting for the second cohort
Launched the second Women in Asset Management (WAM) cohort in the summer, which was expanded to include participants from McGill University
Supported numerous Culture and Inclusion events and initiatives, including an annual Black History Month Panel focused on Black Excellence in Business and an inaugural Black Culture Celebration led by the Black Students at Ivey Collective (BSIC). Launched Ivey's first Muslim Prayer Space pilot in March 2023
Upcoming focus
Continue Values Studios for staff and launch Values Studios for faculty in the summer
Create Business Resource Groups composed of faculty, staff, and students that are consulted and support various projects at Ivey. Tentative first resource groups include Reconciliation; Pride; Black Experience; and Accessibility
Measure and report progress on Ivey's EDI Measurement Plan in late 2023, as well as a set of EDI Learning Outcomes Reports
Update several of our EDI resources and design a primer on accessibility for our community
Create staff development programming, leveraging Ivey Academy offerings
Design and launch a Faculty Mentorship program in collaboration with the Assistant Dean of Mentorship
We will adopt more agile organizational structures, policies, practices, and technology to keep the Ivey Community positioned to deliver on our mission
Progress hightlights
Announced a historic gift for an expanded Toronto campus, which advances several strategy goals (degree program growth, expanded Exec Ed offerings, geographic reach, and industry engagement) and increases space for alumni and student programming, symposiums, and idea forums
Completed a data inventory to support access and analysis of important organizational data
Began implementation of priority data management projects across faculty and alumni data to increase operational efficiency and better measure our impact
Restructured some staff departments to improve support and effectiveness in research, student programs, and human resources
Increased governance alignment between the Ivey Advisory Board, the Ivey Foundation Board and our Centre/Institute Boards
Upcoming focus
Build out of the Toronto Campus
Securing design and funding for a London Campus expansion
Continue evaluating technology advances needed to deliver on our goals, including learning management systems and use of advanced technologies such as artificial intelligence
Finalize a School-wide data governance plan to augment Western's current efforts to develop a comprehensive institutional data governance structure
Identify staff's digital competency and support training to build essential technical skills and knowledge needed to prepare for future organizational needs
Aligning individual performance plans goal-setting to our strategic goals
Continue to review facilities and operations to optimize space usage and efficiency, while also advancing sustainability practices