Regenerative agriculture is a sustainable approach to farming that focuses on greater harmony between agricultural production, ecosystems, and the climate. An Ivey research project led by Dr. Jury Gualandris – Towards a Climate-Smart Food System – is exploring how Canada can more widely adopt regenerative agriculture.   
This new project, developed in partnership with the Smart Cities Office at the City of Guelph and Scotiabank, will help inform agricultural practice across Canada. The project is convening representatives from farming, municipal government, food processing, food science, civil society, and financial services. Working together, these stakeholders will identify key principles, outcome metrics, and practices that will inform an assessment framework that will enable wider adoption of regenerative agriculture.  
The first workshop for the project will be held in February 2023, with the initial outcomes developed for pilot testing later in 2023. 
What is regenerative agriculture? Why does it matter?  
Though often overlooked, stepped on, and torn up - soil matters. The world's growing global population relies on farming on healthy soils, yet rising temperatures are expected to impact agricultural yields negatively. Concerns about degraded land quality and increased chemical input (e.g., fertilizer) have increased the public's interest in regenerative agriculture. The fact that food production accounts for about 15% of global greenhouse gas emissions is also pushing major food companies, some of whom are being scrutinized for their climate commitments, to implement regenerative agriculture practices.   
According to Ivey Ph.D. candidate Michelina Aguanno, regenerative agriculture refers to farming principles and practices that recognize and seek to enhance the entire ecosystem rather than a linear supply chain approach to land management. Regenerative agriculture practices include but are not limited to: no or low-till, cover crops, livestock grazing, no or low-chemical inputs, and intercropping. These practices can help reduce farming's climate change impacts by improving soil health and limiting forest to agriculture conversion.   
Soil organic matter is a vital consideration for soil health. It contributes to nutrient and moisture retention, soil structure, and carbon sequestration. The Food and Agriculture Organization estimates that one-third of agricultural soils are degraded. Even so, global food demand is expected to rise by 35-56% before 2050. These conditions cannot continue to co-exist.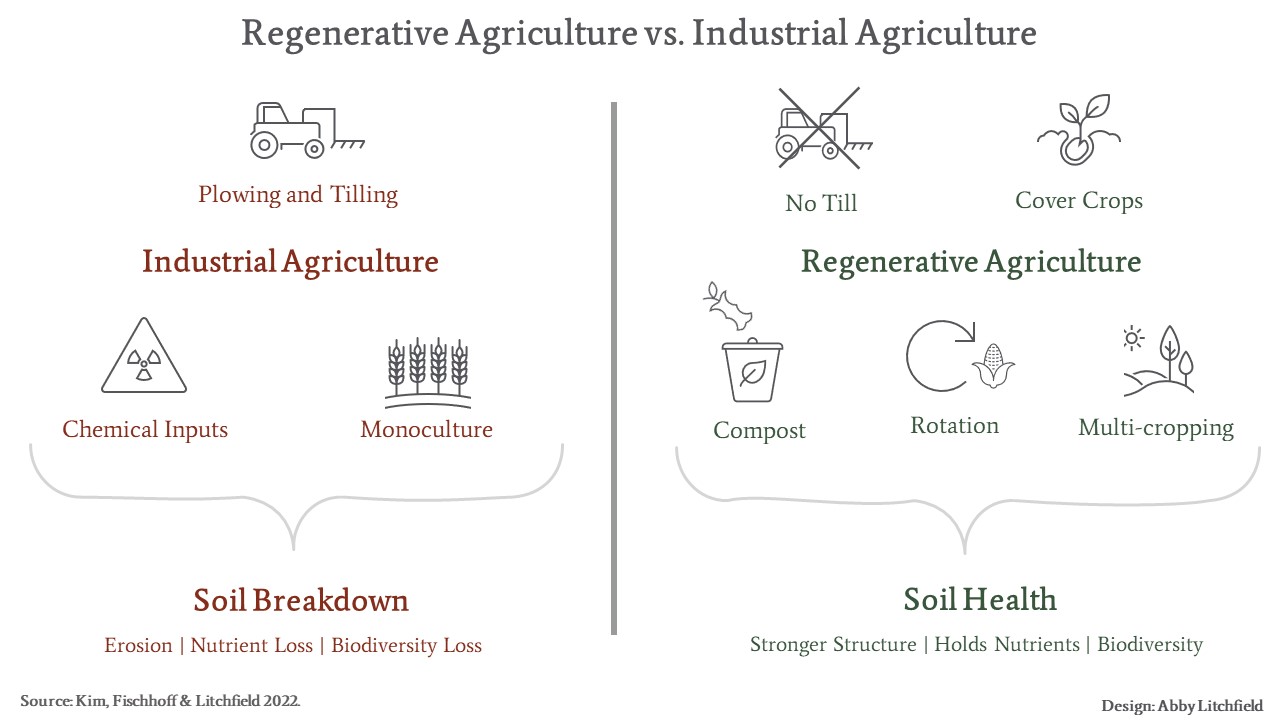 Source: Network for Business Sustainability, What is Regenerative Agriculture?
Farmers and major food companies are constantly seeking ways to improve their lands' useful life and tolerance to environmental challenges. Our research will provide venues for sharing regenerative agriculture practices that will equip stakeholders to improve their soil quality, food production, water usage, and mitigate biodiversity loss. Change does not come without challenge for an organization, but rising costs and climate change risks are forcing stakeholders to rethink food production practices. Underappreciated and overlooked, soil is back in the mix.  
A Strategic focus on the agri-food system 
Regenerative agriculture is a key component of the Ivey Centre for Building Sustainable Value's strategic focus on transforming the agri-food system in Canada. Agriculture is responsible for 10% of Canada's total carbon emissions and significantly impacts biodiversity and natural systems. The sector is also important for the economy, employing 241,900 Canadians and accounting for 6.8% of GDP. 
Further work on regenerative agriculture at Ivey is being led by Dr. Diane-Laure Arjaliès. This complementary initiative, funded by the Canadian Sustainable Finance Network, works with RBC and NEO Exchange to develop a financial instrument to support farmers transitioning to regenerative agriculture practices.  
Dr. Arjaliès led the development of the Deshkan Ziibi Conservation Impact Bond in 2020, together with Deshkan Ziibiing (Chippewas of the Thames First Nation), VERGE Capital, Thames Talbot Land Trust, Ivey Business School and Carolinian Canada Coalition. The DZCIB operates on a "pay for success" outcomes-based model. As of July 2021, the DZCIB pilot had supported 53 healthy landscape projects and 69 hectares (171 acres) of habitat had been improved.