As we began our term as the 2022-2023 HBAA Sustainability Directors, my team and I could not have foreseen the impact we would have through the inaugural Ivey Sustainability Week. The team (Faith Bradshaw, Firuza Huseynova, Kieran Bovingdon, and myself - Kiera Taylor) felt inspired by our Faculty and Staff mentors, who mobilized us in crafting the week. They guided our creativity and pushed us to do something that would change the way sustainability is viewed at Ivey. The gift of an amplified voice and the privilege that comes with having a platform was at times overwhelming but also beyond exciting. 
Our Vision for Impact 
Oceanic waves of ideas flooded in during our brainstorming sessions - How do we connect Ivey community members with sustainability meaningfully? How do we inspire value changes and stimulate passion?
The level of commitment to climate action varies widely between individuals in the Ivey community. For those less involved and aware, we wanted to focus on igniting awareness and communicating the harm of inaction. For the already passionate, we wanted to offer opportunities to be directly involved in shaping climate action at Ivey. 
The HBAA Sustainability team focused on guiding community members in defining their next tangible step in addressing the urgency of the climate crisis. We wanted to help community members combat feelings of dissociation and bring our community together to feel connected in embedding these values within ourselves, together. Acknowledging that Ivey grads often pursue traditional finance and consulting roles, it was important to also address accountability in decision-making and where these roles might fit into a Just transition. 
Fostering collaboration was a focus throughout the week and shown in the formation of the Sustainability Week Working Group, a team of 8 Ivey students who collaborated to create a Sustainability Lookbook Website. This site continues to offer information on relevant topics such as navigating a career during the climate crisis (covering 12 job sectors), regenerative agriculture, and decarbonization.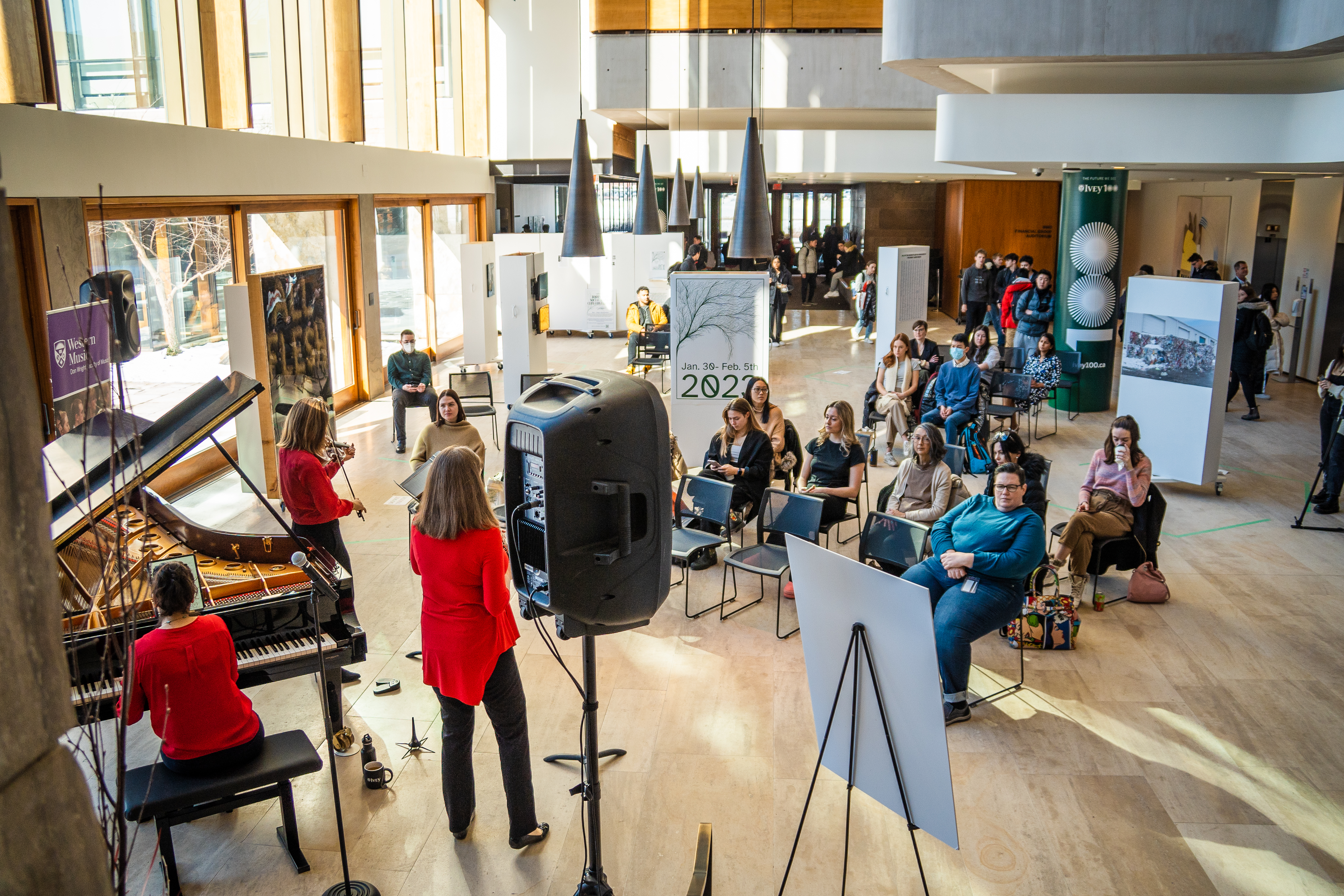 The Ivey Community enjoying Project Earth from the Iris Trio
Beyond Sustainability Week: Suggestions for Moving Forward
What this means for the Ivey Business School: 
Engaging in conversation with students during Sustainability Week made it clear that there is a complex perceived barrier between being a business student and being at the heart of mobilizing for change on climate action. As Ivey continues to develop for-credit opportunities to gain hands-on experience tackling climate issues, we hope this link will become clearer and climate action more accessible. 
One of the week's events, "Looking Forward 100 Years: A Community-Driven Approach to Ivey's Critical Issue Areas", brought a student-run forum open to all members of the Ivey Community. The session aimed to deepen our understanding of the diverse perspectives on sustainability within the Ivey Community while collaborating to answer a) How Ivey can bring its new purpose to life and b) How Ivey can address its critical issue area of Sustainability. The report from "Looking Forward 100 Years" (which details students' ideas to accelerate Ivey's impact on the climate crisis through academic integration, refined building operations, new career management services, corporate partnership accountability, and research incentives) can be utilized by Ivey to develop opportunities for collaboration and action. This event validated the importance of including student voices in co-creating the future of sustainability at Ivey. 
Ivey faculty recently ranked third in the world for research aligned with the UN's Sustainable Development Goals. Leveraging the combination of world-class in-house expertise and passionate students is necessary and will cultivate a coaching culture, stimulate creativity, and give Ivey students the tools that the business leaders of tomorrow need.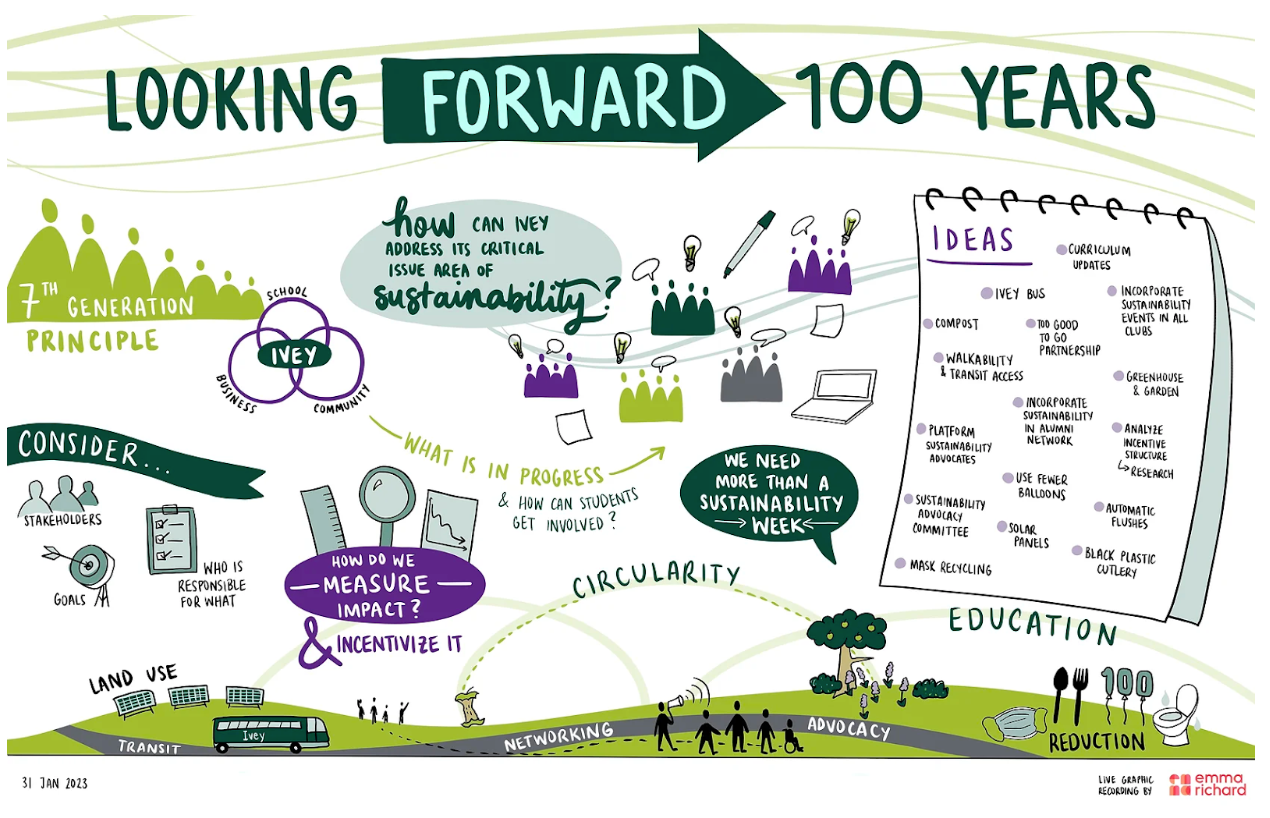 Looking Forward 100 Years by Emma Richard
What this means for the Student Body: 
The planning of Sustainability Week was an invaluable learning and growth opportunity that I am deeply grateful to have had. I faced critical moments where I self-reflected on my leadership character and dug deeper into my passions. It led me to connect with incredible, passionate individuals at Ivey who are willing to question business as usual and take action now. 
The level of responsibility and freedom we had were transformational for the student body. It opened up a new realm of student involvement and learning experiences. Students have a unique opportunity to build off this and advocate for more chances to gain hands-on experience tackling climate issues in a structured, for-credit context, similar to how the Ivey Field Project operates. 
Dismantling and unlearning the values implicit in the harmful societal systems that formed the climate crisis and allowed people and businesses to dissociate from the ground beneath our feet is essential. This Sustainability Week was a statement that students are eager to address complex topics, including re-architecting economics, tackling overconsumption, and contextualizing equity, diversity, and inclusivity outside of human entities. This is an opportune time for Ivey to act on its renewed purpose of "inspiring leaders for a sustainable and prosperous world."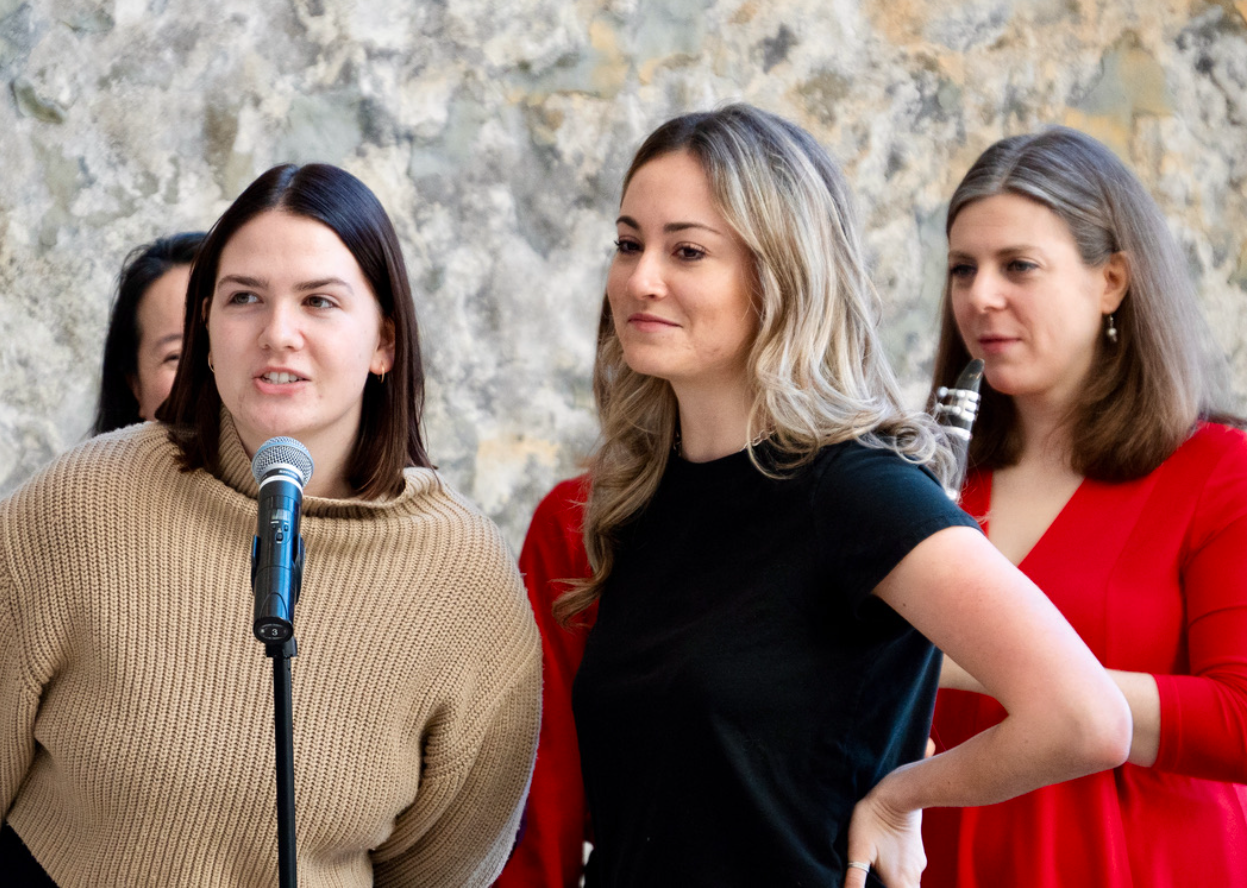 Kiera Taylor and Faith Bradshaw Brown, two HBAA Sustainability Directors
About Kiera
Kiera Taylor is an HBA '23 candidate pursuing a sequential degree in Climate Change & Society at Western University. She is also an HBA Sustainability Certificate Candidate, an executive on the Ivey Social Impact Club, and leads research on the Climate Crisis Coalition at Western. Personal projects she is currently working on with peers include a Fossil Free Research report and an analysis of Western's Responsible Investing approach. Kiera enjoys backcountry multi-day canoe camping and prior to Ivey, moved to the Rocky Mountains to work for a summer.