The Burgundy Library features a collection of video recordings from speeches and presentations at Ivey's Value Investing classes, and at the Ben Graham Centre's various conferences, symposiums and seminars, capturing current value investing research and the invaluable thoughts, ideas, and philosophies of prominent value investors.
Thanks to Burgundy Asset Management for their vision and generous support of the Resource Centre, which benefits practitioners and scholars worldwide.
All material on this website is the property of The Ben Graham Centre for Value Investing and may not be copied or reproduced without permission from Dr. George Athanassakos.
Ivey Value Investing Classes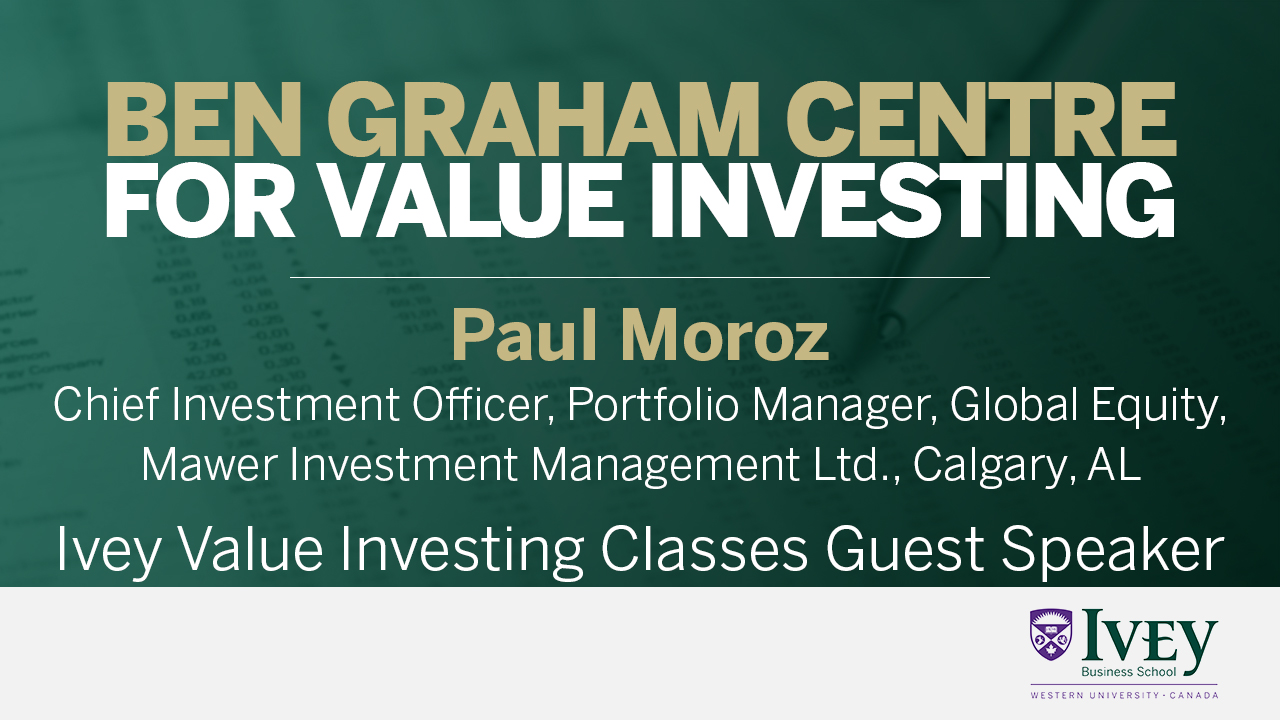 Paul Moroz, Chief Investment Officer, Portfolio Manager, Global Equity, Mawer Investment, Calgary, AL, Canada
(January 31, 2019)
PowerPoint Presentation
Watch Video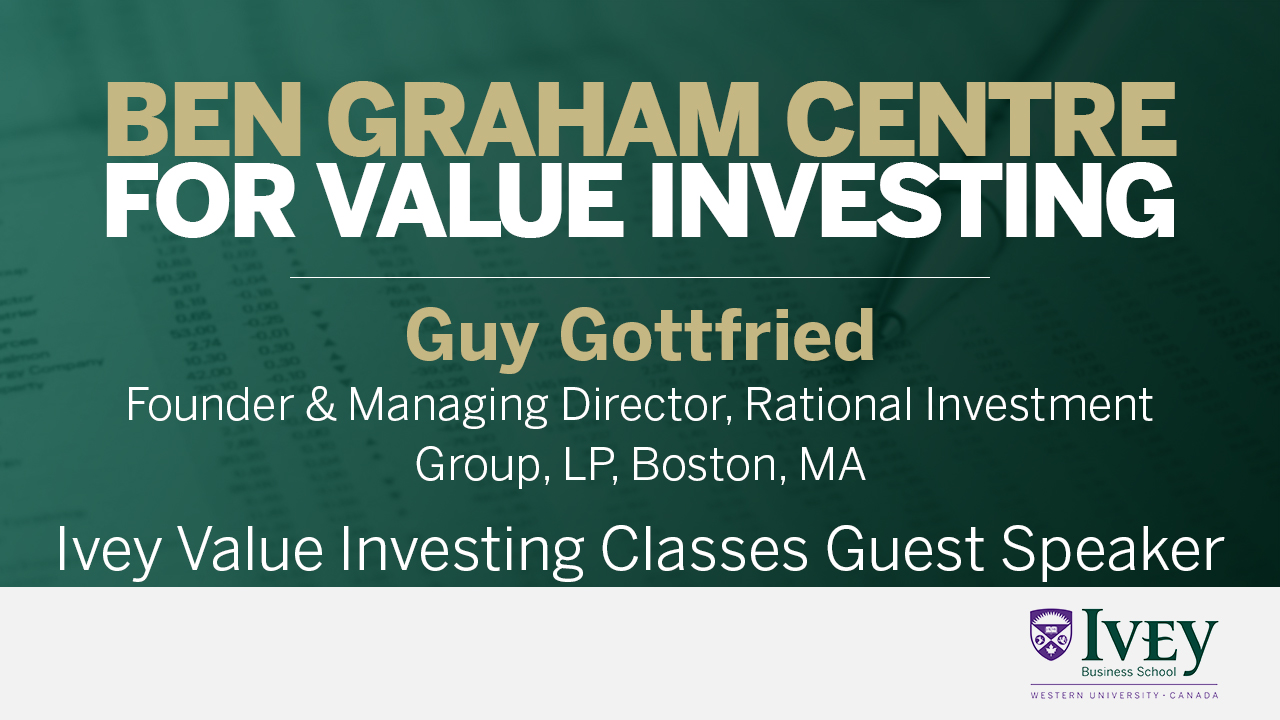 Guy Gottfried, Founder & Managing Director, Rational Investment Group, LP, Boston, MA, USA
(February 28, 2019)
PowerPoint Presentation
Watch Video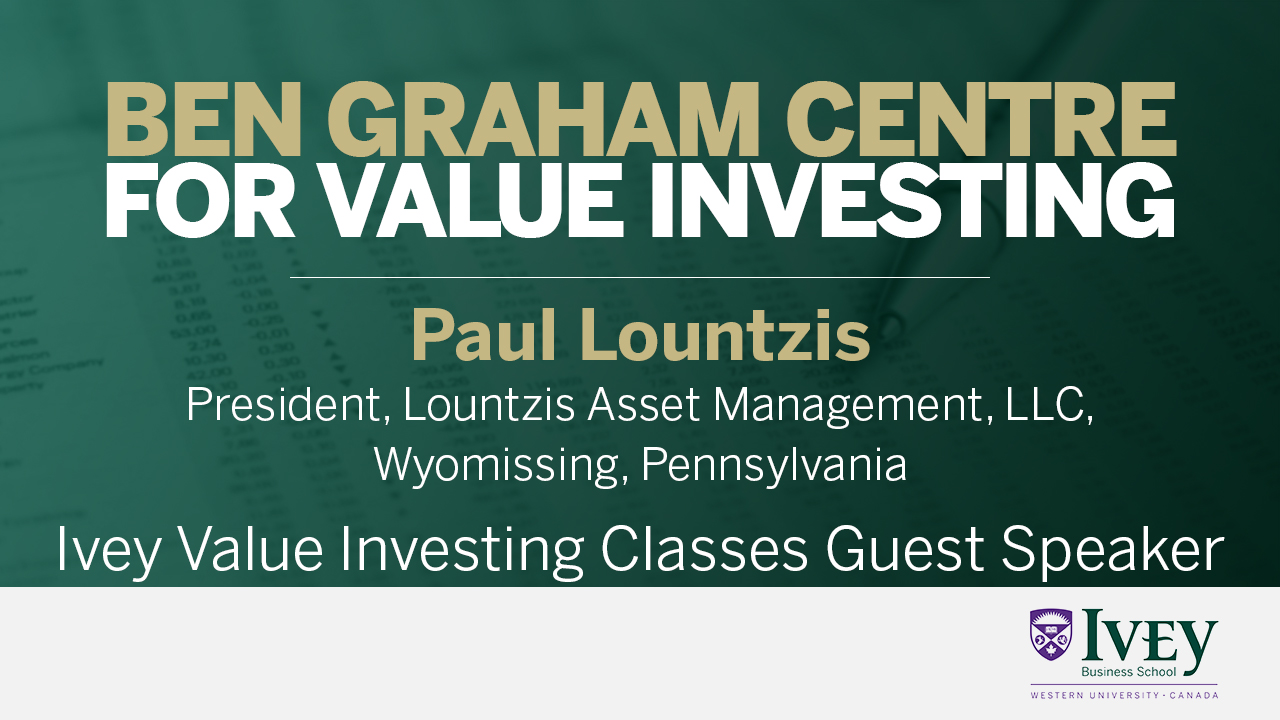 Paul Lountzis, President, Lountzis Asset Management, LLC, Wyomissing, PA, USA
(March 14, 2019)
Watch Video
UNITEDHEALTH GROUP Report
ZOETIS Report

The Ben Graham Centre's 2019 Value Investing Conference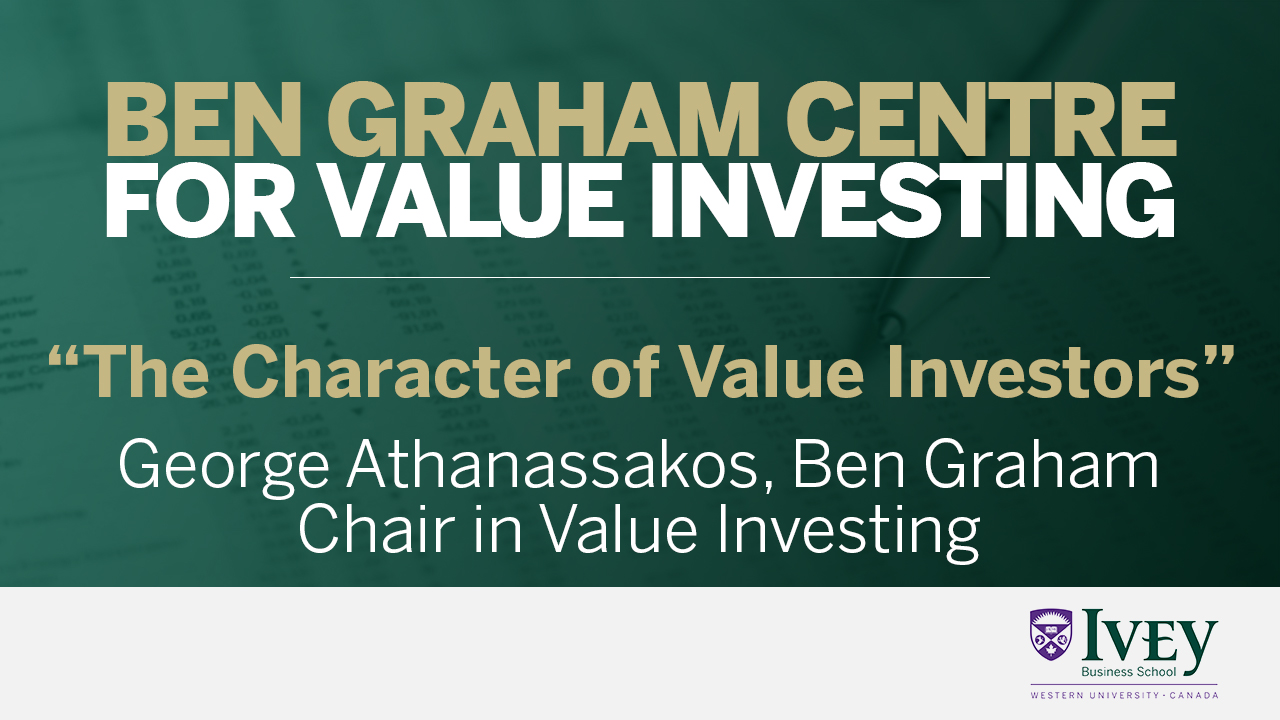 George Athanassakos, Managing Director, Ben Graham Centre for Value Investing and Ben Graham Chair in Value Investing, Ivey Business School, Western University
Watch Video ("The Character of Value Investors")
Keynote Speakers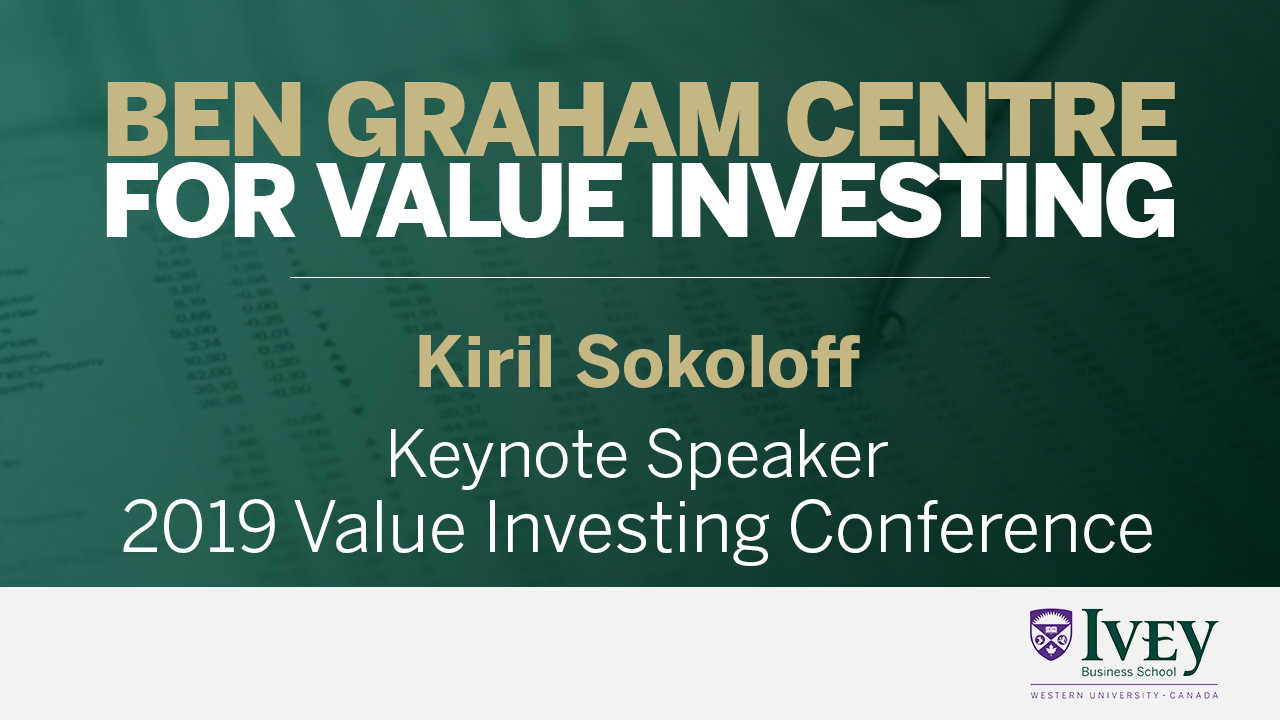 Kiril Sokoloff, Founder and Chairman, 13D Global Strategy & Research
Watch Video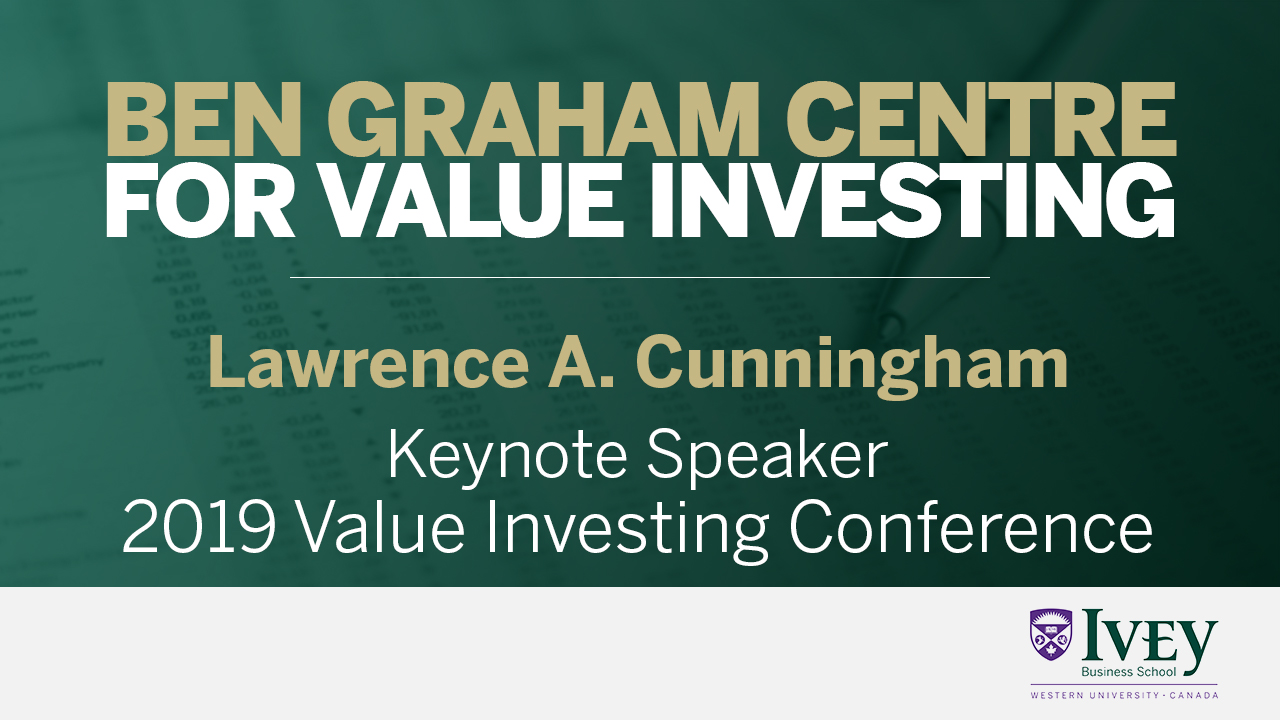 Lawrence A. Cunningham, Scholar and Author, George Washington University; Director and Vice-Chairman, Constellation Software Inc., Washington, DC, USA
Watch Video
Seminar on Value Investing and the Search for Value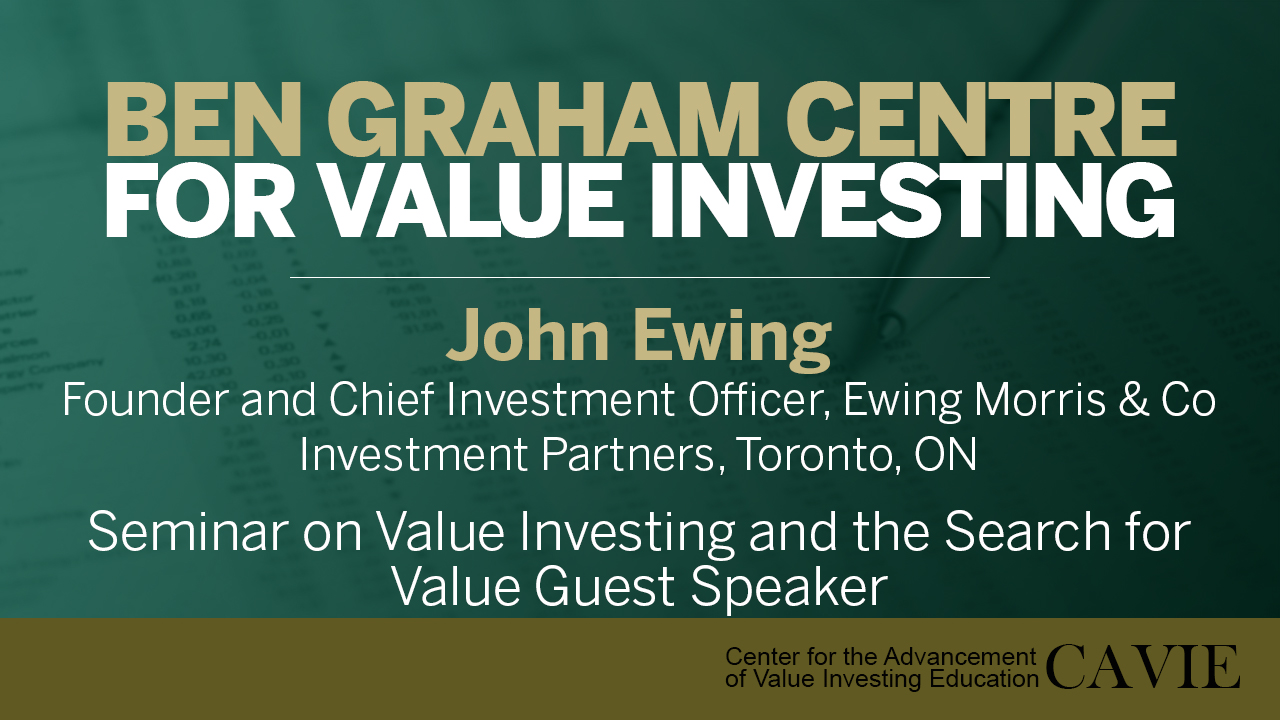 John Ewing, Founder and Chief Investment Officer, Ewing Morris & Co Investment Partners, Toronto, ON, Canada
(July 26, 2019)
PowerPoint Presentation
Watch Video
Ivey Value Investing Classes
Thomas A. Russo, Partner, Gardner Russo & Gardner, Lancaster, PA
(March 15, 2018)
PowerPoint Presentation
Watch Video
Bryan Pilsworth, President & Portfolio Manager, Foyston Gordon & Payne Inc., Toronto, ON
(March 1, 2018)
Watch Video
Pavel Begun, Managing Partner, 3G Capital Management LLC, Toronto, ON
(February 1, 2018)
Watch Video
The Ben Graham Centre's 2018 Value Investing Conference
Keynote Speaker
Mason Hawkins, Chairman and CEO, Southeastern Asset Management Inc., Memphis, TN
Watch Video
Seminar on Value Investing and the Search for Value
Jeffrey Stacey, Chairman and Chief Executive Officer, Stacey Muirhead Capital Management, Waterloo, ON
(July 20, 2018)
PowerPoint Presentation
Watch Video
David Barr, President and CEO, PenderFund Capital Management Ltd., Vancouver, BC
(July 17, 2018)
PowerPoint Presentation
Watch Video
Ivey Value Investing Classes
Paul Lountzis, President, Lountzis Asset Management LLC, Wyomissing, PA 
(March 16, 2017)
Watch Video
Jeffrey Stacey, Chairman and Chief Executive Officer, Stacey Muirhead Capital Management, Waterloo, ON
(March 9, 2017)
Watch Video
The Ben Graham Centre's 2017 Value Investing Conference
Keynote Speaker
Tony Fell, Retired Chairman, RBC Capital Markets and Former Chief Executive Officer, Dominion Securities, Toronto, ON
Watch Video
Value Investor Panel
Thomas A. Russo, Partner, Gardner Russo & Gardner, Lancaster, PA
PowerPoint Presentation
Watch Video
Jeffrey Stacey, Chairman and Chief Executive Officer, Stacey Muirhead Capital Management, Waterloo, ON 
PowerPoint Presentation
Watch Video
Arnold Van Den Berg, Chief Executive Officer and Co-Chief Investment Officer, Century Management Investment Advisors, Austin, TX 
PowerPoint Presentation
Watch Video
Corporate Executive Panel
Vernon W. Hill II, Chairman and Founder, Metro Bank, London, UK
PowerPoint Presentation
Watch Video
Isadore Sharp, Chairman and Founder, Four Seasons Hotels and Resorts, Toronto, ON
Watch Video
Seminar on Value Investing and the Search for Value
Josh Tarasoff, General Partner, Greenlea Lane Capital Partners LP, New York, NY
(July 21, 2017)
PowerPoint presentation no longer available
Video no longer available
Ivey Value Investing Classes
Lauren Templeton, Founder and President, Templeton & Phillips Capital Management LLC, Chattanooga, TN
(March 17, 2016)
PowerPoint Presentation
Watch Video
Martin Whitman, Chairman and Founder, Third Avenue Management LLC, New York, NY
(March 10, 2016)
Watch Video  
Guy Spier, Founder and Managing Partner, Aquamarine Capital, Zürich, Switzerland
(February 24, 2016)
Watch Video
Richard Oldfield, Chairman, Oldfield Partners LLP, London, UK
(January 27, 2016)
PowerPoint Presentation
Watch Video
Seminar on Value Investing and the Search for Value
Vito Maida, Founder and President, Patient Capital Management Inc., Toronto, ON
(July 22, 2016)
Watch Video
Francis Chou, President, Chou Associates Management Inc., Toronto, ON 
(July 19, 2016)
Watch Video
Ivey Value Investing Classes
Kim Shannon, President and Chief Investment Officer, Sionna Investment Managers, Toronto, ON
(March 4, 2015)
PowerPoint Presentation
Watch Video
Richard H. Lawrence Jr., Chairman and Executive Director, Overlook Investments, Hong Kong
(February 26, 2015)
PowerPoint Presentation
Watch Video
Charles H. Brandes, Chairman, Brandes Investment Partners LP, San Diego, CA
(January 22, 2015)
PowerPoint Presentation
Watch Video
The Ben Graham Centre's 2015 Value Investing Conference
Keynote Speakers
Russell Napier, Author and Founder, Electronic Research Interchange (ERIC), London, UK
PowerPoint Presentation
Watch Video
Frank Martin, Founder and Chief Investment Officer, Martin Capital Management LLC, Elkhart, IN
PowerPoint Presentation
Watch Video
Seminar on Value Investing and the Search for Value
Andrew Brenton, Chief Executive Officer and Co-Founder, Turtle Creek Asset Management, Toronto, ON
(July 24, 2015)
PowerPoint Presentation
Watch Video
Ivey Value Investing Classes
Jean-Marie Eveillard, Senior Adviser, First Eagle Investment Management, New York, NY
(March 13, 2014)
Watch Video
William H. Browne, Managing Director, Tweedy, Browne Company LLC, Stamford, CT
(February 25, 2014)
Watch Video
Roger Lace, President, Hamblin Watsa Investment Counsel Ltd., Toronto, ON
(January 23, 2014)
Watch Video
The Ben Graham Centre's 2014 Value Investing Conference
Keynote Speakers
Amity Shlaes, Director of the George W. Bush Institute's Economic Growth Project, Columnist and Author, New York, NY
PowerPoint Presentation
Watch Video
Wilbur Ross, Chairman and Chief Executive Officer, WL Ross & Co. LLC, New York, NY
Watch Video
Seminar on Value Investing and the Search for Value
Gaelen Morphet, Senior Vice-President and Chief Investment Officer, Empire Life Investments, Toronto, ON
(July 18, 2014)
PowerPoint Presentation
Watch Video
Ivey Value Investing Classes
Vito Maida, Founder and President, Patient Capital Management Inc., Toronto, ON
(March 14, 2013)
Watch Video
Howard Marks, Chairman, Oaktree Capital Management LP, Los Angeles, CA
(February 14, 2013)
Watch Video
Robert Robotti, Founder and Chief Investment Officer, Robotti & Company Advisors LLC, New York, NY
(January 24, 2013)
PowerPoint Presentation
Watch Video
The Ben Graham Centre's 2013 Value Investing Conference
Keynote Speaker
Gary Shilling, President, A. Gary Shilling & Co. Inc., Springfield, NJ
PowerPoint Presentation
Watch Video
Corporate Executive Panel
Thorsten Heins, President and Chief Executive Officer, BlackBerry, Waterloo, ON
Watch Video
Seminar on Value Investing and the Search for Value
Francis Chou,  President, Chou Associates Management Inc., Toronto, ON
(July 19, 2013)
Watch Video
Ivey Value Investing Classes
The Ben Graham Centre's 2012 Value Investing Conference
Keynote Speaker
Ivey Value Investing Classes
Richard Rooney, President and Chief Investment Officer, Burgundy Asset Management Ltd., Toronto, ON 
(March 10, 2011)
PowerPoint Presentation
Watch Video 
Prem Watsa, Chairman and Chief Executive Officer, Fairfax Financial Holdings Ltd., Toronto, ON 
(February 16, 2011)
Watch Video
Tim McElvaine, Founder and President, McElvaine Investment Management Ltd., Vancouver, BC
(January 27, 2011)
PowerPoint Presentation
Watch Video
Ivey Value Investing Classes
Irwin A. Michael, President, I. A. Michael Investment Council Ltd., Toronto, ON
(August 16, 2010)
Watch Video 
Robert Tattersall, Executive Vice-President and Senior Portfolio Manager, Howson Tattersall, Toronto, ON
(April 26, 2010)
Watch Video 
David J. Winters, Managing Director, Wintergreen Advisers LLC, Milwaukee, WI
(March 24, 2010)
PowerPoint Presentation
Watch Video
Jeffrey Stacey, Chairman and Chief Executive Officer, Stacey Muirhead Capital Management, Waterloo, ON
(February 10, 2010)
PowerPoint Presentation
Watch Video
Ivey Value Investing Classes
Francis Chou, President, Chou Associates Management Inc., Toronto, ON 
(August 18, 2009)
Watch Video
Seth A. Klarman, President, The Baupost Group, Boston, MA 
(March 17, 2009)
Watch Video
Kim Shannon, President and Chief Investment Officer, Sionna Investment Managers, Toronto, ON
(February 9, 2009)
Watch Video
Ben Graham Centre's 2nd
Symposium

on

Intelligent

Investing

Joseph Potvin, Senior Economist, Treasury Board of Canada Secretariat, Ottawa, ON
Watch Video


George Athanassakos, Professor of Finance and Ben Graham Chair in Value Investing, The University of Western Ontario, London, ON
Watch Video

Philip Gharghori, Professor, Monash University, Clayton, VIC, Australia
Watch Video

Georgios Papanastasopoulos, Assistant Professor, University of Piraeus, Piraeus, Greece
Watch Video

Joseph Ogden, Professor, State University of New York at Buffalo, Buffalo, NY
Watch Video
Ivey Value Investing Classes
Francis Chou, President, Chou Associates Management Inc., Toronto, ON 
(August 19, 2008)
Watch Video
Robert Tattersall, Executive Vice-President and Senior Portfolio Manager, Howson Tattersall, Toronto, ON 
(March 18, 2008)
Watch Video
Walter J. Schloss, Founder, Walter & Edwin Schloss Associates, New York, NY 
(February 12, 2008)
Watch Video
Ivey Value Investing Classes
Francis Chou, President, Chou Associates Management Inc., Toronto, ON 
(August 1, 2007)
Watch Video
Avner Mandelman, President and Chief Investment Officer, Giraffe Capital Corp., Toronto, ON 
(March 27, 2007)
Watch Video of Presentation
Watch Video of Q & A Period
Irwin A. Michael, President, I. A. Michael Investment Council Ltd., Toronto, ON 
(March 13, 2007)
Watch Video of Presentation
Watch Video of Q & A Period
Martin Whitman, Chairman and Founder, Third Avenue Management LLC, New York, NY
(February 13, 2007)
Watch Video
Ben Graham Centre's 1st Symposium on Intelligent Investing
George Athanassakos, Professor of Finance & Ben Graham Chair in Value Investing, The University of Western Ontario, London, ON
Watch Video
John Bart, Founder, Canadian ShareOwner, Toronto, ON
Watch Video
Watch Video of Q&A Period with Dr. Athanassakos and Dr. Bart
Prem Watsa, Chairman and Chief Executive Officer, Fairfax Financial Holdings Ltd., Toronto, ON
Watch Video
Howard Atkinson, President, Horizons BetaPro ETFs, Toronto, ON
Watch Video
Rob Arnott, Chairman, Research Affiliates LLC, Newport Beach, CA
Watch Video
Ivey Value Investing Classes
Charles Brandes, Chairman, Brandes Investment Partners LP, San Diego, CA
(March 28, 2006)
Watch Video
Richard Rooney, President and Chief Investment Officer, Burgundy Asset Management Ltd., Toronto, ON
(March 7, 2006)
Watch Video
Francis Chou, President, Chou Associates Management Inc., Toronto, ON 
(February 13, 2006)
Watch Video
Ivey Value Investing Classes
Mark Holowesko, Head of Investments, Templeton Funds (now Franklin Templeton), The Bahamas
(March 29, 2005)
Watch Video
Peter Cundill, Principal, The Cundill Group, Vancouver, BC 
(March 28, 2005)
Watch Video
Mason Hawkins, Chairman and Chief Executive Officer, Southeast Asset Management, Memphis, TN 
(March 22, 2005)
Watch Video
Irving Kahn, Chairman, Kahn Brothers & Company Inc., New York, NY
(March 7, 2005)
Watch Video