Business performance is determined not only by competitive forces within an industry but also by political, social, economic and technological factors that operate at local and global levels. Understanding the impact of these forces on firms can determine their ability to gain a competitive advantage through improved strategic planning on multiple dimensions.
The Business, Economics and Public Policy (BEPP) group consists of faculty who research business economics and public policy relevant to managers. BEPP faculty conduct research at the nexus of managerial economics, political economy and business strategy. Areas of research focus include regulation, energy and environment, stakeholder management, non-market strategy, political and regulatory risk, and emerging markets.
*Please note that BEPP is a stream under General Management
Areas of Research Focus
Regulation
Energy and environment
Stakeholder management
Non-market strategy
Political and regulatory risk
Emerging markets
BEPP
 Student Profile
Kartik Rao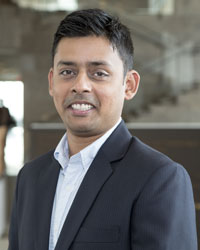 Current works in progress:
"Nonmarket Strategies of Market Rivals: Theory and Evidence from the Ridesharing and Taxi Industry" (with Guy Holburn and Davin Raiha)
Presented at: Strategic Management Society Annual Conference, Minneapolis, 2019
*Nominated: SMS Best Conference Paper Prize (2019)
"The impact of government intervention on Chrysler and General Motors: Synthetic control estimates of firm performance during the bailout period" (with Adam Fremeth and Guy Holburn)
Presented at: Strategic Management Society Annual Conference, Paris, 2018
Presented at: Industry Studies Association Annual Conference, Nashville, 2019
" Firm settlements with Stakeholders in the Nonmarket environment" (with Guy Holburn and Adam Fremeth)
"Coordinated Nonmarket Strategies of Market Rivals: Evidence from the Tobacco Industry" (with Brandon Schaufele)Read more
Faculty research is regularly published in the top strategy and economics journals, including the Academy of Management Journal, Academy of Management Review, Administrative Science Quarterly, AEJ: Applied Economics, Harvard Business Review, Journal of International Business Studies, Organization Science, Management Science and Strategic Management Journal.
Post-graduate Opportunities
The doctoral program in BEPP is designed for those interested in pursuing academic careers in top business schools, either within Strategy or Business Economics departments. The program integrates core areas of study in economics, including industrial organization, managerial economics and political economy, with study in management fields.