Information Systems (IS) research examines digital technologies and their impacts. While digital technology is central to the phenomena studied, research in the IS field explores diverse topics, including behavioural, organizational and societal issues as they interact with digital technology. The IS field is multi-disciplinary in nature and draws on theories and methods both unique to IS research and from other related fields in both business (e.g., strategy, organizational theory, organizational behaviour) and foundational disciplines (e.g., philosophy, psychology, sociology, economics, computer science, and statistics).
The doctoral program in IS provides rigorous and comprehensive training and preparation for future scholars. Our graduates complete necessary course work, research and teaching training and may engage in grant proposal writing and publishing of their work so that they can begin their academic career with the tools and foundation necessary to succeed. Three of our PhD graduates have received the prestigious ICIS Dissertation Award – the highest award given to recent PhD graduates.
IS PhD students take courses in Research Methods, Statistics, and IS Special Fields. The IS Special Fields courses encompass core topics (including IS foundational theories and research methods, design, adoption, implementation of technology, decision making processes, organizational and industry impacts), latest research themes in the IS field, along with other diverse topics reflecting various sub-fields of IS research. Students also have elective choices (offered by other area groups in the school such as Strategy or Organizational Behaviour, and/or other graduate faculties in the university such as Sociology, Computer Science or Statistics). Other aspects of the program are tailored to fit the student's own research, teaching and professional interests.
Areas of Research Focus
Design, development, implementation, use and value creation of digital technologies
Behavioural, managerial, organizational, and societal issues as they interact with digital technologies
PhD Student Opportunities
The Information Systems (IS) group examines diverse managerial and behavioural research questions. We have particular strengths and specialization in qualitative, ethnographic and grounded theory methodologies while also pursuing and publishing research involving quantitative methods such as surveys, experiments and econometric models. The IS group welcomes applications from qualified candidates interested in different topics, including, but not limited to:
Digital transformation, strategy and alignment, platforms, IT-enabled organizational change, digital entrepreneurship, IT leadership

Global IT management, sourcing, buyer-supplier relationship, international strategy, emerging markets

Digital capability development, virtual teams, open source communities, design thinking and innovation

Social dynamics of technology, social change, social interactions

Focused topics and industry focus, including healthcare information systems, competitive advantage of neurodiversity
The following are examples of some specific projects of IS faculty members.
Professor Robert Austin's research examines topics including the following.
Managing businesses characterized by extreme uncertainty (e.g., video games, movies, fashion items)

Talent management in digital organizations

Using digital technologies to enhance creative and innovative capabilities

Designer-driven innovation in creative industries

Digital platforms and organizational transformation

 
Professor Isam Faik's research examines topics including the following.
Digital platforms and organizational transformation

Digital technologies and societal change

Effect of digital transformation on marginalized communities

Virtual teams and online communities
Professor Nicole Haggerty's research crosses many subfields of IS including issues in IS development (learning and agile); project management (charters, adaptive PM practices) and implementation (configurations of routine/technologies) to achieve value. This research is focussed in healthcare, principally hospital settings with some work in long term care settings. Professor Haggerty is interested in working with new students in projects that would be related. She is currently working with a group of doctoral students (with 2 recently completed 2021) in the domain of health information systems exploring several inter-related issues:
Microdynamics of IT-enabled Change in Hospitals (SSHRC 2020, $107,266) (qualitative, longitudinal field study)
Generating Actionable Insights from OneChart (Industry grant 2021, $100,000)

Involves 4 inter-related projects with PhD students and post-docs to study Learning from Implementation; Optimizing Workflows post Clinical documentation; Developing Effective Clinical Documentation Education and Training for Clinicians; Path to Value Creation from Digital Transformation in Hospitals (action research, qualitative, quantitative)

Systems Design and Operational Integrity in Long Term Care (SSHRC, 2021, $51,156)
Health Information Systems for Surveillance of Infectious Diseases: An Evaluation Model (international research in Nigeria and Liberia)
Professor Ting Li's research looks into the intersection of digital technologies and entrepreneurship. Method-wise, Ting has adopted a variety of data collection and analysis approaches such as survey-based experiments, case studies, content analysis, and fuzzy-set qualitative comparative analysis (fsQCA). Her current research covers the following topics:
Relevant digital capabilities for new venture creation and development
Platform-based business incubation models
Innovation co-creation between startups and business incubators
Resource orchestration in the entrepreneurial ecosystem
Professor Derrick Neufeld is open to working with select doctoral students with interests related to individual and organizational impacts of technology mediation. Currently, Professor Neufeld us pursuing research to answer the following kinds of questions:
How does online eye contact influence trust prediction? (Experimental)
Does leadership occur in 'leaderless' open source teams? (Qualitative)
How do "digital artifacts" support virtual team coordination? (Field)
What is motivating cybercriminal behaviour? (Theory)
Professor Yasser Rahrovani's research examines topics including the following:
Designer-driven innovation in creative industries
Digital drifting (vs. alignment)
Digital platforms and organizational transformation
Professor Ning Su's research examines topics including the following:
Design for grand societal challenges
Culture, cognition, diversity, and technology
Global value-chain sourcing policies and strategies
Digital innovation, including 3D printing, cloud, AI, AR, VR, data science
PhD Graduates
The doctoral program in Information Systems is designed for candidates interested in pursuing academic careers at top academic institutions worldwide.
Dr. Mayur P. Joshi
Assistant Professor, Financial Technologies (FinTech) and Information Systems at Alliance Manchester Business School, The University of Manchester, UK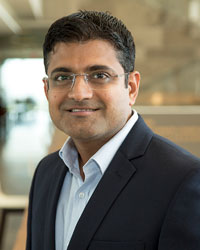 PhD Dissertation: Organizing for- and in- the Digital Age: A Case of the Indian Banking Industry
For striving and thriving in the digital age, while firms are rushing to digitally transform their organizing practices as well as offerings, scholars are tasked with revisiting the assumptions of extant theories to unpack the phenomenon of organizing for- and in- the digital age. This thesis focuses on distinct facets of this phenomenon. In particular, I examine the firm strategies and work practices of practitioners in Indian banking and financial organizations... Read more about this thesis
Dr. Liliana Lopez Jimenez
Assistant Professor, Universidad Externado de Colombia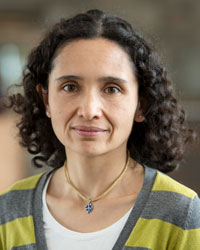 PhD Dissertation:
Small Businesses Encounters with Information Technology
This dissertation advances the concept of IT encountering, defined as the process whereby individuals pay attention, interpret and respond to cues suggesting changes to IT, in ways that appear sensible to them, and it studies IT encountering in the context of small businesses. I review the literatures on organizational IT adoption and IT selection, and conclude that these literatures have relied on assumptions which leave unattended important aspects of the process leading to choice: the adoption literature presupposes the saliency and significance of a focal technology to a decision maker, and the IT selection literature generally assumes that suitable IT alternatives are known to the individual making choices.... Read more about this thesis